Emma Stone has been killing it with every premiere and promotional appearance for 'Spiderman 2' these past few weeks. From the striped black-and-white separates she wore in Sydney to the ladylike strapless Lanvin leather dress she slipped into while launching the movie in Paris, Emma perfectly nailed each look with flying colors. After comparing the outfits side by side, we've come to the conclusion that the actress has been channeling a certain aesthetic for the campaign, one that is feminine, elegant, romantic, and demure — even in a leather dress.
Appearing at the photo call in Rome, Emma wore matching lace separates from Dolce & Gabbana and finished the combo with one-of-a-kind crystal-encrusted round-toe, ankle-strap pumps from Valentino's Fall 2014 collection.
Emma Stone wearing Dolce & Gabbana lace separates at the 'Spiderman 2' photo call in Rome, Italy, on April 13, 2014
Emma Stone's Valentino ankle-strap pumps
At the premiere of the movie the following day, Emma wore a floor-grazing frock, also from Valentino Fall 2014, and finished the look with Christian Louboutin heels. It was hard to figure out which pair of red-bottom shoes she chose to go with the dress, but judging from the picture below, they are in black patent leather and feature a peep-toe silhouette.
Emma Stone wearing a Valentino Fall 2014 gown at the premiere of 'Spiderman 2' in Italy on April 14, 2014
Emma Stone's black patent peep-toe heels from Christian Louboutin peeking out of her gown
The outfit Emma wore in Germany yesterday — her latest promotional stop — would have to be one of the best she has put together so far. She attended the premiere in a colorful Chanel ensemble and finished it with gold Christian Louboutin heels. Her soft curls in old-Hollywood style kept things sweet and really complemented her attire. Emma's sandals have extra clear straps at the ankles. We can't find them online, so there is a possibility that they are from another collection. What do you think?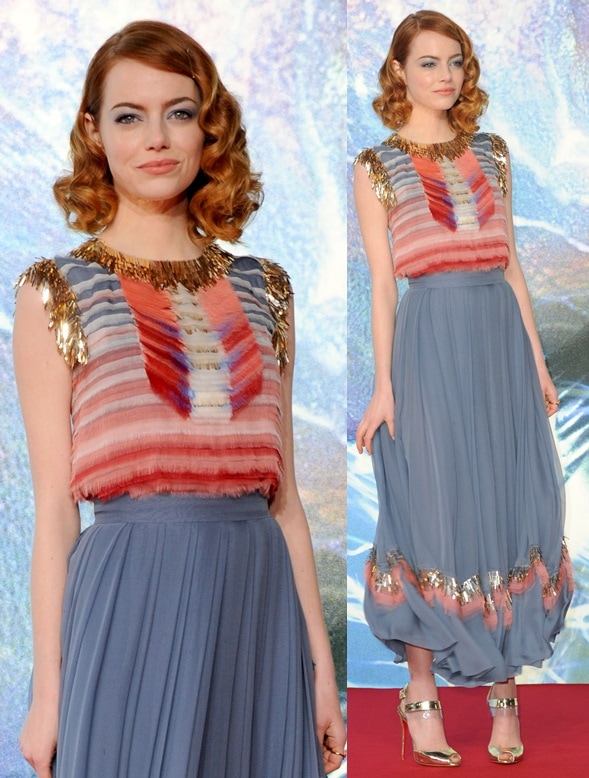 Emma Stone wearing a gorgeous Chanel dress at the 'Spiderman 2' premiere in Germany on April 15, 2014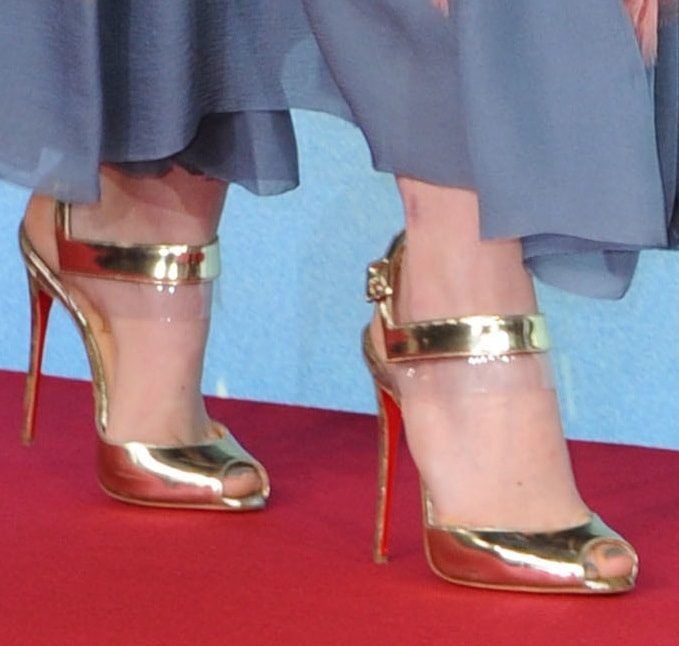 A closer look at Emma's gold sandals
Among the three looks from Emma here, which one do you like best on her?
We're leaning toward the last one. It's fresh, fancy, and oh-so feminine. In terms of footwear, while we can appreciate a good pair of gold heels like her Louboutins, the Fall 2014 Valentino ankle-strap pumps she wore to the photo call in Rome look very intriguing. They're obviously not available online yet, so allow us to leave you with some printed options that may give you the fix while you wait: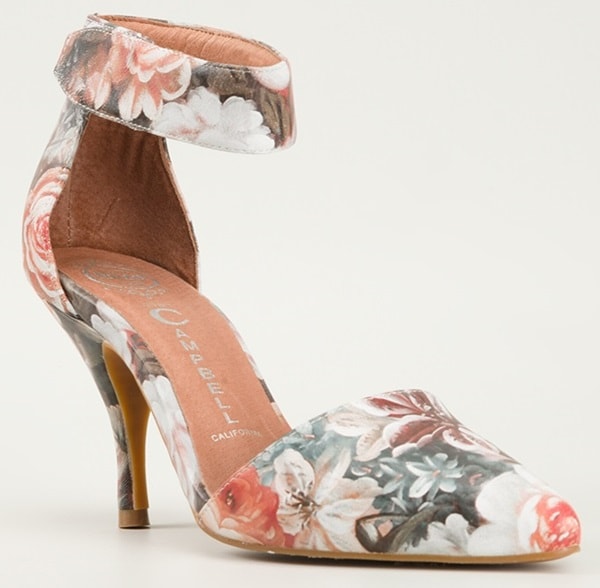 Jeffrey Campbell "Soliatire" Pumps, $199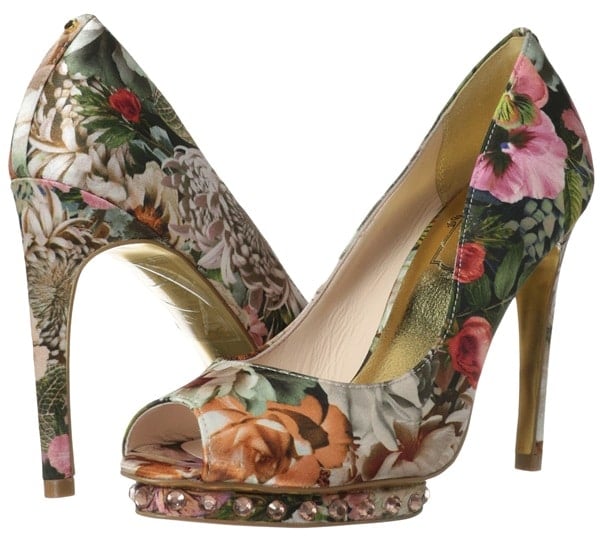 Ted Baker "Leonar" Pumps, $220
Steven "Anibell" Ankle-Strap Pumps, $109
Credit: Patrick Hoffmann / KIKA / Daziram / Future Image / WENN