While Jennifer Lopez and Shakira gave an incredible performance during the 2020 Super Bowl Halftime Show on Sunday night at Hard Rock Stadium in Miami, the 11-year-old daughter of the 50-year-old entertainer and her ex-husband Marc Anthony ended up stealing the show.
Emme Maribel Muñiz sang a portion of "Let's Get Loud" during the Halftime Show at the 2020 Super Bowl
Nicknamed Lulu, Emme Maribel Muñiz sang a portion of "Let's Get Loud" before joining Jennifer on stage for the rest of the song, which was remixed with Bruce Springsteen's "Born in the USA."
In June 2019, JLO's talented daughter also joined her mom for a surprise performance of "Limitless" during Lopez's It's My Party Tour opening night at The Forum in Los Angeles. Lulu also appeared in the music video for "Limitless," a song recorded for the soundtrack of her romantic comedy film, Second Act (2018).
Lopez revealed on Good Morning America that "Emme is my favorite thing about the video." She described her daughter's role as "the little girl inside of all of us that's always fighting," in the midst of "an army of women causing a storm of change."
Emme Maribel Muñiz joined her mom Jennifer Lopez onstage during halftime at the big game at Hard Rock Stadium in Miami, Florida, on February 2, 2020
Showing that her talent runs in the family, in May 2019 Jennifer Lopez shared a behind-the-scenes video of her hectic weekend that included a vocal rehearsal with her 11-year-old daughter, Emme Maribel Muñiz.
The 49-year-old pop star, who earlier attended the Met Gala in 6-inch heels, proudly listened to her daughter's performance of "If I Ain't Got You" from Alicia Keys' second studio album The Diary of Alicia Keys (2003).
"You do it in the original key, right?" Jennifer asked as she encouraged Emme to sing in front of everyone in the room.
While Emme was a little nervous in the beginning, she quickly gained confidence and got a well-deserved round of applause and a hug from her mother.
"We should have her come out and do something on tour!" the Hustlers actress said half-jokingly. Emme was joined by Stevie Mackey, a singer and vocal coach from Los Angeles, on the piano.
Emme Maribel Muñiz Facts
| Full Name: | Emme Maribel Muñiz |
| --- | --- |
| Father: | Marco Antonio Muñiz, known professionally as Marc Anthony, an American singer, actor, and producer with a net worth of $80 million dollars. |
| Mother: | Jennifer Lynn López, an American actress, singer, dancer, and producer with a net worth of roughly $400 million. |
| Born: | Emme Maribel Muñiz was born by c-section on on February 22, 2008. |
| Siblings: | She has a twin brother named Maximilian Muniz. |
In January 2018, Jennifer Loped watched the Los Angles Lakers game along with her twins Emme and Maximilian and Alex Rodriguez with his daughters Ella and Natasha. The Charlotte Hornets defeated the Los Angeles Lakers by the final score of 108-94 at Staples Center in Los Angeles.
Jennifer Lopez, Alex Rodriguez, Emme Maribel Muñiz, Maximilian David Muñiz, and Ella Alexander the Los Angles Lakers game on January 5, 2018
In June 2013, Emme Maribel Muñiz joined her mother when she was honored with the 2,500th star on the Hollywood Walk of Fame. Jennifer Lopez's boyfriend Casper Smart and Emme's twin brother were also present for the ceremony.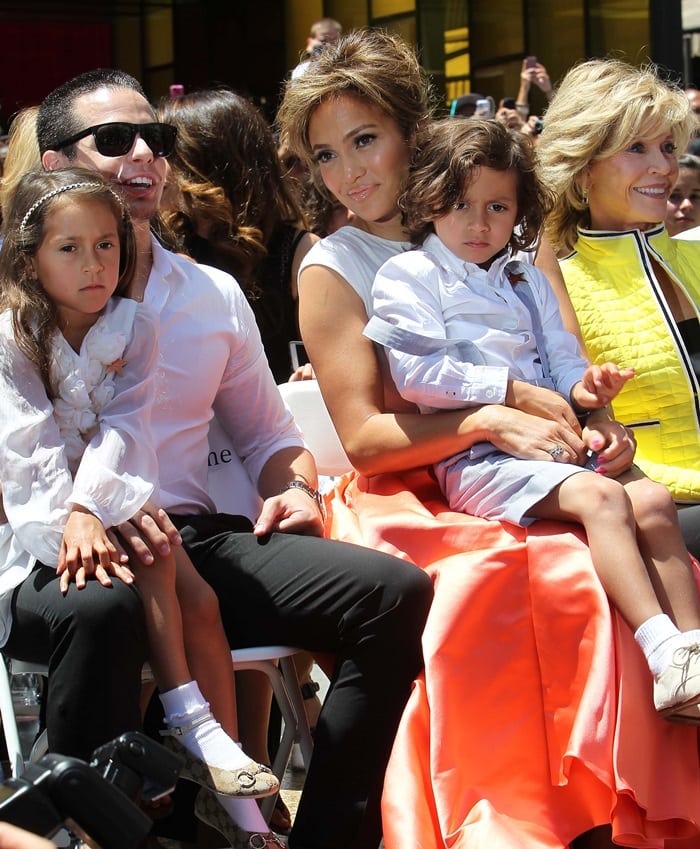 Casper Smart, Emme Maribel, Maximilian David, and Jennifer Lopez attend the Hollywood Walk of Fame ceremony in Hollywood on June 20, 2013
Credit: WENN / FayesVision