In November 2020, Olivia Culpo shared a series of pictures revealing an inside look at her battle with endometriosis. Charlotte-based endometriosis specialist Dr. Smitha Vilasagar performed surgery on the American model.
Two months earlier, Olivia revealed she is suffering from endometriosis, which Mayo Clinic defines as a "painful disorder in which tissue similar to the tissue that normally lines the inside of your uterus — the endometrium — grows outside your uterus."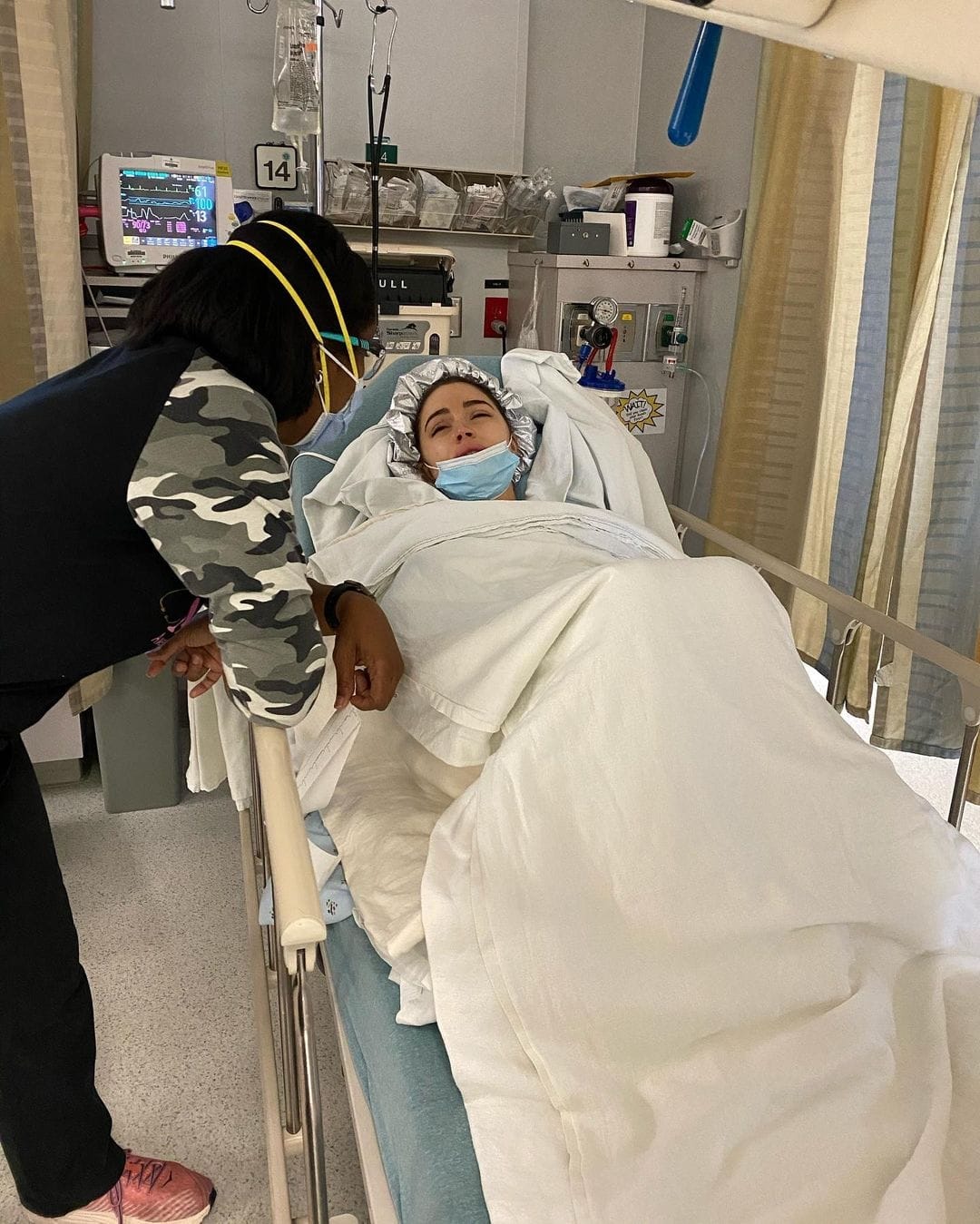 Endometriosis specialist Dr. Smitha Vilasagar performed surgery on Olivia Culpo (Credit: Olivia Culpo's Instagram)
"It was something that I was nervous to share because I really didn't know if people would be familiar with the condition, and it turns out a lot of women are," Olivia told People in September 2020.
"I was shocked to see how many women have also suffered from endometriosis, and how many questions women have about painful periods. They're not normal, and they could get in the way of your fertility."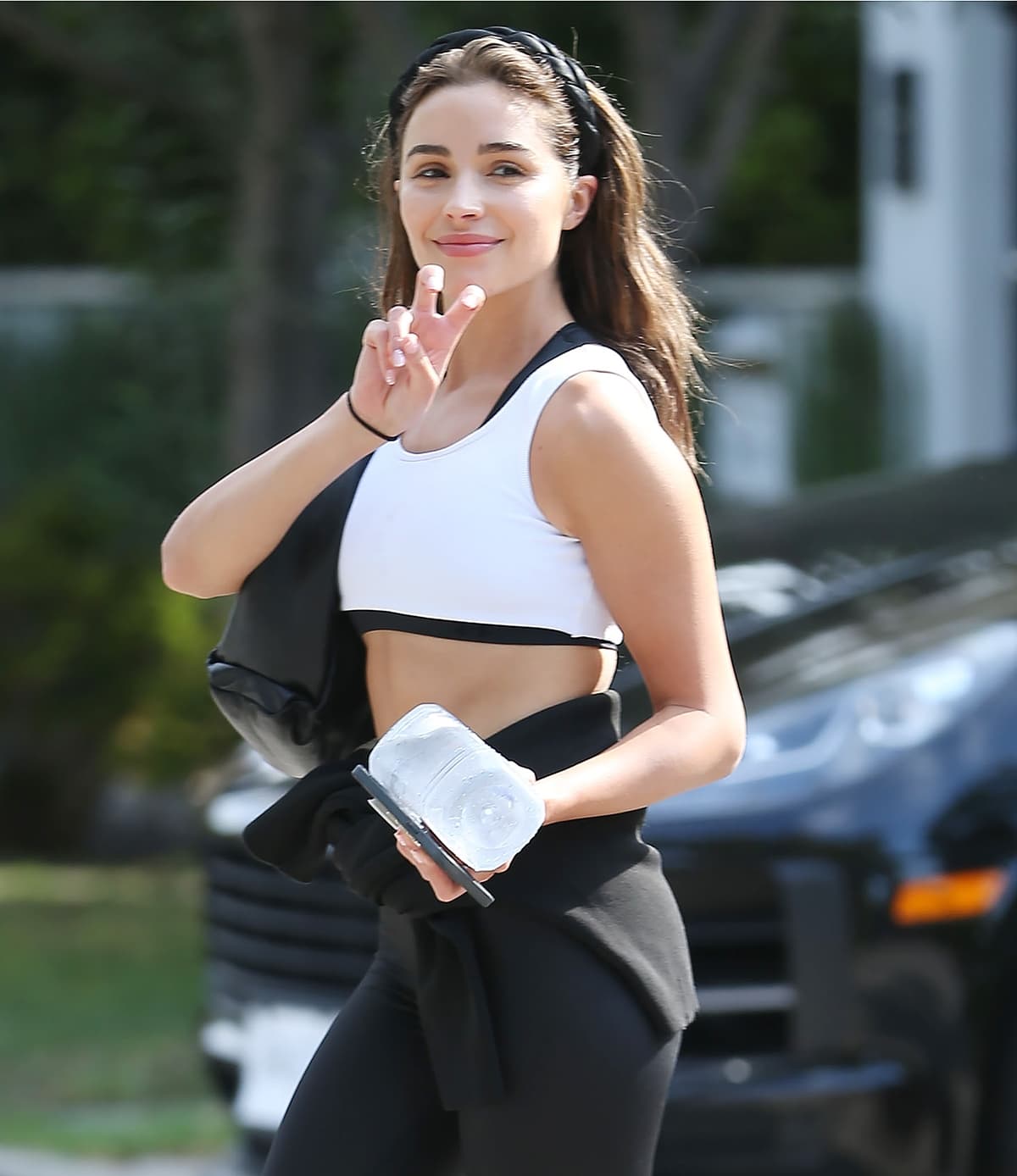 Just months after undergoing surgery for endometriosis, Olivia Culpo is seen smiling while leaving Pilates class in West Hollywood on June 29, 2021 (Credit: Mega / WENN)
In an interview with FOX 46 Charlotte, Dr. Smitha Vilasagar explained the minimally invasive surgery was done to remove the endometriosis.
"Many of the symptoms worsen around the time of cycle and we know with pain that severe it can spread to other times of the month and really every day," said endometriosis specialist Vilasagar, who has spent years spreading awareness about the disorder.
"Olivia basically felt the same way and very generously is using her platform to share this news," Vilasagar added.
Endometriosis specialist Dr. Smitha Vilasagar specializes in a minimally invasive laparoscopic procedure to find and remove endometriosis (Credit: FOX 46 Charlotte)
"It's been really well received by people from all over the world. While I can't give medical advice I'm trying to continue education and the social media platforms are the best way to do this," surgeon Dr. Smitha Vilasagar emphasized.
"Yesterday I had surgery for my endometriosis ❤️ Not a very glamorous post but I felt like I needed to share this to create more awareness around this disease. Endometriosis is a condition where tissue from the uterine lining decides to grow in other random parts of your body, causing pain. This can interfere with fertility and overall health and honestly – happiness," Olivia Culpo wrote on Instagram and shared pictures of her surgery and scars.
"To top things off it is excruciatingly painful but nearly impossible to see through an ultrasound (unless you have endometrioma/chocolate cysts on your ovaries- that's what I had). I have been in agony for years around my period and I was misdiagnosed countless times by doctors. 'Just take Tylenol every day' 'ultrasound looks normal,' 'I think you just need to rest more, periods are always uncomfortable for people,' etc. I know a lot of people out there in the Endo community are familiar with these diagnoses which is why I am so passionate about this," she continued.
"Painful periods are not normal!!! I want to say thank you to @drvilasagar_endosurgeon and the amazing hospital staff at @atriumhealth who took care of me. You guys were literally angels to me and I am so grateful. To anyone out there who has endometriosis, I understand the depression, and overall loneliness that can occur with a condition that is so painful yet so hard to be interpreted by other people outside of the body. It's hard when chronic pain is not validated and you don't get an answer or understanding. To my Endo warriors, I will continue to spread more awareness around endometriosis so that your symptoms can be validated. You are not alone and you are so strong !!!!"
View this post on Instagram
We're used to seeing Olivia Culpo in a variety of flesh-baring outfits. But in February 2016, she opted for a fun and fresh look as she attended the Veuve Clicquot Carnival event in Miami.
Olivia Culpo wears her hair back at Veuve Clicquot's second annual Clicquot Carnival held on February 20, 2016, at Museum Park in Miami (Credit: JLN Photography / WENN)
The former Miss Universe showed just the right amount of flesh in a white embroidered lace dress from the Alexis Resort 2016 collection.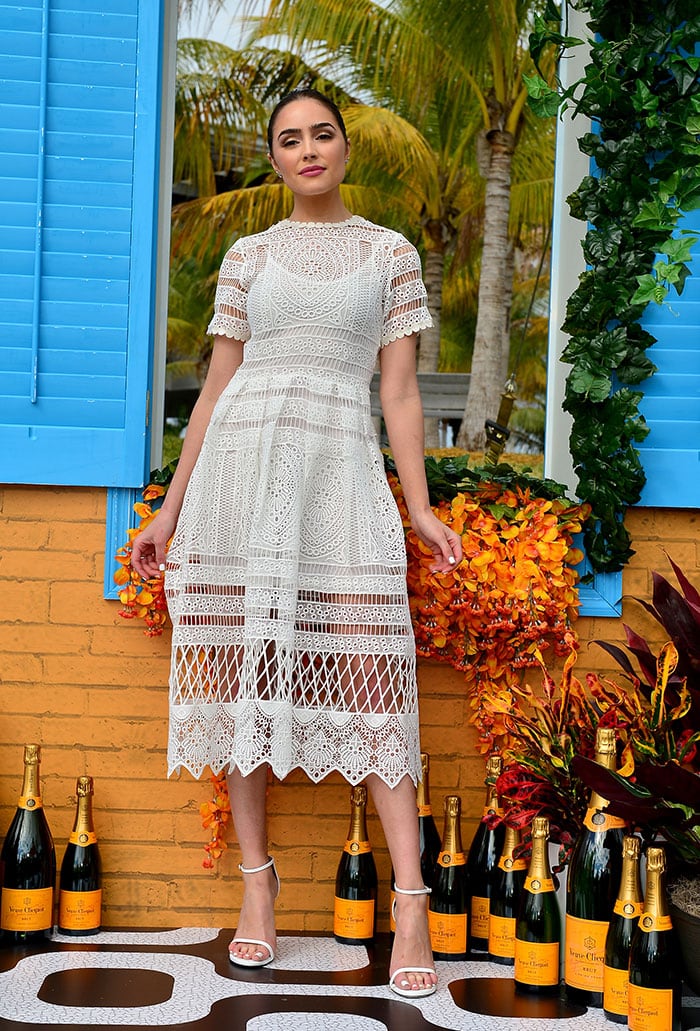 Olivia Culpo shows just the right amount of flesh in a white Alexis dress (Credit: JLN Photography / WENN)
The dress had a feminine fit 'n' flare silhouette with a peek-a-boo bodice and a full, pleated skirt with a zigzag patterned hem. She wore a white slip underneath to keep things relatively modest.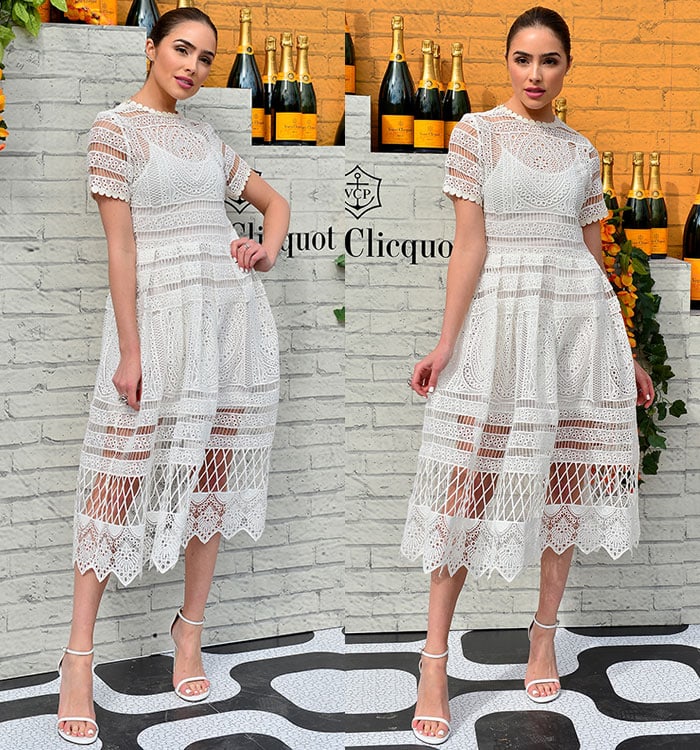 Olivia Culpo poses at a Veuve Clicquot event in a white patterned dress (Credit: JLN Photography / WENN)
Olivia paired the dress with white heels and a selection of Jennifer Fisher jewelry. She rounded out her look with rosy red lipstick and a slicked back bun.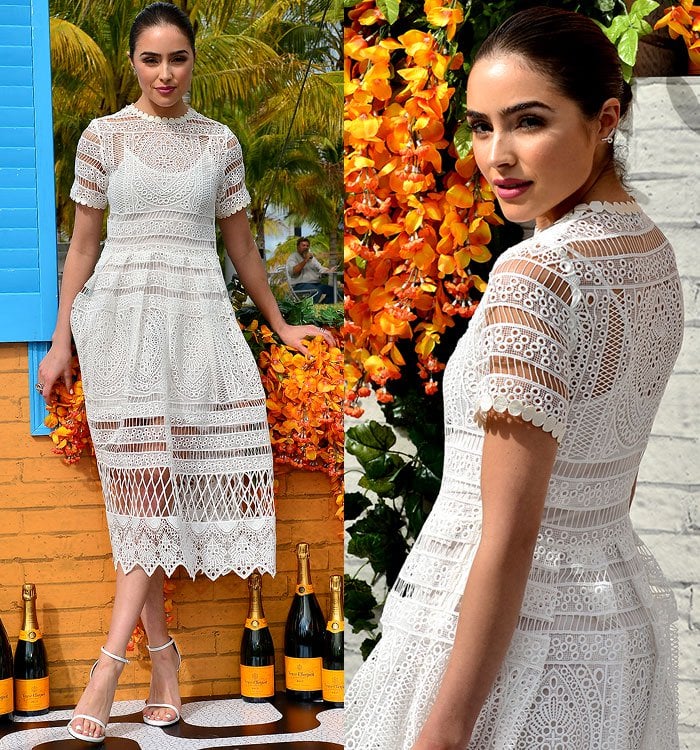 Olivia Culpo in Alexis white embroidered dress (Credit: JLN Photography / WENN)
Olivia completed her all-white look with a pair of the classic Stuart Weitzman "Nudist" sandals.
These five-inch heels feature a minimalist silhouette with slender adjustable ankle straps and front straps.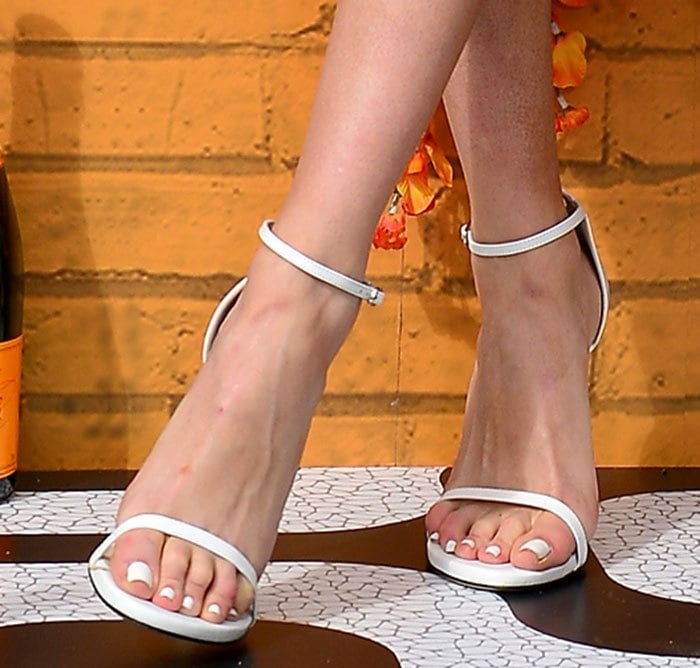 Olivia Culpo's feet in strappy white Stuart Weitzman sandals (Credit: JLN Photography / WENN)
These celebrity favorite heels from Stuart Weitzman can be purchased in different versions at Amazon, Nordstrom, and Zappos.
Stuart Weitzman Nudist Ankle-Strap Sandals, $395 – $415