In 2016, Valentine's Day came early for Dora and the Lost City of Gold actress Eva Longoria. The Desperate Housewives star celebrated the love-filled holiday with Belgian chocolate maker Godiva Chocolatier.
Eva Longoria celebrates Godiva's "Public Display of Godiva" campaign on February 3, 2016, at the chocolate brand's Glendale Galleria store in California
Two years later, she started filming for the 2019 American adventure comedy film Dora and the Lost City of Gold.
Portraying Elena Márquez, a jungle explorer who is Dora's mother and Diego's aunt, filming began on August 6, 2018, on the Gold Coast on Australia's east coast. Just two months earlier, she gave birth to her first child, Santiago Enrique Bastón.
The final scenes were shot on December 7, 2018. Eva told TooFab why she agreed to start filming just weeks after going through childbirth.
"I loved Dora," Eva revealed in the interview. "She was a global icon, I mean, an icon in our community; I didn't realize she was a global icon in the world. My friends from London called me and Germany, and they were like, 'Oh, my God! You're gonna be Dora's mom!' So I was really, really excited. And then I read the script, and I thought, 'Oh, my gosh! They really nailed this adaption of the cartoon.'"
Eva Longoria as Dora's mother Elena Márquez in Dora and the Lost City of Gold
"A lot of pros to do it," Eva added. "I didn't really have a choice. I could've said no, but I couldn't. I literally could not have said no to this movie. The opportunity that this movie provided, not only for me, but for my community and for people who look like me, I was like, I have to do this movie."
The film was theatrically released in the United States on August 9, 2019. Just weeks earlier, Eva attended the premiere in Los Angeles.
(L-R) Jeff Wahlberg, Eugenio Derbez, Eva Longoria, Danny Trejo, Isabela Moner, Michael Pena, and Nicholas Coombe attend the LA Premiere of Paramount Pictures' "Dora and the Lost City of Gold" at Regal Cinemas L.A. Live on July 28, 2019, in Los Angeles, California
Supporting the chocolate maker's marketing campaign "Public Displays of Godiva," the then 40-year-old actress helped kick off the promotional efforts at Godiva's Glendale Galleria store.
Eva Longoria tastes a Godiva treat as she helps the chocolatier kick off its new marketing campaign
"'Public Displays of Godiva' reminds us to cherish all the people we love and care about, and to celebrate the joy they bring to our lives," Eva said. "I'm thrilled to be part of a campaign that embraces every type of love."
Eva Longoria poses with a box of Godiva chocolates in a red Victoria Beckham dress
What better way to celebrate Valentine's Day than by wearing the color of love? Eva sizzled in a figure-flattering candy red sleeveless number by Victoria Beckham that she paired with matching pumps.
Eva Longoria wears her hair up at a promotional event for Godiva
The matte-crepe dress from the brand's Spring/Summer 2016 collection featured a v-neckline in the front and back, geometric paneling, and a v-shaped cutout at the hem.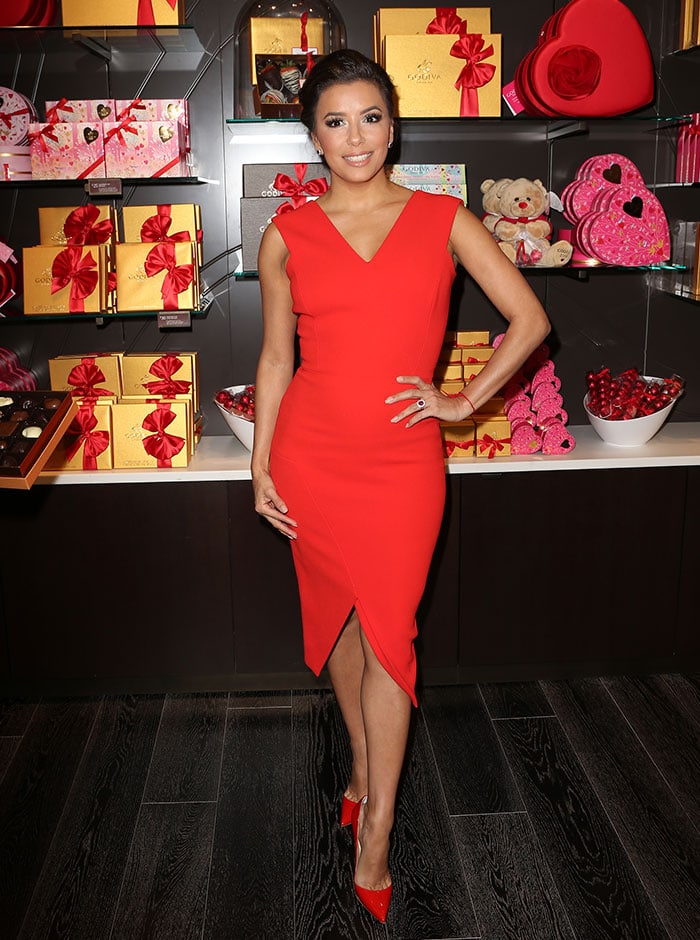 Eva Longoria looks red hot in a Victoria Beckham dress for her Valentine's Day celebrations
The "Telenovela" star accessorized with a red string bracelet and a pair of ruby and diamond earrings that matched her huge engagement ring.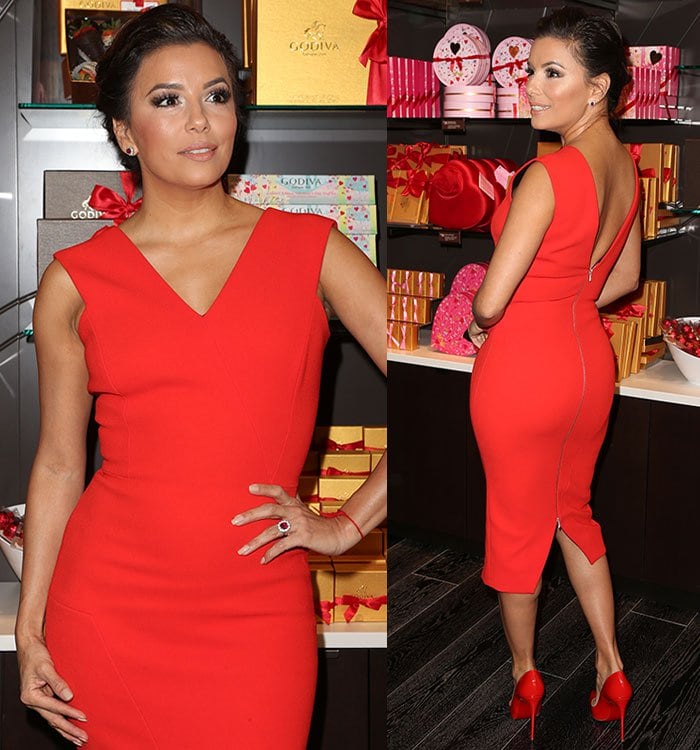 Eva Longoria shows off her curves in a figure-flattering red dress from Victoria Beckham
She swept her dark tresses off her face in a chic updo and rounded out her look with gorgeous makeup, including full lashes that accentuated her eyes, bronzed blush, and nude lipstick.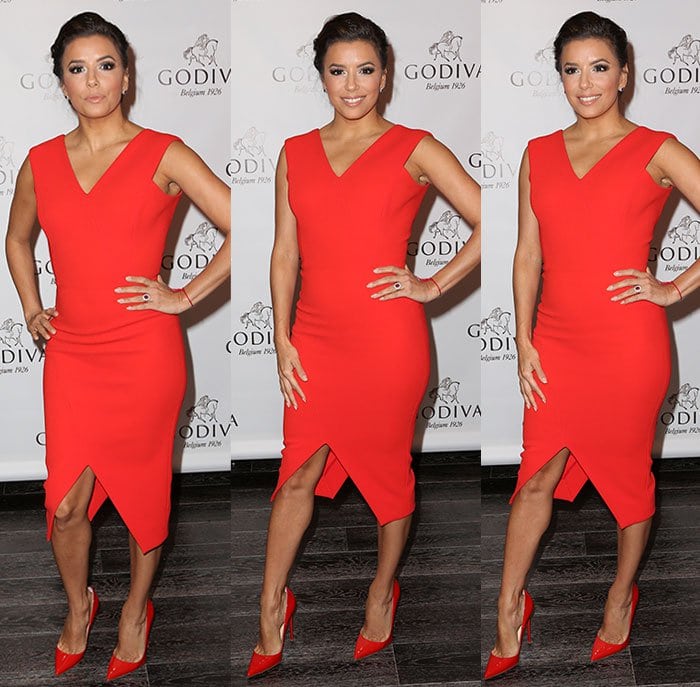 Eva Longoria celebrates Valentine's Day with Godiva in a red Victoria Beckham dress
Eva Longoria's red pumps appear to be a size too big for her feet. She picked a red patent version of the popular Christian Louboutin "So Kate" pumps, which feature pointed toes, low-dipped collars, and about 4.8-inch stiletto heels.
Eva Longoria's feet in Christian Louboutin pumps
You can check out these pumps in different color versions at Mytheresa and Nordstrom.
Christian Louboutin So Kate Pumps, $675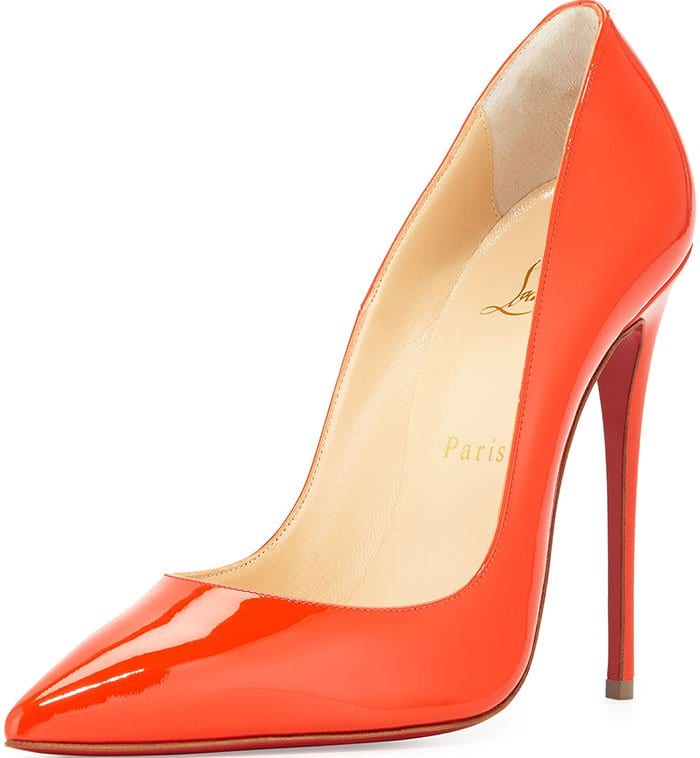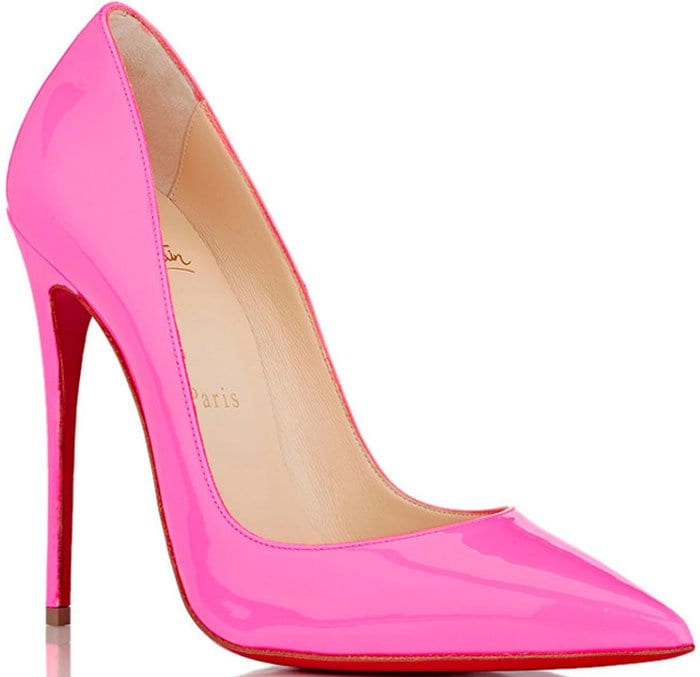 Credit: FayesVision / WENN / Avalon