After more than 30 years of show business, it's fair to assume Evolution actress Julianne Moore has learned a thing or two about keeping her head held high during troubled times.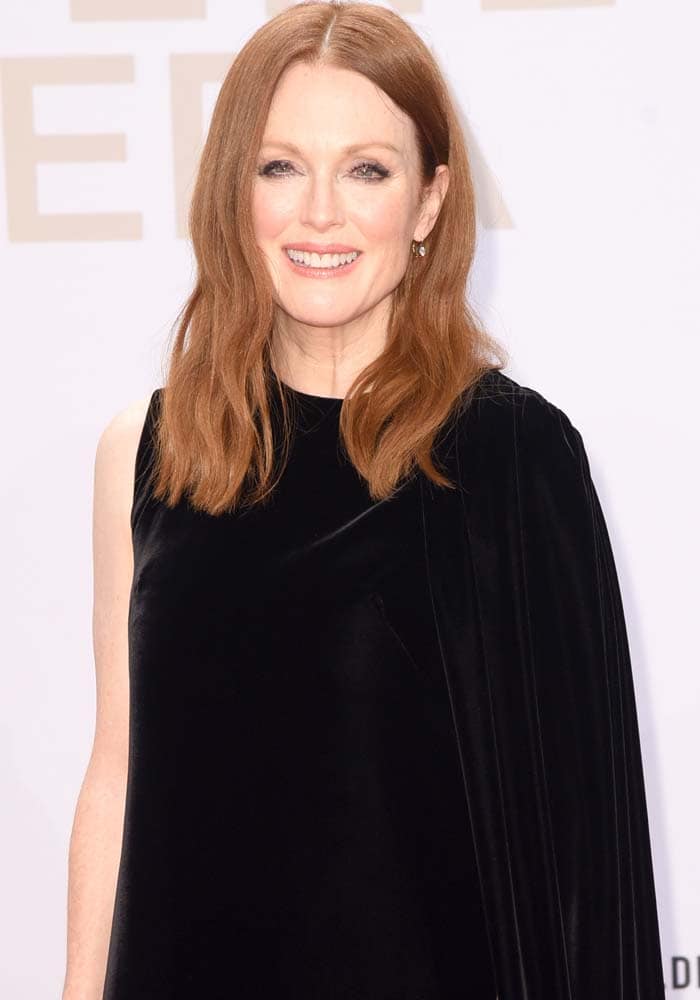 Julianne Moore wears her red hair down at the 2016 Goldene Kamera Awards held on February 6, 2016, in Hamburg, Germany
The Hannibal actress talked about how she keeps it all together at the 2016 Goldene Kamera Awards held in Hamburg, Germany.
Where did Julianne Moore film Evolution?
15 years earlier, she portrayed Dr. Allison Reed in the 2001 American comic science fiction film Evolution. The movie also starred David Duchovny, Orlando Jones, Seann William Scott, and Ted Levine.
It was filmed from October 19, 2000, to February 7, 2001, in California and Page, Arizona. Born on December 3, 1960, in Fort Bragg, North Carolina, Julianne Moore turned 40 while filming on December 3, 2000.
David Duchovny as Colonel (Ret.) Dr. Ira Kane and Julianne Moore as Dr. Allison Reed in Evolution
The film was released in the United States on June 8, 2001. In an interview with Cinema, her co-star David Duchovny denied rumors that Julianne's character in the movie was inspired by Gillian Anderson's role of FBI Special Agent Dana Scully in the series The X-Files.
"No, not really. Julianne was also in a similar place when it came to playing her character. Like me, she's not normally noted for humorous characters," he insisted.
"She's done a lot of brilliant work over the years and I'm a great admirer of hers. We enjoyed working together and I swear to God I never once thought about Scully when I looked at Julianne even if she does have red hair and a pale complexion like Gillian!"
David Duchovny, Julianne Moore, and Orlando Jones filmed Evolution in California and Page, Arizona
"I didn't like the script until Ivan said I could fall down," Moore told Entertainment Weekly about the clumsy CDC Dr. Allison Reed. "We eventually made my character mentally competent but physically awkward."
Julianne Moore at the premiere of her new film Evolution held at Mann's National Theater in Westwood, California, on June 1, 2000
Julianne hit the red carpet at Hamburg in an understated but elegant one-sleeved velvet number by Valentino Couture.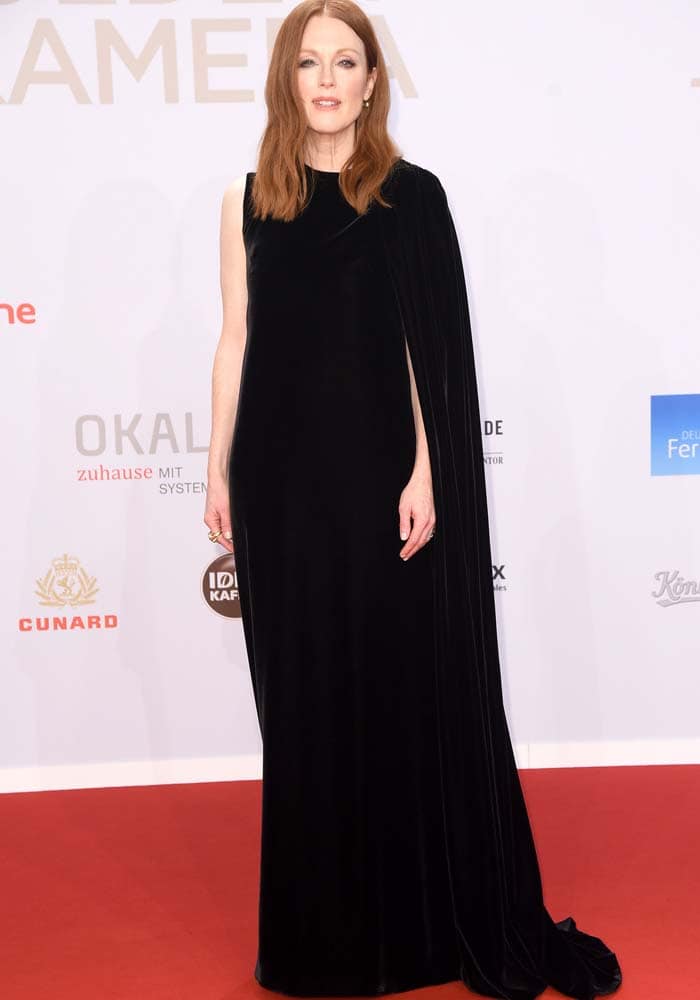 Julianne Moore wears a Valentino Couture gown on the red carpet in Germany
The then 55-year-old kept the look to a bare minimum. She slipped into a pair of simple black satin platform pumps and added some subtle jewelry.
Julianne Moore's feet in black peep-toe platform heels
Oh, and did you know Julianne is fluent in German?
The actress received her Best International Actress award and gave her acceptance speech in the country's native tongue, revealing that she actually lived in Frankfurt when she was younger.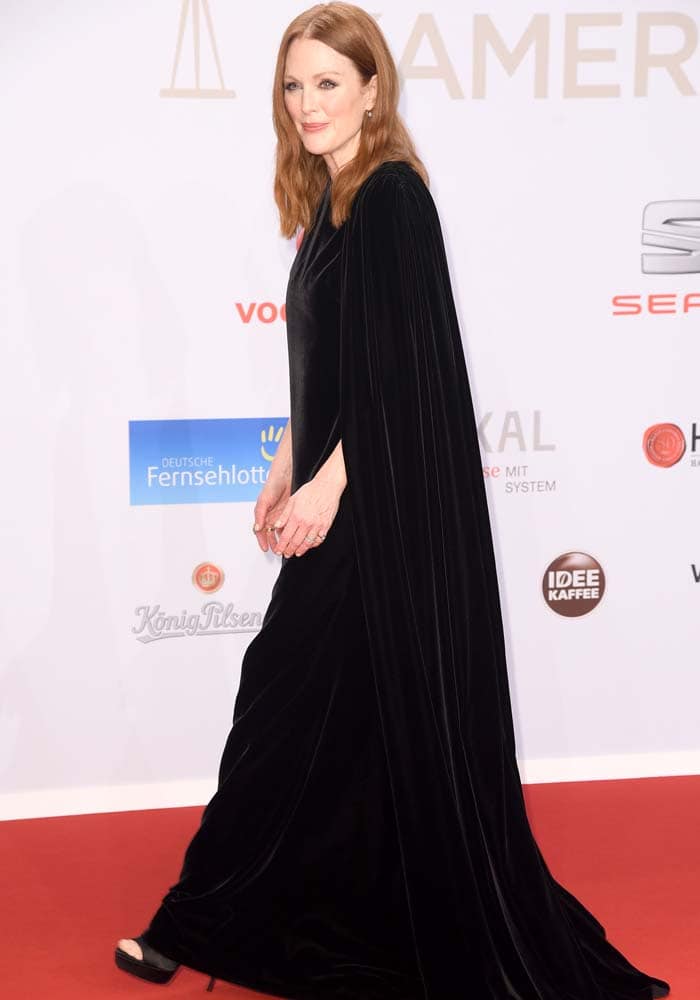 Julianne Moore wears a simple black one-sleeved Valentino Couture gown on the red carpet
Later on, Julianne said — in English, this time — that the best way to cope with the tough times is to be present throughout the ups and downs and to accept that they are part of life.
Get Julianne's understated glamour by slipping into a pair of black peep-toe platforms. You can order these closet staples at Nordstrom and Mytheresa.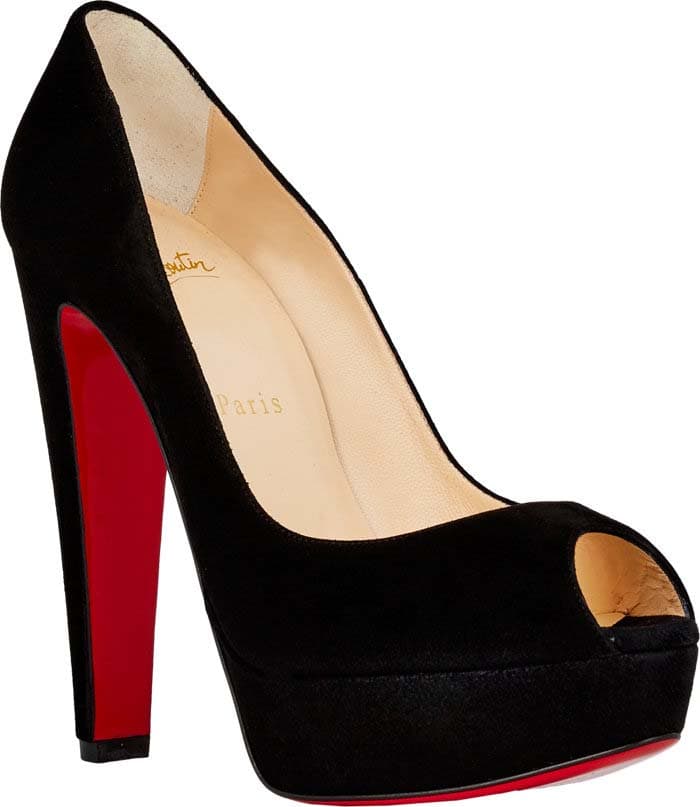 Christian Louboutin 'Altanana' Platform Pumps, $875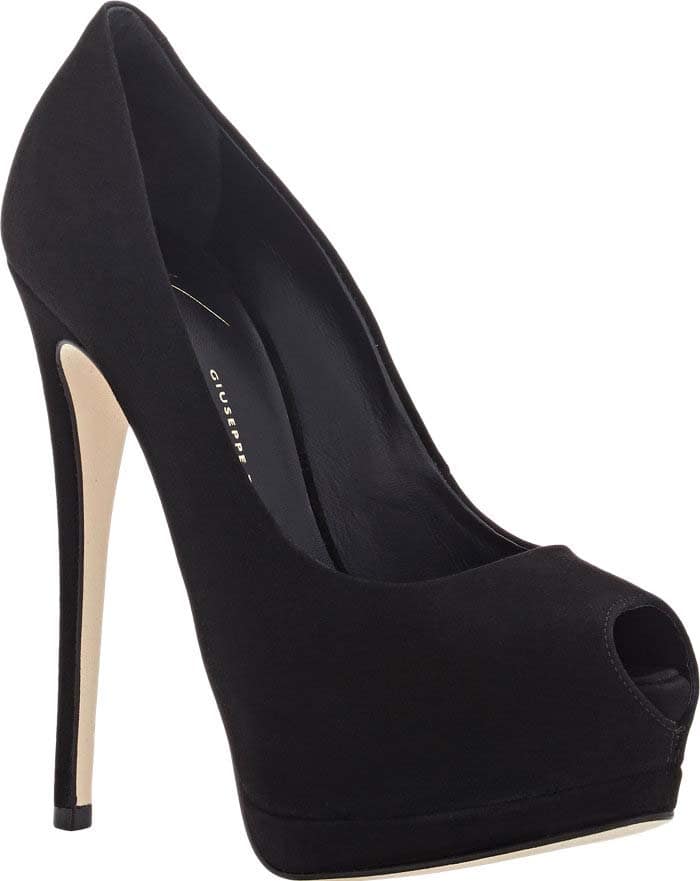 Giuseppe Zanotti 'Sharon' Platform Pumps, $750
Prada Suede Platform Ankle-Strap Sandal in Nero, $790
Credit: Patrick Hoffmann / WENN