Kourtney Kardashian, who pledged to the sorority Alpha Phi during her college days, has spoken openly about getting breast implants at age 21 on Keeping Up with the Kardashians.
"I had my boobs done but if I could go back, I wouldn't have done it. I was so cute before," she revealed to Showbiz Spy in 2011.
"I've realized that I was made to look a certain way and I'm considering removing them," Kourtney said about the dubious future of her fake boobs.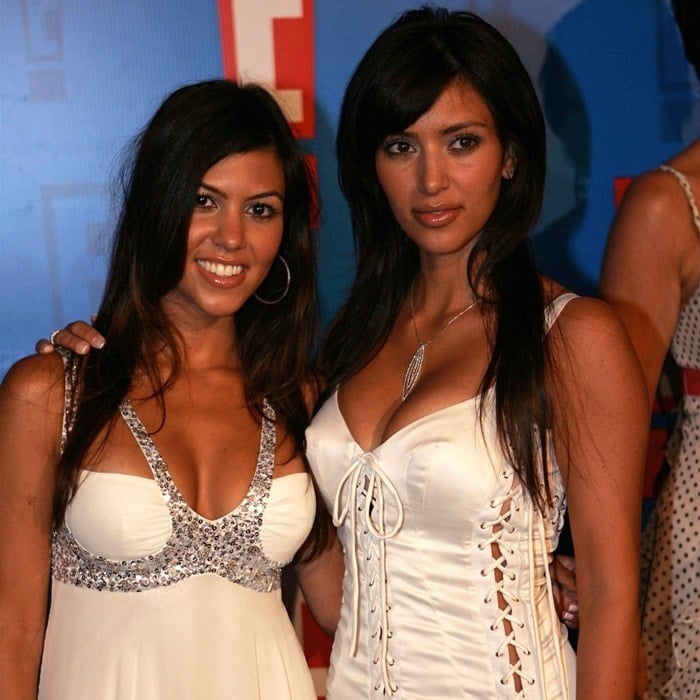 Kourtney Kardashian, pictured with her sister Kim Kardashian in 2005, regrets the boob implants she got in college
She also confirmed her implants during a Nightline interview in 2010: "I have had breast implants, but it's so funny cause it's not a secret, I couldn't care less."
In June 2016, Kourtney Kardashian was either too tired to change out of her party clothes or was feeling thrifty.
We doubt it was the latter, but regardless, Kourtney was spotted enjoying a house party the same day landed in London.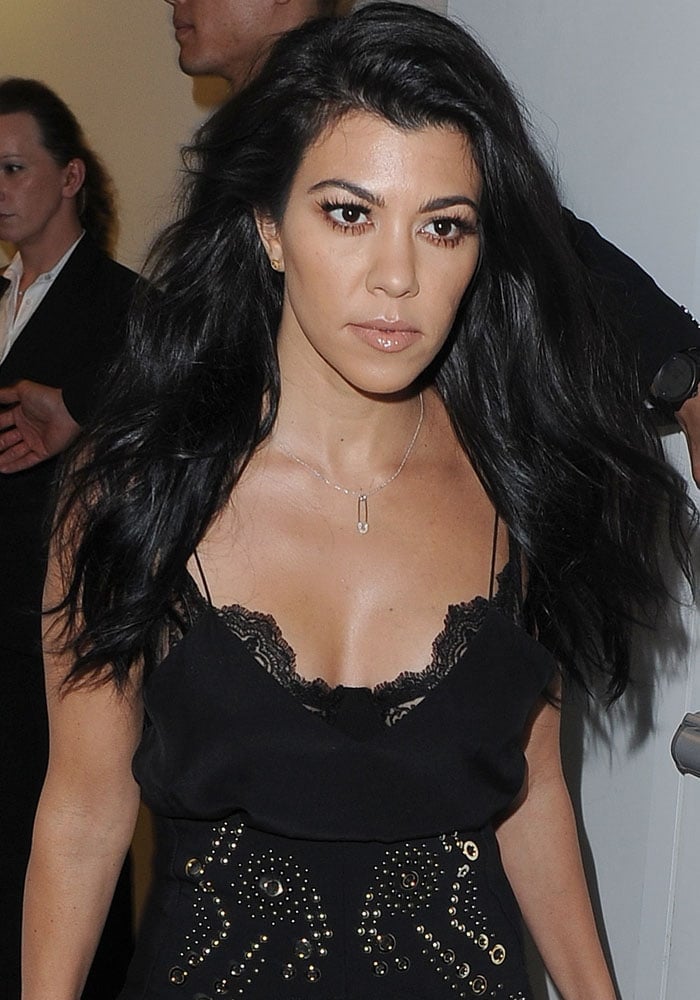 Kourtney Kardashian arriving and leaving from Jimmy Carr's house party in London on June 6, 2016
The very next morning, she uploaded a photo of herself wearing the same thing she wore at the prior night's party.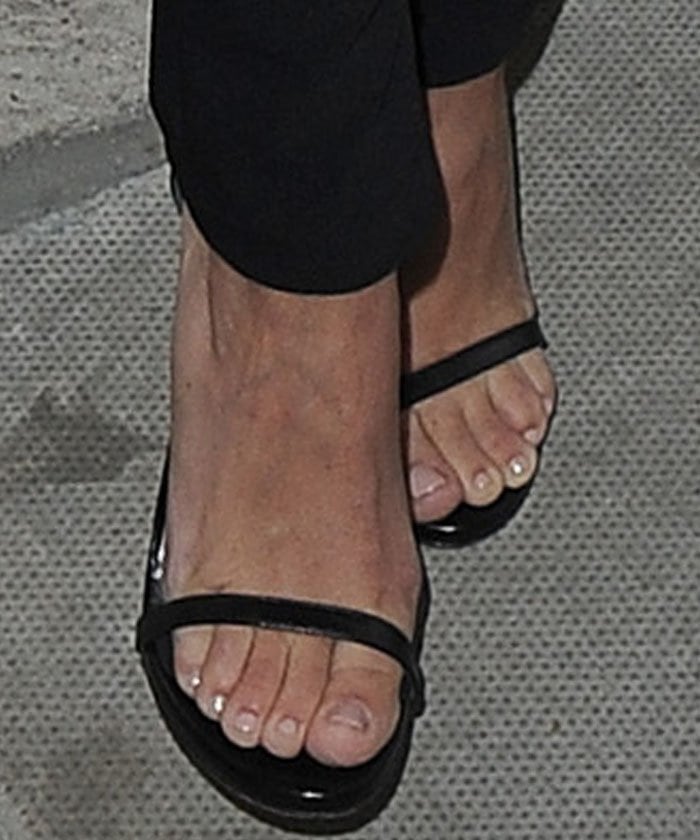 Kourtney travels with the one-shoe-fits-all Stuart Weitzman "Nudist" sandals for her trip to London
Kourtney wore a black grommet jumpsuit over a pair of lacy underwear, which she ingeniously styled to save an ill-fitting garment.
The Kardashian copied her sister Kim K by pulling a floor-length trench over the outfit and pairing the entire thing with Stuart Weitzman's "Nudist" sandals.
Kourtney Kardashian shows off her impressively toned body after three kids with ex-boyfriend Scott Disick
It seems it's not just the lace bra that she didn't take off from the night before. A close look shows that everything else was intact, including her safety pin pendant and all of her makeup.
We're guessing someone had a good night. Or a long flight.
Kourtney Kardashian uploads a morning selfie of her still wearing her lace bra from her night of partying
Check out Kourtney's snaps from her first day in London below:
Grab Kourtney's travel buddy, the Stuart Weitzman 'Nudist' sandals in black leather, at Nordstrom or Zappos.
Stuart Weitzman Nudistsong Leather Sandals, $398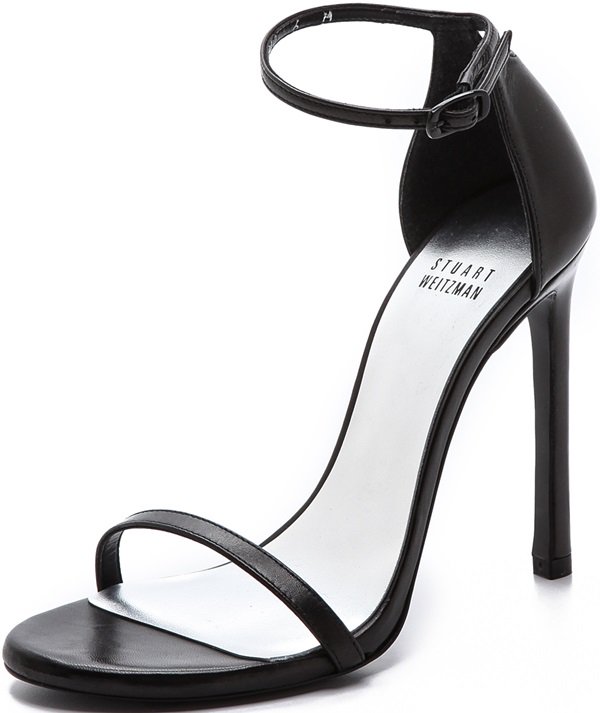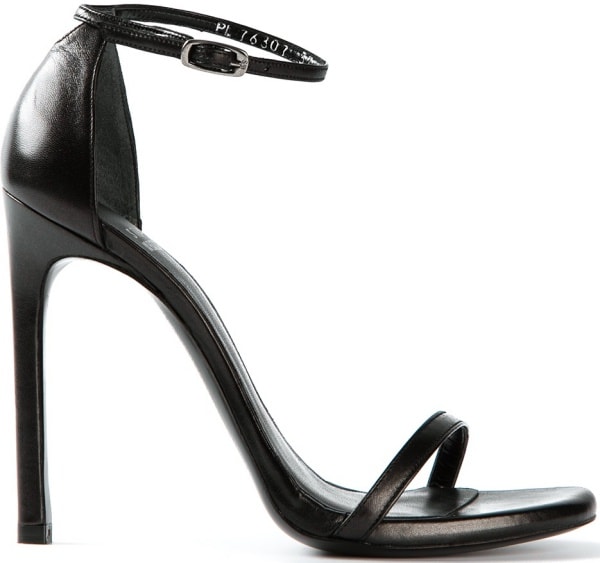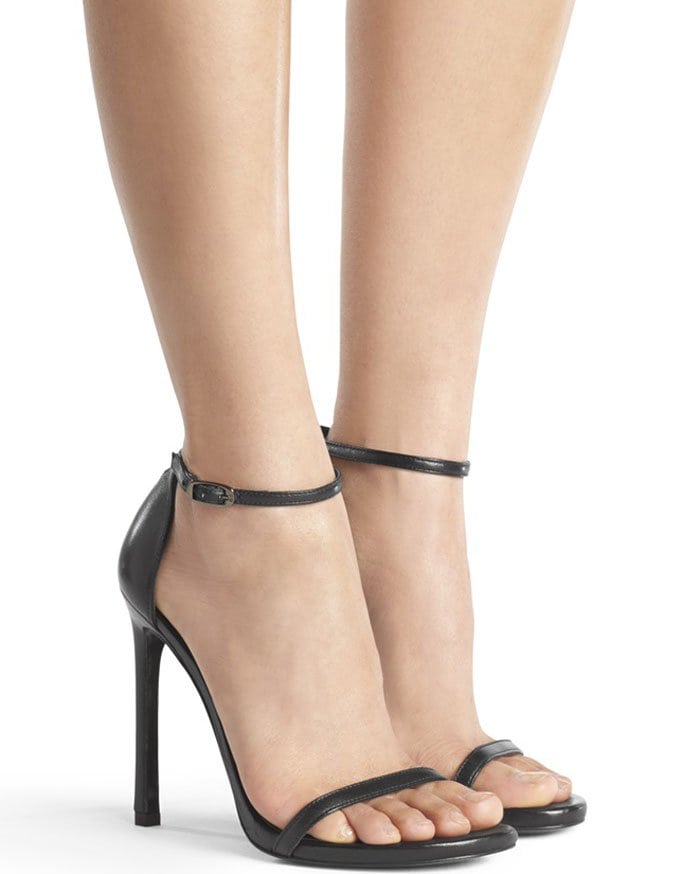 Credit: RV / WENN / David Livingston