From wardrobe malfunctions to falls and trips, runway mishaps are inevitable in every fashion show. Even the best and the most experienced supermodels are not immune to these accidents.
Case in point, Bella Hadid at the Michael Kors Spring 2017 NYFW show in September 2016.
Decked in a black embellished knee-length dress and a pair of towering platform sandals, the model lost her balance and tumbled down the runway in front of the photographers.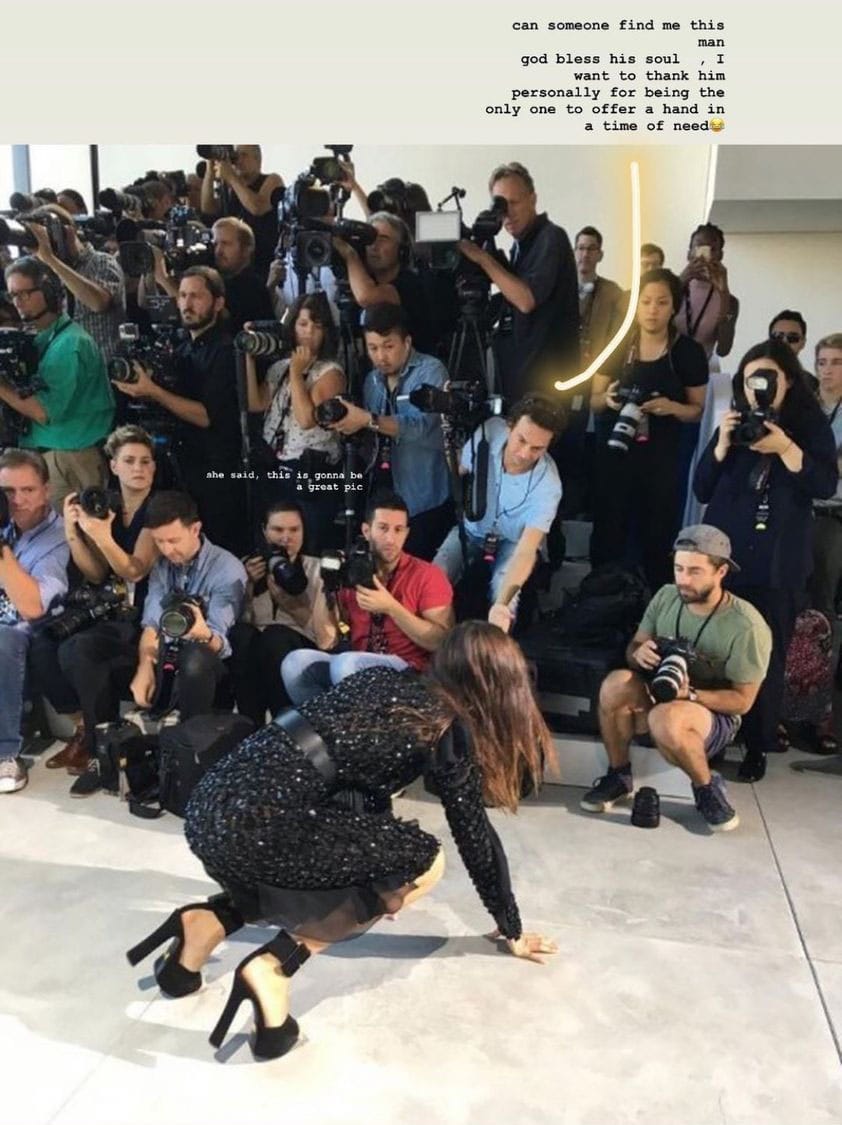 Bella Hadid is looking for the man who helped her get up after tumbling on the runway at Michael Kors' Spring 2017 show (Credit: Instar / WENN)
Among the photographers, only one gentleman extended his hand and assisted Bella to get back on her feet. Moved by the gesture, Bella now wants to find that man to personally thank him.
"Can someone find me this man. God bless his soul, I want to thank him personally for being the only one to offer a hand in a time of need," she captioned her Instagram story.
Trading wobbly high heels for comfy sneakers, the 24-year-old supermodel hit the New York City sidewalk in a pair of Nike Shox shoes, featuring the Shox technology that was introduced in 2000.
Bella Hadid leaves her New York City hotel in a chic black-and-white look on February 16, 2021 (Credit: Instar / WENN)
The chunky shoes boast a breathable mesh and nylon upper with full-length Nike Shox technology on the soles for optimal impact absorption.
They also have TPU cage overlays for support, foam midsoles for lightweight cushioning, TPU plate in the heels for stability, and rubber waffle outsoles for traction.
Bella Hadid slips into a pair of Nike Shox shoes (Credit: Instar / WENN)
Bella teamed her shoes with Foo and Foo Extended Tattoo sweatpants and a white Girls Gone Wild crop top. She also added a black-and-white moto jacket to give her look some edge.
To ramp up the style, Bella accessorized with several statement rings, a pair of drop earrings, and layered necklaces, including a Bvlgari ruby diamond chain necklace.
Bella Hadid teams her Nike Shox shoes with Foo and Foo sweatpants and a crop top (Credit: Instar / WENN)
Bella was seen leaving her NYC apartment with her Louis Vuitton Keepall Lv2 Ebene Damier Print 50 Bandouliere duffle bag in one hand.
With her hair tied up in a bun with a white scrunchie, Bella shielded her eyes behind a pair of Vehla Eyewear Olsen sunglasses and covered her face with an EvolveTogether face mask.
Bella Hadid pulls her hair up in a sleek bun tied with a scrunchie (Credit: Instar / WENN)