So many big celebrity names, we don't even know where to begin!
Madonna recently announced on Instagram that she will be dropping her own version of Taylor Swift's "Bad Blood" video which will feature crazy huge pop icons Beyoncé, Nicki Minaj, Rita Ora, Miley Cyrus, and even Tay's highly public nemesis, Katy Perry!
The juiciest part of it all? Madonna's camp did not reach out to Tay-Tay despite knowing that the country-turned-full-fledged-pop singer is a diehard Madonna fan (did we mention they once performed together, too?).
Taylor Swift loves her shorts from James Jean
Ouch. But fret not, for Hollywood need not be as catty as everyone makes it out to be – it was reported that Taylor was actually ecstatic at the idea of THE Madonna getting inspiration from her music video, and is looking forward to the seeing the final result.
Taylor Swift and Selena Gomez first met backstage at a Jonas Brothers concert
Madonna's side also claimed that the 56-year-old artist already had a vision for her music video which included Katy Perry, and decided not to reach out to Taylor to avoid tension.
For now, the 25-year-old is seeking the comfort of her BFF and member of her gal squad, Selena Gomez.
Taylor Swift and Selena Gomez both dated Jonas brothers at the same time
The two were spotted hiding from the paparazzi after finishing a rigorous workout, making their way into a spa and later emerging to have lunch at Ago Restaurant.
Taylor Swift shows off her Louis Vuitton bag
Taylor was spotted wearing what is now a controversial pair of leather suspenders from Free People, a statement shirt from Rachel Platten, and shorts from James Jean.
Taylor Swift and Selena Gomez trying to hide from the photographers
The singer hid behind her Louis Vuitton bag and wore a pair of booties from Franco Sarto.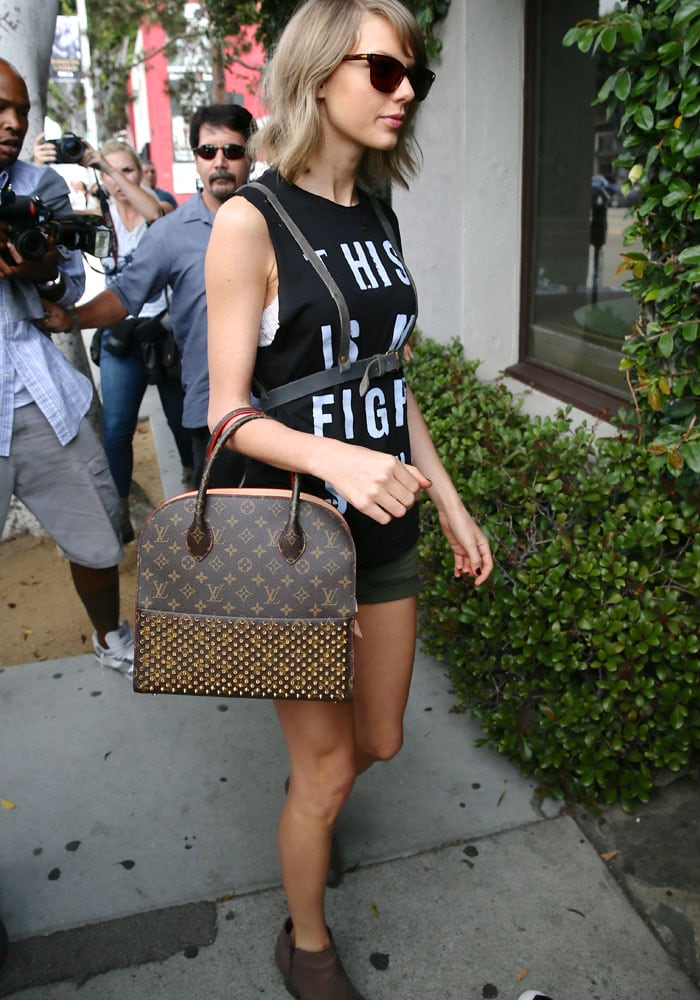 Taylor Swift's controversial leather suspenders from Free People
Selena, on the other hand, wore an American Apparel top, sunglasses from Etnia Barcelona, and calf-hair sneakers from Kenneth Cole.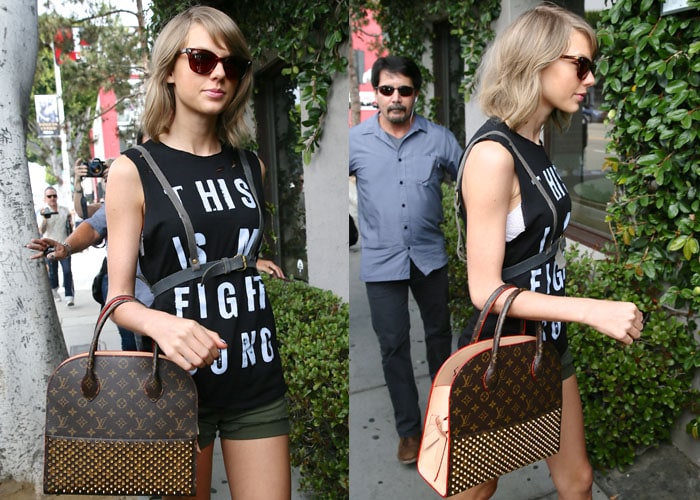 Taylor Swift's statement shirt from Rachel Platten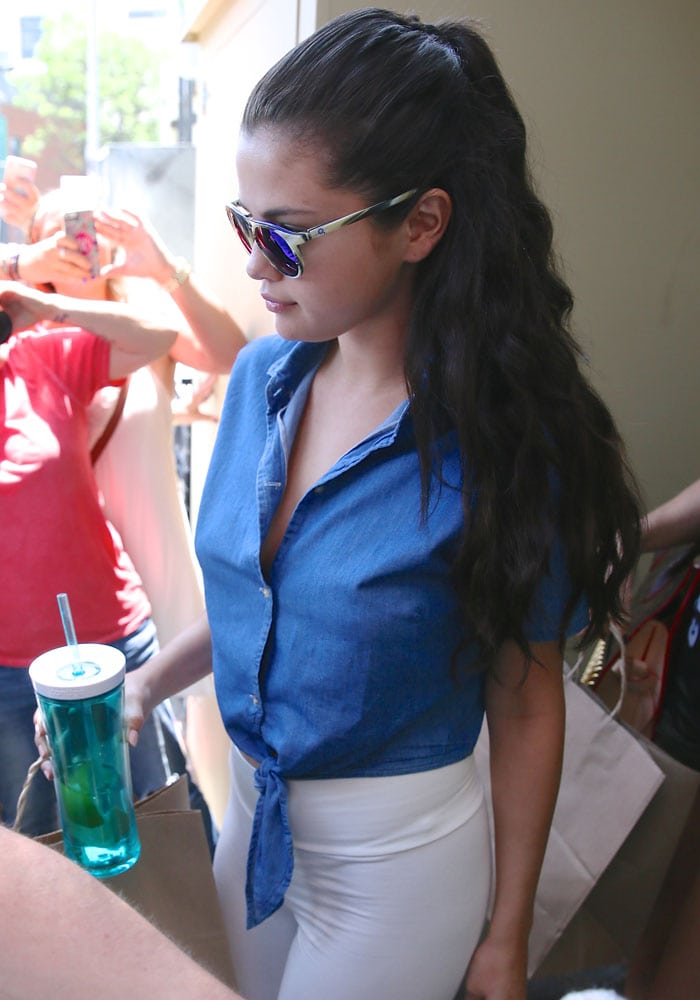 Selena Gomez wore sunglasses from Etnia Barcelona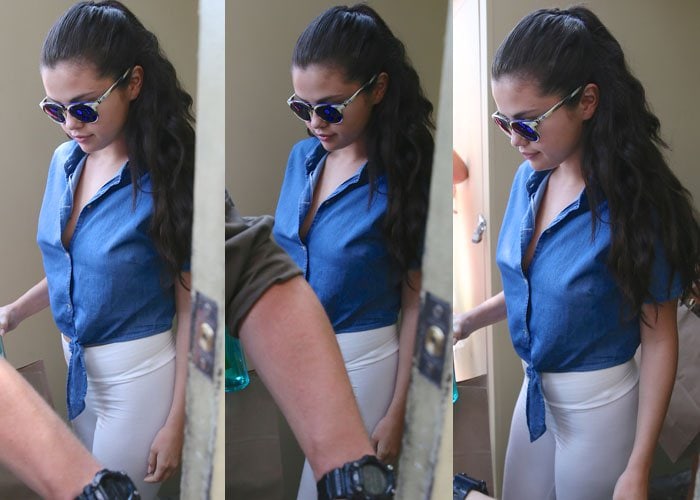 Selena Gomez rocks an American Apparel top
Taylor's squad includes singers such as Lorde, Selena Gomez, Ed Sheeran
Taylor Swift and Selena Gomez head out for lunch at Ago Restaurant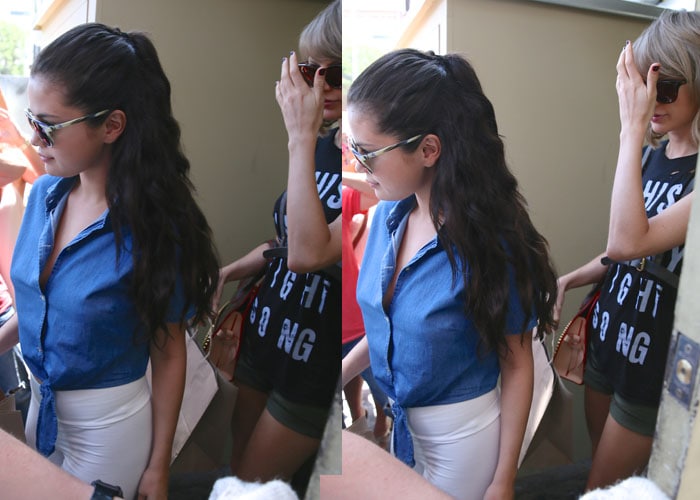 Taylor Swift and Selena Gomez shielded their faces from the paparazzi after sweating it out at Shape House Sweat Lodge in Los Angeles on June 16, 2015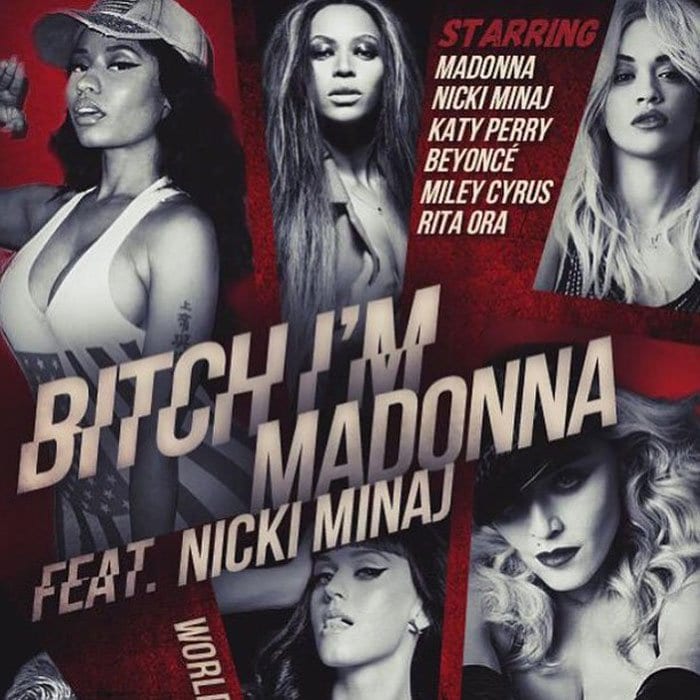 Madonna unveiled her upcoming "Bad Blood" inspired video, which featured Taylor Swift's nemesis, Katy Perry
Planning to have a casual day out with your BFF? We've got these laid back pairs available below:
Franco Sarto Agenda Dress Booties, $48.99 – $124.96
Kenneth Cole New York King Calf-Hair Sneaker, $140
Credit: Cousart / JFXimages / Michael Wright / Madonna Instagram / WENN