Ashley Tisdale is known for her bohemian California girl-esque sense of style. In February 2013, we spotted the actress out with her boyfriend Christopher French while running some errands in a very typical casual Ashley ensemble. One of the most common ways that couples met, they were introduced through friends.
Ashley Tisdale rocks a sweater and a beanie
She paired a pair of "Donnie" boots from Dolce Vita with printed socks, jean shorts, a sweater, and a beanie. While it seems a little contradictory to pair tall leather boots with breezy shorts, I sort of like her look. In fact, I've actually rocked a similar ensemble myself!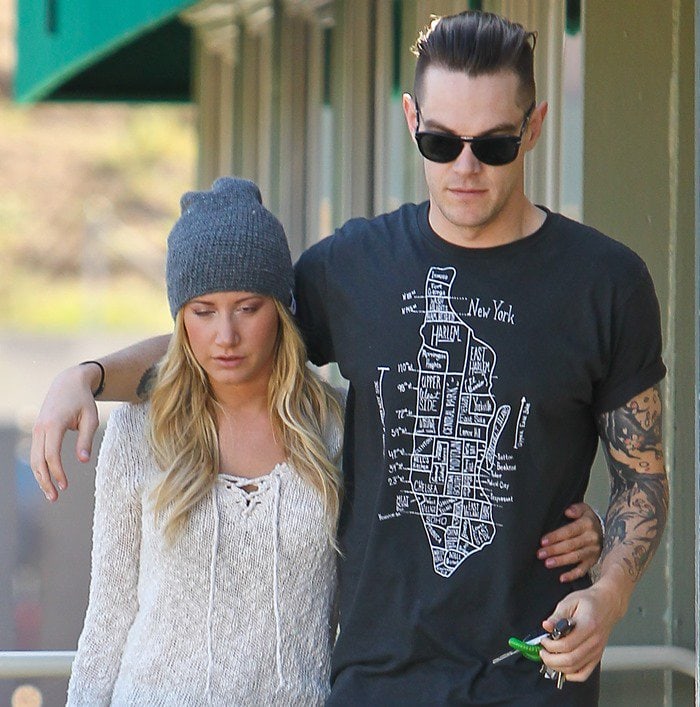 Ashley Tisdale and Christopher French started dating after meeting through friends
Ashley could have opted for more relaxed sneakers or sandals, but I prefer the unexpected feel of this over-the-knee style. However, I wish she had kept her top a bit lighter and added a cool zip-up hoodie or button-up on top as opposed to bundling up in a sweater.
A few months later, in August 2013, they got engaged after only eight months of dating. The Annie Automatic frontman proposed on the 103rd floor of the Empire State Building. They went public with their relationship in December 2012.
Ashley Tisdale and her boyfriend, Christopher French, on a date in Studio City, California on February 27, 2013
"I've obviously been in long relationships in the past," Ashley gushed to Ryan Seacrest in 2013. Before meeting her husband, she dated Martin Johnson, Scott Speer, Jared Murillo, and Gili Lang.
"But I think because of knowing what I wanted, I wouldn't have gone into a relationship if it wasn't what I wanted. I think from the moment that him and I met, I just knew it. I was like, 'Ok this is the guy,' and he knew the same thing. It doesn't get any better. I just can't explain it."
Actress Ashley Tisdale and Christopher French arrive at the 15th Annual Global Green Pre-Oscar Gala on February 28, 2018, in Los Angeles, California
Ashley's brown 'Donnie' boots from Dolce Vita are sold out online. However, they're available in white, stone, and black in very limited sizes at Zappos, Nordstrom, and Shopbop.
What do you think of this rich leather style? More importantly, what do you think of Ashley's pairing of over-the-knee boots with shorts — hot or hmmm?
Credit: WENN / FayesVision