Can someone please explain Nicki Minaj to me?
Sometimes I see pictures of her being all typically sexy and sultry, and then she's in wigs, shoulder pads and brightly-colored bodysuits like she's all Gaga-ed out the next.
Her public image confuses me and outfits like these really don't contribute to helping me sort her out: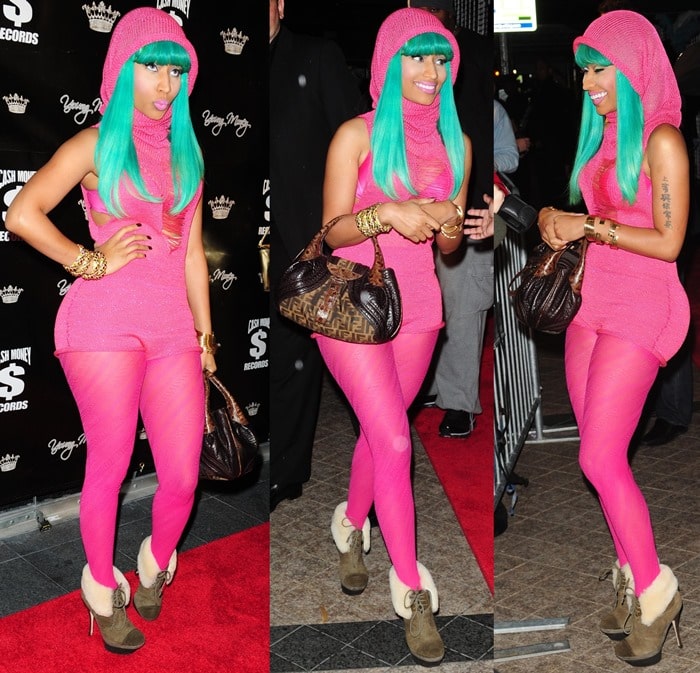 Nicki Minaj partying it up at Lil Wayne's Welcome Home party in Miami on November 7, 2010
I read somewhere that she's supposedly made female hip hop history by being the "first female rapper with the most entries on Billboard's Hot 100", and that she achieved all that even before she's released her album. Maybe the reason behind the constant change in style is that she's still new and that she IS still finding her style? Anyway, that's no excuse for this failed fashion experimentation and I still can't disguise the fact that this pink, green and brown outfit is one HOT MESS.
First, the positives: Nicki Minaj has got a killer body, I like how she stacked gold bracelets on both arms and I want her Fendi Spy bag.
As for the green wig, the sparkly pink hooded romper and the pink patterned tights…. well, those words don't even look good together written down.
Nicki Minaj is wearing bright pink and bright green but the real highlight of her outfit is of course, her fur cuff boots: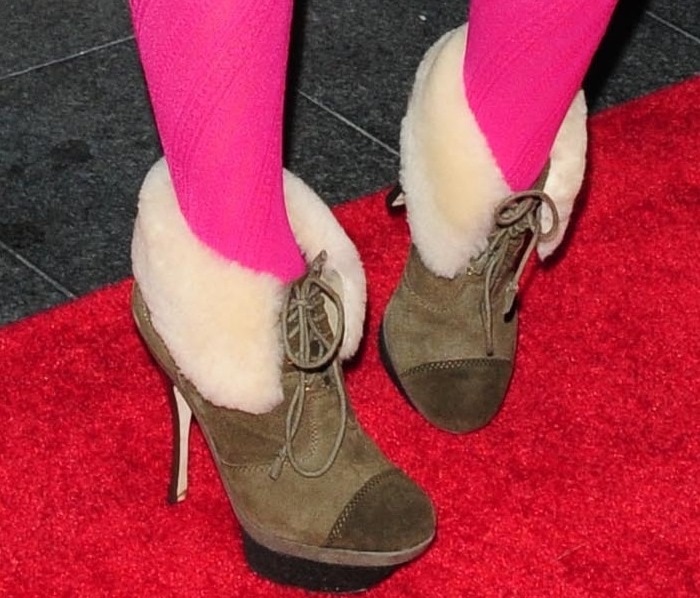 Her boots are these 'Pier' suede booties with shearling cuff from Gwen Stefani's L.A.M.B. that you can purchase at Shopbop: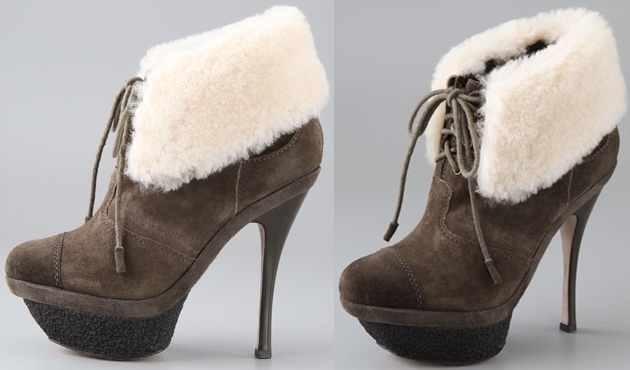 L.A.M.B.  Pier Suede Booties with Shearling Cuff, $395
Too bad these gorgeous L.A.M.B. boots' first public appearance had to be with a pink romper, pink tights and a pink wig!
Credit: Johnny Louis / WENN