Wearing a custom head-to-toe look from Schiaparelli Haute Couture, Lady Gaga celebrated the inauguration of the 46th President of the United States by performing the national anthem at the 2021 presidential inauguration ceremony on Wednesday.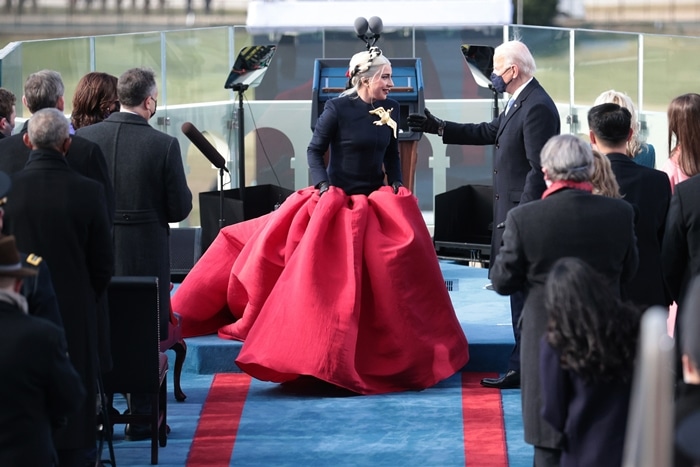 Lady Gaga gets ready to sing the National Anthem during the inauguration of U.S. President-elect Joe Biden on the West Front of the U.S. Capitol on January 20, 2021, in Washington, DC.
The 34-year-old Chromatica singer donned a navy cashmere jacket paired with a voluminous red silk faille skirt.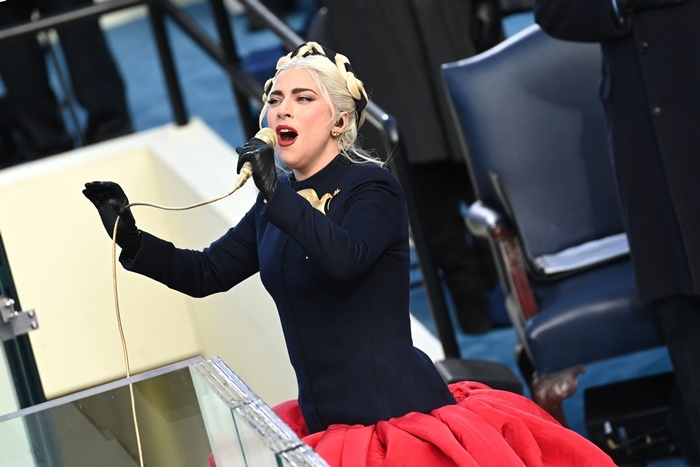 Lady Gaga wore an outfit created by American-born designer Daniel Roseberry
She accessorized with long Cornelia James gloves and a giant gilded brooch in the shape of a dove. A symbol of peace, Gaga explained on Twitter why she was wearing a golden dove brooch.
"A dove carrying an olive branch. May we all make peace with each other," she tweeted.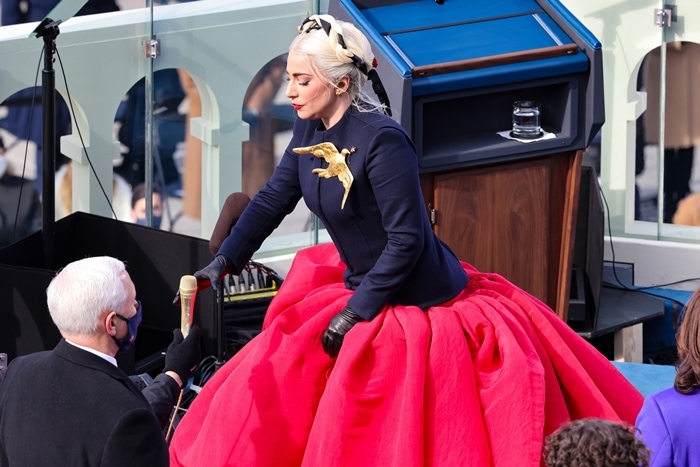 As Vice President Mike Pence looks on, Lady Gaga grabs a golden microphone to sing the national anthem of the United States
"Singing our National Anthem for the American People is my honor. I will sing during a ceremony, a transition, a moment of change—between POTUS 45 and 46. For me, this has great meaning. My intention is to acknowledge our past, be healing for our present, and passionate for a future where we work together lovingly. I will sing to the hearts of all people who live on this land. Respectfully and kindly, Lady Gaga. ❤️🤍💙," she wrote shortly before the performance on Twitter.
"As an American living in Paris, this ensemble is a love letter to the country I miss so dearly and to a performer whose artistry I have so long admired. Maison Schiaparelli is honored to have this chance to dress the iconic Lady Gaga on this historic Inauguration Day. God Bless Lady Gaga and God Bless America," Schiaparelli's artistic director Daniel Roseberry said in a statement.
Credit: Instar / WENN