As it turns out, even Wonder Woman isn't invincible. Gal Gadot, star of the new "Wonder Woman" flick, reportedly popped her back just before her big premiere.
The actress, who gave birth just two months ago, said that despite her injury, her doctor did give her permission to wear heels.
However, Gal decided she just wanted to be comfortable at the biggest premiere of her life. Gal was spotted looking red hot at the "Wonder Woman" premiere held at The Pantages Theatre in Hollywood.
Gal Gadot at the "Wonder Woman" world premiere held at The Pantages Theatre in Hollywood on May 25, 2017.
The "Wonder Woman" gown: Gal pays homage to her character in a sequined Givenchy dress.
Gal switches out her heels for a pair of Aldo's "Starda" flats.
Gal piles on layers of gold jewelry.
Gal paid homage to Wonder Woman by channeling the iconic outfit with a red sequined Givenchy gown.
The actress said her idea of "going all out" was to ditch her heels and go for a pair of Aldo "Starda" flat sandals that you can find at Amazon.
Gal finished her look with layers of gold jewelry and diamonds from Tiffany & Co.
The actress shows off her muscular back from the film's intensive training.
Gal greets a co-star enthusiastically on the red carpet.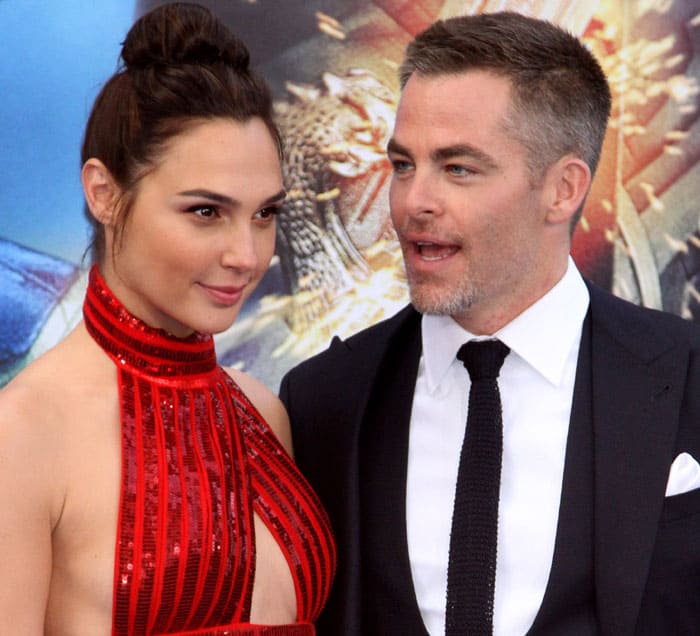 The actress and her co-star Chris Pine pose for the cameras.
Gal was supposed to meet her fans for a Q&A day when the unfortunate incident happened. The actress uploaded an apology video instead with a little surprise for her followers.
Shop Gal's $50 studded flats at Amazon.
Aldo "Starda" studded sandals, $50
Credit: Nicky Nelson / Adriana M. Barraza / WENN