While the world was outraged to find out that Gal Gadot was just paid $300,000 for Wonder Woman, the Israeli actress and model will likely earn millions in performance bonuses.
She can also expect a nice increase for Wonder Woman 1984 (also known as WW84), the intended sequel that is scheduled to be released in 2020.
In 2018, Gal earned approximately $10 million. In addition to her acting jobs, she receives income from sponsorship deals with companies like Gucci, Huawei smartphones, Miss Sixty, and Revlon.
Gal Gadot did know how much her net worth would increase at the German premiere of 'Fast & Furious Five' at Cinedom movie theatre in Cologne, Germany, on April 27, 2011
| Net Worth: | $10 Million |
| --- | --- |
| Source of Wealth: | Hollywood movies and sponsor endorsements |
| Born: | April 30, 1985 |
| Kids: | Maya Versano, Alma Versano |
| Husband: | Yaron Varsano, an Israeli businessman and real estate developer |
| Country of Origin: | Israel |
| Height: | 5ft 9 ½ (176.5 cm) |
| Shoe Size: | 9 (US) |
| How to Pronounce: | The "t" on her last name isn't silent — it's pronounced "Guh-dot." |
In March 2018, Gal Gadot and Reebok announced an endorsement deal reported to be worth $10 million, with the English footwear and apparel company maker hailing Gadot as a symbol of "courage and strength."
The "Wonder Woman" actress said on Instagram that she was "pumped" about the sponsorship and urged women to "Get ahead of the game! Get into the action!".
Two months earlier, in January 2018, Gal was named Revlon's "Global Brand Ambassador" for makeup company's new "Live Boldly" campaign, which is designed to "inspire women to express themselves with passion, optimism, strength, and style."
"Revlon is such an iconic and groundbreaking brand, a champion of women, and I am so happy to be part of this family now," the Israeli actress said in a statement. "There's a cultural shift happening, which Revlon celebrates, where feminine power is recognized, and I'm so proud that I get to witness and live this amazing change."
Just a few years ago, Gal Gadot joined A-list stars at the unveiling of Tiffany & Co.'s newly renovated Beverly Hills store as well the brand's 2016 Tiffany Masterpieces collection.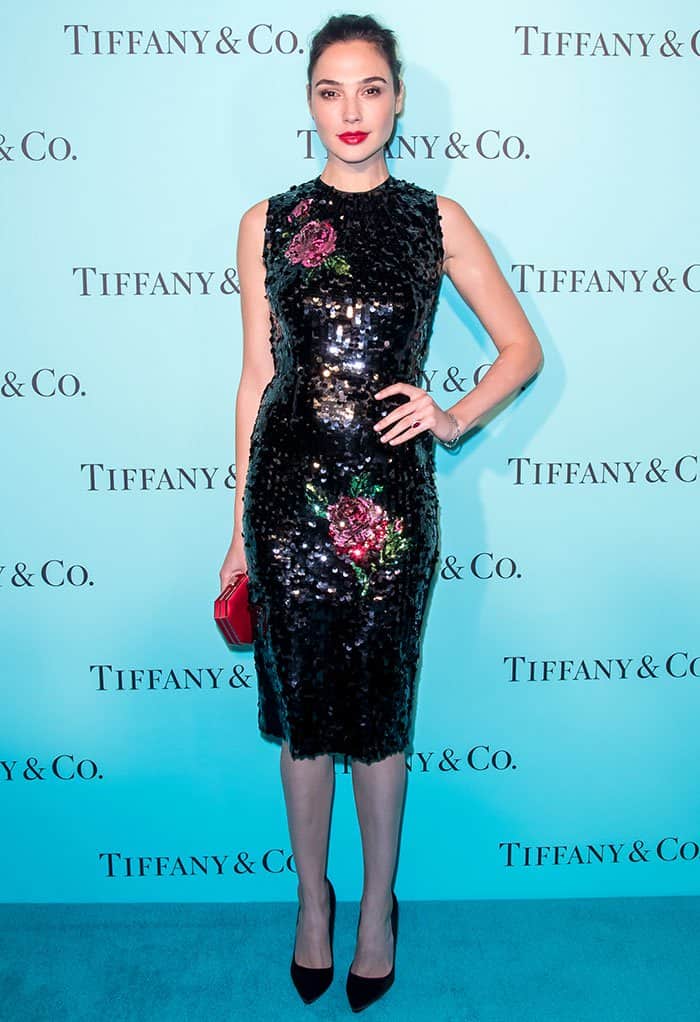 Gal Gadot flaunts her legs in a form-fitting sleeveless dress by Dolce & Gabbana
The 31-year-old actress opted for a form-fitting sleeveless dress by Dolce & Gabbana and looked flawless from head-to-toe.
She commanded attention in the stunning black number, which showcased her enviable figure. The frock, crafted from glimmering paillettes with sequined roses, ensured all eyes were on the rising star.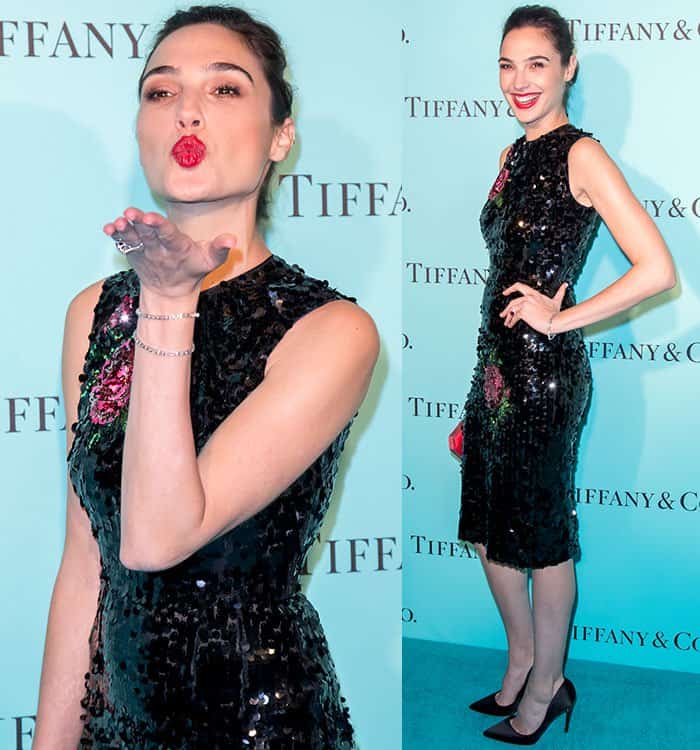 Gal Gadot at the unveiling of the renovated Tiffany & Co. Beverly Hills Store on October 13, 2016
Gal styled the look with minimal accessories in order to allow her light-catching dress to do the talking. She wore a couple of chain bracelets and a ruby ring, which matched her red purse and bright red lipstick.
Gal Gadot's bright red lips
Her chic updo and shimmering eyeshadow rounded out her look.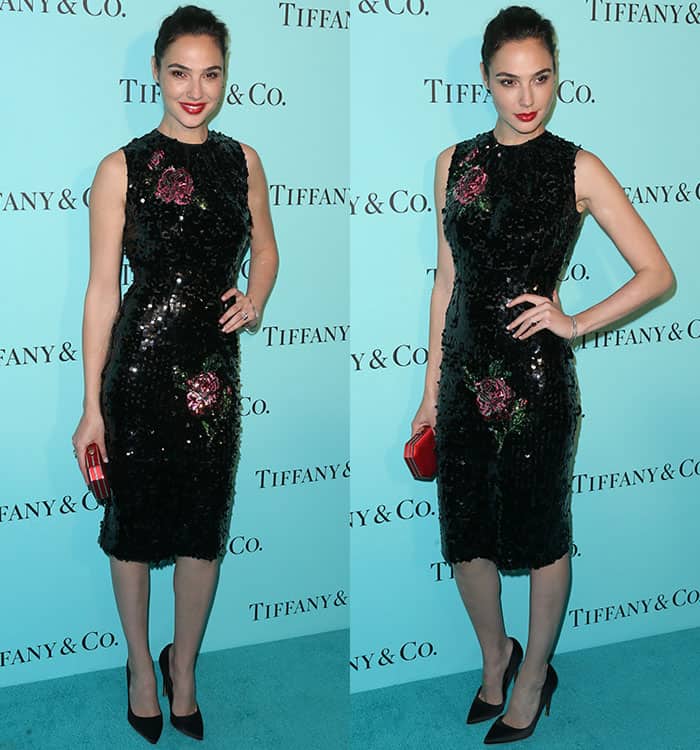 Gal Gadot was good at basketball because of her height
Gal slipped into a classic pair of black satin pumps for her feet. They simply have pointed toes and about four-inch heels.
Gal Gadot shows toe cleavage in sexy satin pumps
Credit: Michael Boardman / FayesVision / WENN