While the world was outraged to find out that Gal Gadot was just paid $300,000 for Wonder Woman, the Israeli actress and model earned millions in performance bonuses.
For Wonder Woman 1984 (also known as WW84), the sequel that was released in 2020, she reportedly earned $10 million. Her estimated net worth in 2022 is believed to be around $30 million.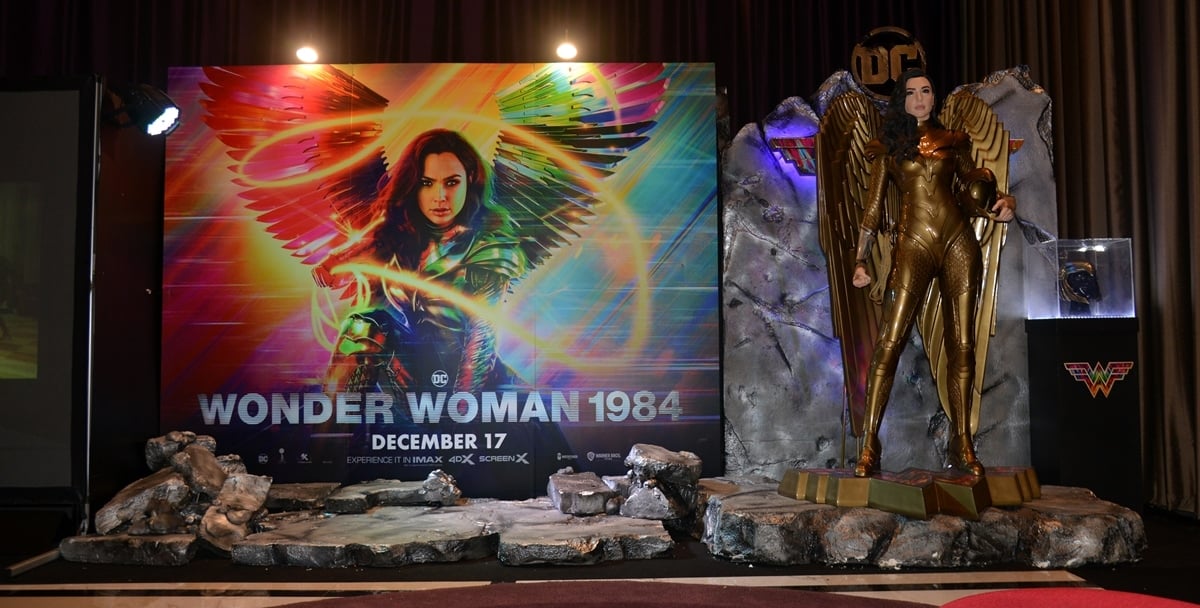 Gal Gadot received $10 million for Wonder Woman 1984 and $300,000 for 2017's Wonder Woman (Credit: Sarunyu L / Shutterstock)
"The success of the first 'Wonder Woman' film — for which Gadot was paid only $300,000, a figure that caused outrage in some circles as it paled in comparison to what many male action stars take home — helped catapult her onto the list of the highest-paid actresses in Hollywood," Vanity Fair wrote.
She was reportedly also paid $20 million for the 2021 American action comedy film Red Notice. Her upcoming film projects include Disney's American musical fantasy film Snow White and Netflix's spy film Heart of Stone
In addition to her acting jobs, she receives income from sponsorship deals with companies like Gucci, Huawei smartphones, Miss Sixty, and Revlon.
Gal Gadot did know how much her net worth would increase at the German premiere of 'Fast & Furious Five' at Cinedom movie theatre in Cologne, Germany, on April 27, 2011 (Credit: WENN)
In March 2018, Gal Gadot and Reebok announced an endorsement deal reported to be worth $10 million, with the English footwear and apparel company maker hailing Gadot as a symbol of "courage and strength."
The "Wonder Woman" actress said on Instagram that she was "pumped" about the sponsorship and urged women to "Get ahead of the game! Get into the action!".
Two months earlier, in January 2018, Gal was named Revlon's "Global Brand Ambassador" for the makeup company's new "Live Boldly" campaign, which is designed to "inspire women to express themselves with passion, optimism, strength, and style."
Gal Gadot, Dwayne Johnson, and Ryan Reynolds each received a $20 million paycheck for Netflix's 'Red Notice' (Credit: DFree / Shutterstock)
"Revlon is such an iconic and groundbreaking brand, a champion of women, and I am so happy to be part of this family now," the Israeli actress said in a statement. "There's a cultural shift happening, which Revlon celebrates, where feminine power is recognized, and I'm so proud that I get to witness and live this amazing change."
Just a few years ago, Gal Gadot joined A-list stars at the unveiling of Tiffany & Co.'s newly renovated Beverly Hills store as well the brand's 2016 Tiffany Masterpieces collection.
In 2022, she signed on as the official ambassador of Tiffany's 2022 high jewelry Blue Book collection, called Botanica.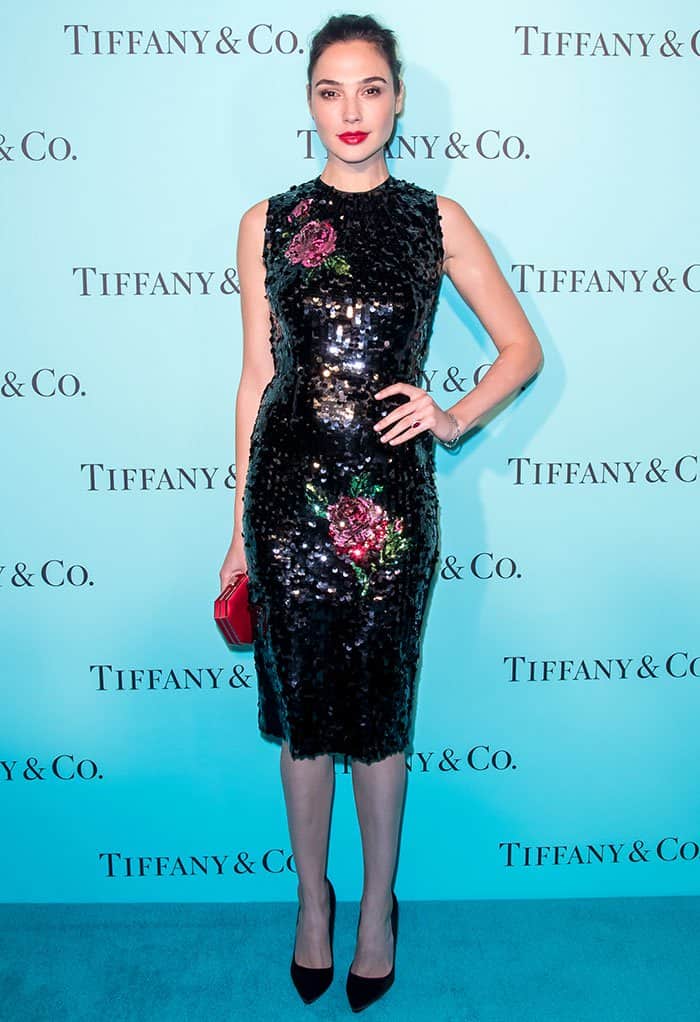 Gal Gadot flaunts her legs in a form-fitting sleeveless dress by Dolce & Gabbana (Credit: WENN)
The then-31-year-old actress opted for a form-fitting sleeveless dress by Dolce & Gabbana and looked flawless from head to toe.
She commanded attention in the stunning black dress, which showcased her enviable figure. The frock, crafted from glimmering paillettes with sequined roses, ensured all eyes were on the rising star.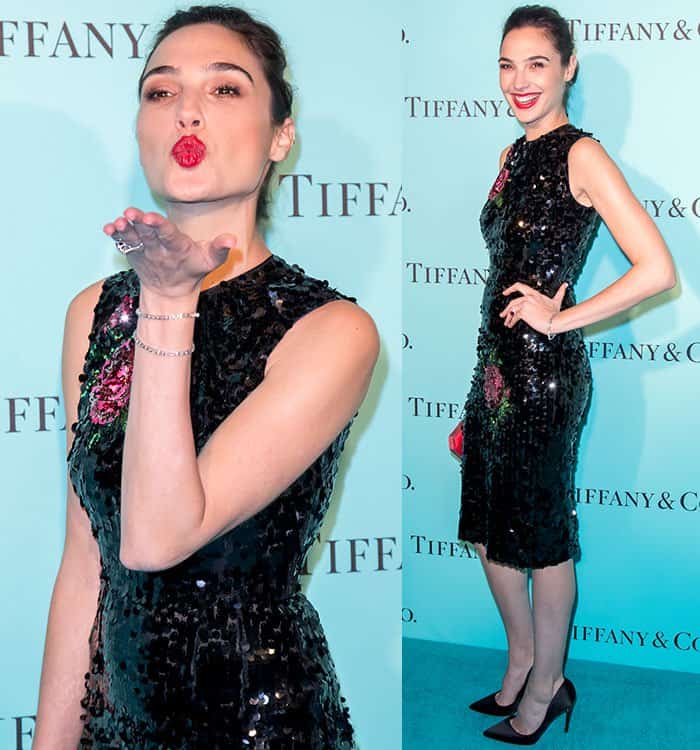 Gal Gadot at the unveiling of the renovated Tiffany & Co. Beverly Hills Store on October 13, 2016 (Credit: Michael Boardman / FayesVision / WENN)
Gal styled the look with minimal accessories in order to allow her light-catching dress to do the talking. She wore a couple of chain bracelets and a ruby ring, which matched her red purse and bright red lipstick.
Gal Gadot is famous for her bright red lips and smoldering brown eyes (Credit: WENN)
Her chic updo and shimmering eyeshadow rounded out her look.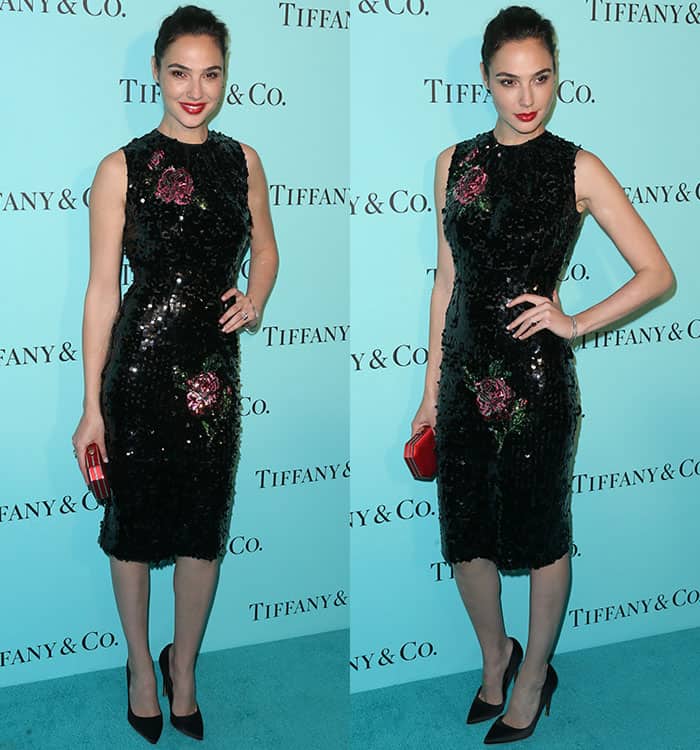 Gal Gadot was good at basketball because of her height (Credit: WENN)
Gal slipped into a classic pair of black satin pumps for her feet. They simply have pointed toes and about four-inch heels.
Gal Gadot shows toe cleavage in sexy satin pumps (Credit: WENN)