Georgina Chapman attended the premiere of 'Project Runway Allstars' with Isaac Mizrahi by her side and a fun heel-less Mary Jane pumps on her feet!
The designer looked fabulous in long loose waves, a short black frock, and flirty heels. While some are a little skeptical when it comes to this particular shoe style, we happen to like the curved heel/heel-less design!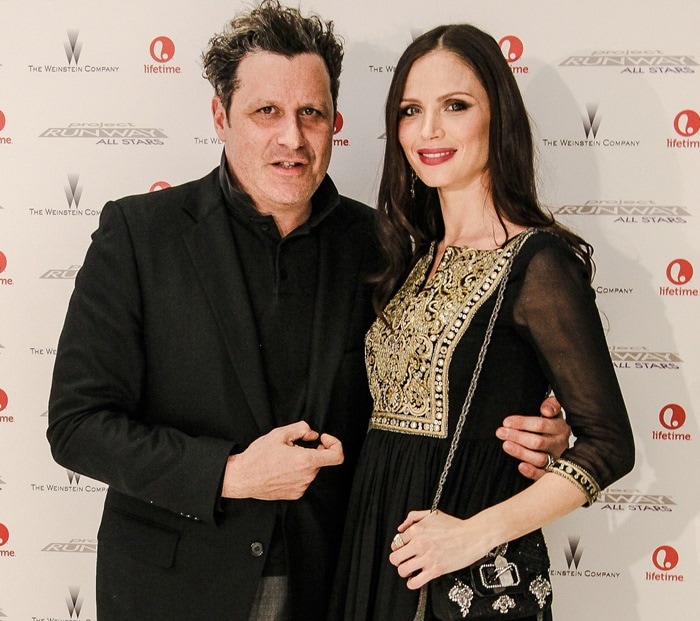 Georgina Chapman, posing with Isaac Mizrahi, looked fabulous with long loose waves
You get the feel of wedges or platforms, but with a huge added twist that makes them much more modern and edgy!
Isaac Mizrahi, LaLa Anthony, and Georgina Chapman at the premiere of Project Runway Allstars at Nine West in New York City on October 25, 2012
She could have opted for basic black pumps or even sleek black booties, but we're quite happy with her shoe choice. On a scale from 1 to 10, I'd give this pairing a 9.
The basic black suede of her shoes didn't compete with the detailing of her dress but added a little something that simpler shoes couldn't have matched.
Unfortunately, we have not been able to identify Georgina's heels. But we did find a very similar heel-less style from Jeffrey Campbell.
Jeffrey Campbell Night Walk Pumps, $170 at Nordstrom
A dainty mary-jane strap details a dark suede pump set upon a stunning sculpted wedge heel.
Credit: Kyle Blair / WENN