Gerda Jacoba Aletta Maritz joined her daughter Charlize Theron on the red carpet at the 2020 Academy Awards on Sunday at the Dolby Theatre in Hollywood.
The daughter of Johanna Maria Barindina (Stofberg) and Jacob Johannes Maritz, Charlize Theron's mother is of Afrikaner (Dutch and German) descent. In a 2004 interview with ABC News' Diane Sawyer, Charlize revealed how her mom ended up killing her dad.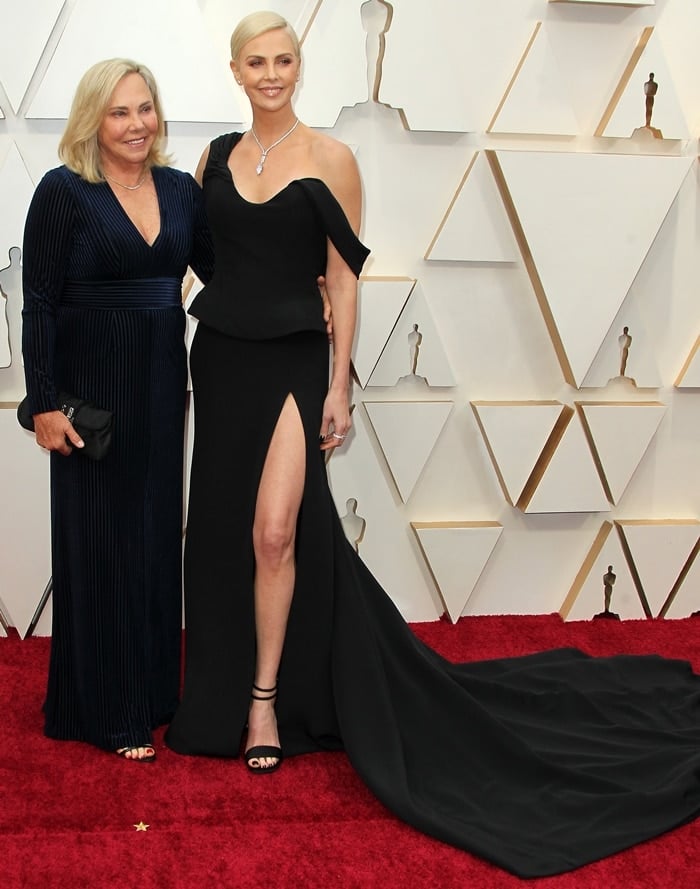 Gerda Jacoba Aletta Maritz shot and killed her daughter's Charlize Theron's father in 1991
Growing up on her parents' farm in Benoni, near Johannesburg, the incident happened on the night of June 21, 1991. Charlize's father, Charles Theron, had a troubled marriage with Gerda Jacoba Aletta Maritz.
"My dad was a big guy, tall, skinny legs, big belly," Theron told Sawyer. "[He] could be very serious but loved to laugh as well, and enjoyed life. He also had a disease. He was an alcoholic."
It was a Friday, and Theron's father and his brother were on their way home following an evening of drinking. An aunt called to warn Gerda and Charlize. "Nature gives you instinct. And I knew something bad was going to happen," Theron said.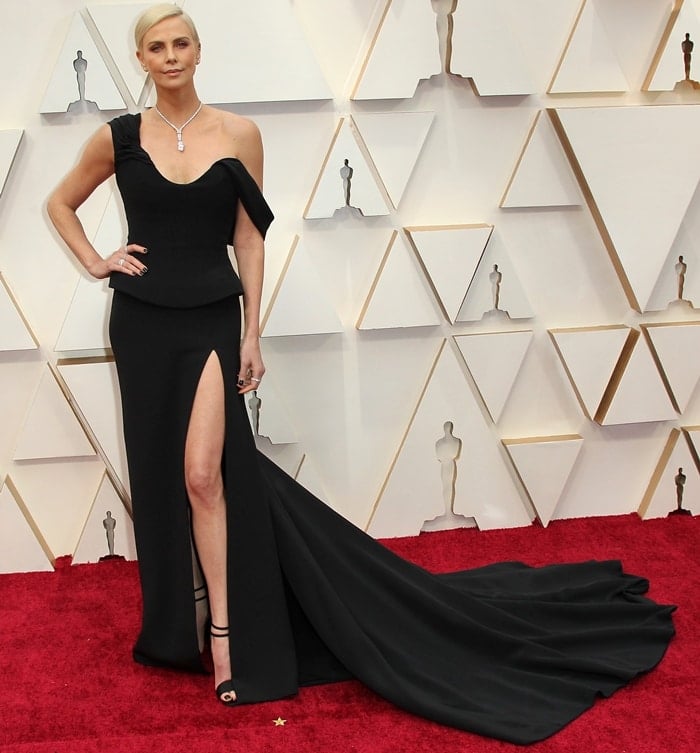 Charlize Theron wearing a black Christian Dior Haute Couture gown with Tiffany & Co jewelry at the 2020 Academy Awards at the Dolby Theatre in Hollywood on February 9, 2020
Threatening both 15-year-old Charlize and her mother while drunk, he began shooting after locking the gate to their home. Banging angrily on the door of his daughter's bedroom, according to the testimony he said, "Tonight I'm going to kill you both with the shotgun."
"The terrible thing is that everybody in South Africa has a gun … You know, but that's just the lifestyle there. And those things are handy; terrible things happen," Theron said.
"You shouldn't have those things around because when people get irrational and emotional and drunk, terrible things can happen."
Charlize Theron wows in a red a Louis Vuitton look at the exhibit opening of Vanity Fair: Hollywood Calling – The Stars, The Parties and The Powerbrokers held at Annenberg Space For Photography in Century City, California, on February 4, 2020
To defend herself and her daughter, Gerda Jacoba Aletta Maritz grabbed her own handgun and shot the two men, killing her husband and wounding his brother. Charlize asked her mom: "What happened?" The answer: "Charlize, I shot them … I shot them."
"I know what happened," she said. "And I know that if my daughter was in the same situation, I would do the same thing."
The attorney general ruled the killing to have been self-defense, and her mother faced no charges.
"For her to say go, go make something of your life, go, go do something — that was an extremely brave thing for her to do," Theron said. "Those are the sacrifices, you know, that I think you do for your children, and she always did that. She always put me first."
In a book titled "Killer Women: Fatal South African Females" that you can purchase on Amazon, Charlize Theron's aunt disputes Charlize's account of Charles Theron's shooting.
Gerda Jacoba Aletta Maritz now lives just 2 minutes from her daughter in Los Angeles. They are frequently seen together on the red carpet.
Charlize Theron and her mother Gerda Jacoba Aletta Maritz attend the "Long Shot" New York Premiere at AMC Lincoln Square Theater on April 30, 2019, in New York City
Credit: Adriana M. Barraza / WENN / Instar / Ivan Nikolov