While Periscoping with her fans last month, Gigi Hadid answered intimate questions from her passionate fans and revealed how she met her boyfriend Joe Jonas, an American musician/actor with a net worth of $25 million.
"We met at the Grammys when I was 13 years old," she said of the middle Jonas brother. "And he asked me to a baseball game, and I said no."
Joe Jonas and his girlfriend Gigi Hadid attend 2015 Global Lyme Alliance Gala at Cipriani 42nd Street on October 8, 2015, in New York City
While it wasn't a lack of interest that kept her from the Dodgers game date, Gigi was simply too nervous and possibly too young to say yes.
"I was so nervous; I literally didn't even know what it meant to hang out with a boy," she confessed. "And also, Grammys are on a Sunday, and I didn't want to tell him that I had school the next day, so I was like, 'No, maybe next time.' "
Not easily rejected, the then-19-year-old Jo-Bro was not ready to give up. "I didn't have my phone with me, and I don't think he did either because we were at the Grammys, and so he wrote his number on a piece of paper and gave it to my mom."
In August, Gigi Hadid and boyfriend Joe Jonas were spotted keeping it casual while grabbing coffee and shopping in West Hollywood.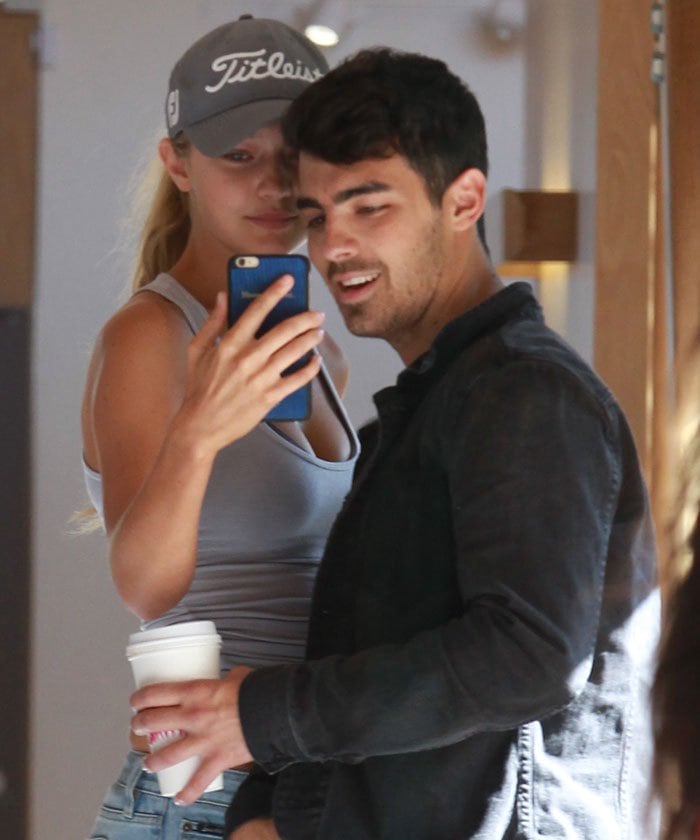 Joe Jonas and Gigi Hadid grab coffee and spend a day shopping in Beverly Hills on August 20, 2015
The 26-year-old singer-slash-actor Joe kept it cool in a dark denim jacket worn over a blue T-shirt and paired with black jeans and black leather shoes.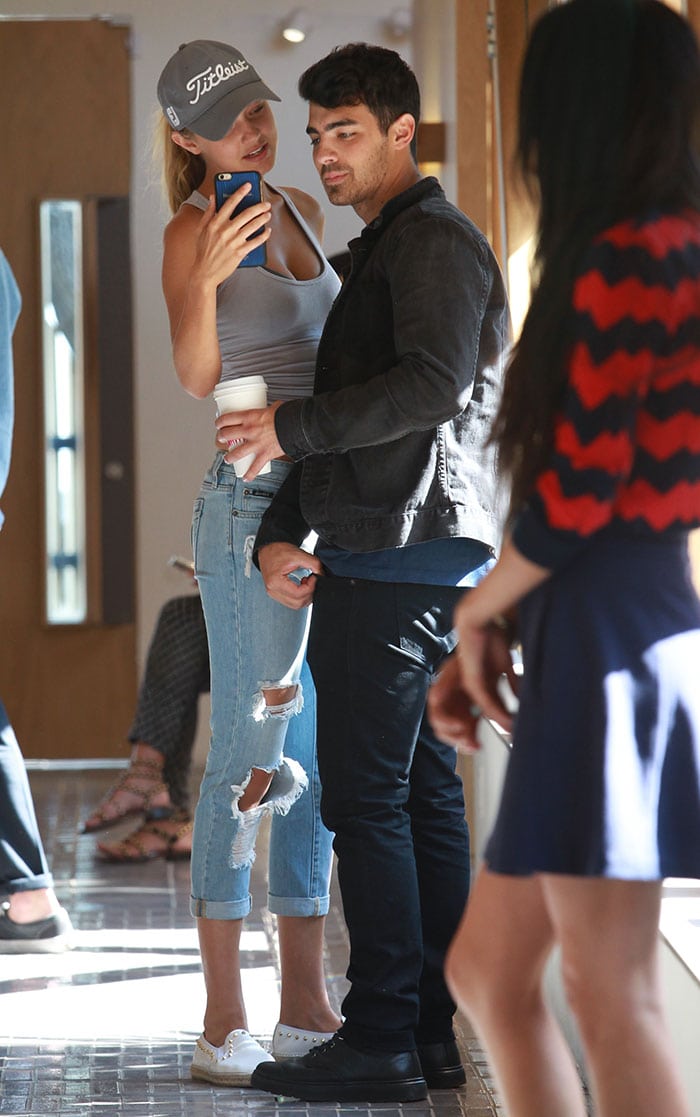 Gigi Hadid holds her cellphone and Joe Jonas holds his coffee as the two spend a day out in Beverly Hills
On the other hand, 20-year-old model Gigi looked chic and sexy as she flashed her midriff in a pearl gray Michael Kors tank top, which gave a peek at her bra.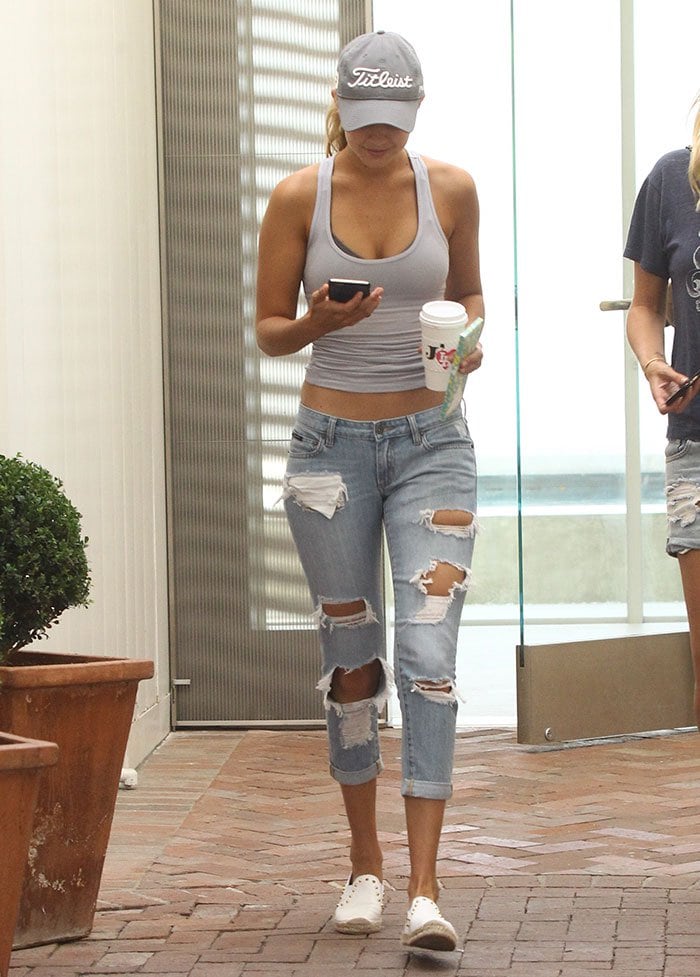 Gigi Hadid flaunts her toned midriff in a Michael Kors tank top
She paired her tank top with the Bardot "Kimye" low-rise ripped jeans that were rolled up to her mid-calf.
Gigi Hadid smiles as she strolls through Beverly Hills with boyfriend Joe Jonas in tow
She hid her ponytail under a gray Titleist Tour Performance cap and went bare-faced to show off her natural beauty.
Gigi Hadid shows off the detailing on her gold-studded espadrilles by Ash
Gigi completed her chic off-duty summer look with trendy gold-studded white espadrilles. You can get them in black and white versions at Zappos and Farfetch.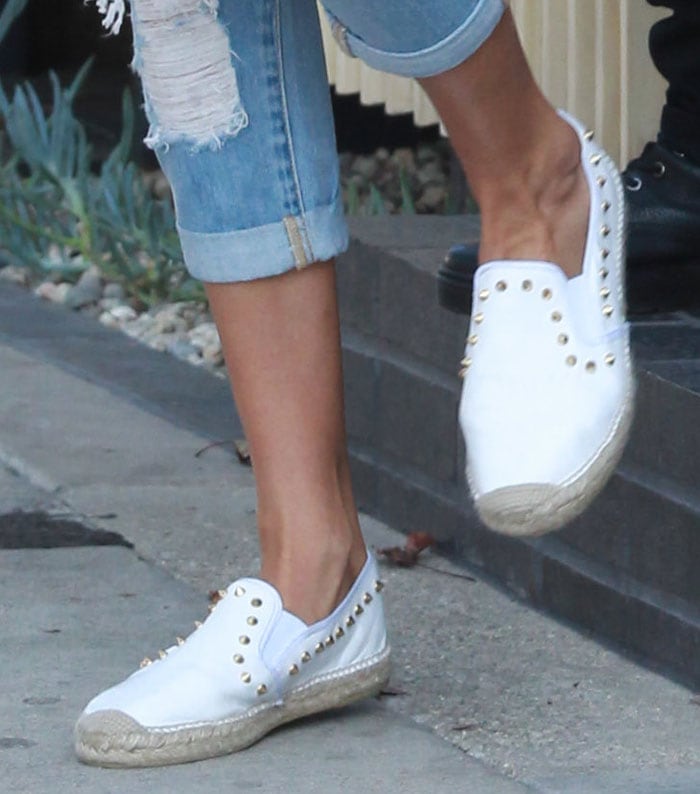 Gigi Hadid steps out in her leather "Zest" espadrilles, previously spotted on Hilary Duff
Gigi wore the same Ash "Zest" leather espadrilles that Hilary Duff styled with gray denim overalls.
Ash "Zest" Espadrilles, $79.50–$195 at Zappos and Farfetch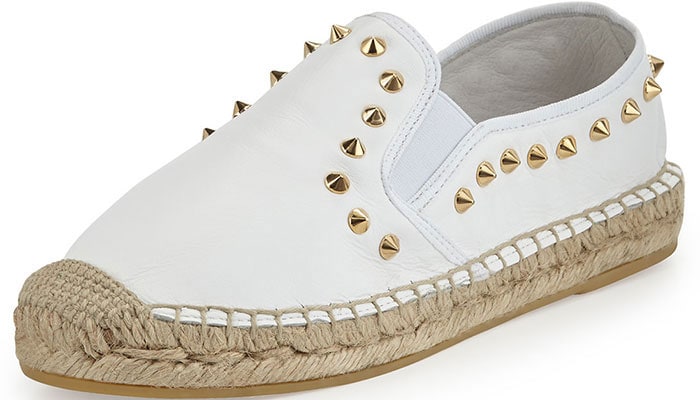 Credit: WENN / Andres Otero