I absolutely adored the tropical, floral, birds-of-paradise prints Givenchy used for their Spring 2012 Menswear collection so I was a little bummed not to see them on the counterpart women's collection. In fact, the Givenchy Spring 2012 women's RTW couldn't be any more different. It was largely plain and neutral colored; sure, it gave us those simple but sexy Givenchy shark tooth turnlock sandals but why do the guys get fun and bright summery prints and we don't?
So imagine how ecstatic I was to have finally come across these sandals sporting the tropical flowers and birds print that I just love, love, love. Okay, so it's just one pair of sandals but it's better than nothing! Also, they used the print very generously and showcased it as much as they can on this single pair.
Givenchy Multicolor Printed Open Toe Stilettos, $1,759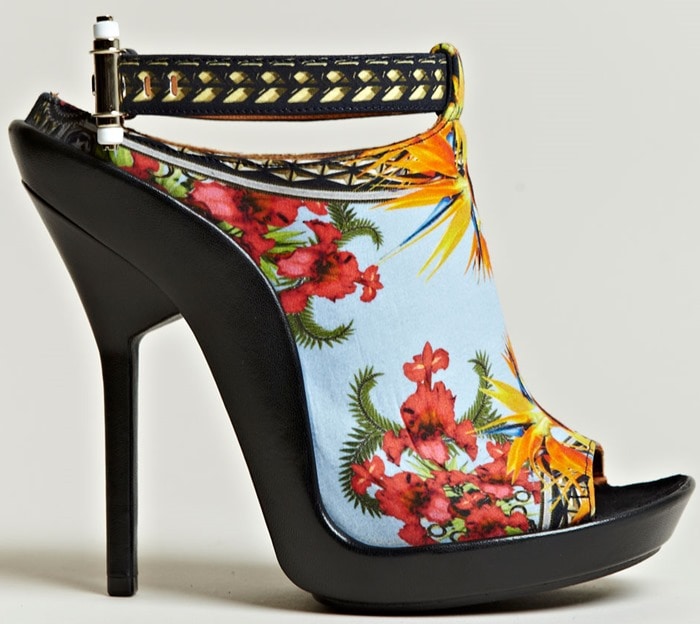 They even used the frame border print on this sandal's ankle strap which would make more sense if you saw the print in its entirety (here's a link to a tote sporting the full print at Forward in case you haven't yet). It's also got this interesting rolling metal buckle instead of the regular single prong square buckle. A mule-like shoe entry and a sharply angled stiletto heel complete its distinctive look.
I wish Givenchy used this print on more of their shoes but maybe not as much as I wish that these sandals were more pocket-friendly. With the current exchange rates, these sandals are priced at a staggering $1,759.