Avril Lavigne proved that she is still the rock star princess when she stepped onto the red carpet at the 2013 MuchMusic Video Awards in Toronto, Canada, where she bagged the Best International Video by a Canadian for her latest single, "Here's to Never Growing Up."
Avril Lavigne was a glam rock princess at the 2013 MuchMusic Video Awards at MuchMusic HQ in Toronto, Canada on June 16, 2013
Avril wore a very simple LBD, but her accessories were enough to make her the rock star royalty that everyone's been talking about.
She wore a collar-like headpiece with silver spikes, which served as her crown, and a spiked bracelet and matching pumps.
The Canadian singer-songwriter let her blonde locks down, and her dark eye makeup and nude lip shade were the finishing touches to her glam rock princess look.
Avril Lavigne's spiked Jeffrey Campbell pumps
Is she your rock star princess or what? Compared with other celebs at the event, Avril dressed simply; still, she rocked in that ensemble.
Her Madame shoes from Jeffrey Campbell were the perfect complement to her look! They're fashioned from black suede, and they feature silver-tone spiked studs around the opening as well as down the 5.9-inch heels.
If not for these studs, these pumps would've been very simple and Avril's look would've been boring, especially with her simple dress. The shoes' hidden platforms, by the way, measure about 1.5 inches.
Would you finish your own tough-chic look with these heels?
Spiked Jeffrey Campbell Madame Pumps, $207.30 at Amazon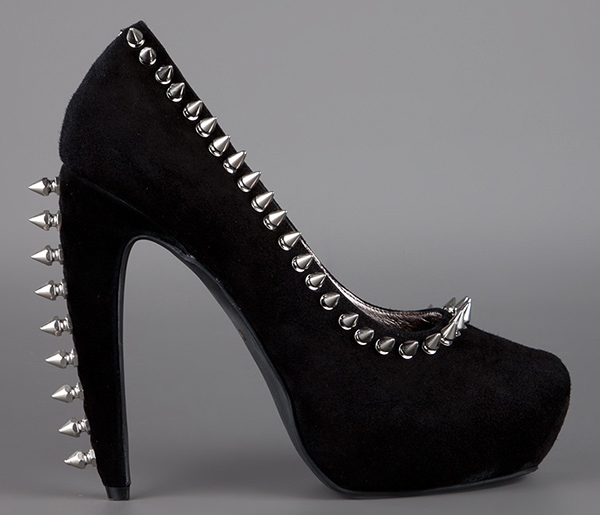 Credit: WENN