Ah, young Hollywood love. It looks like things between actress Bella Thorne and hunky actor Gregg Sulkin are going well!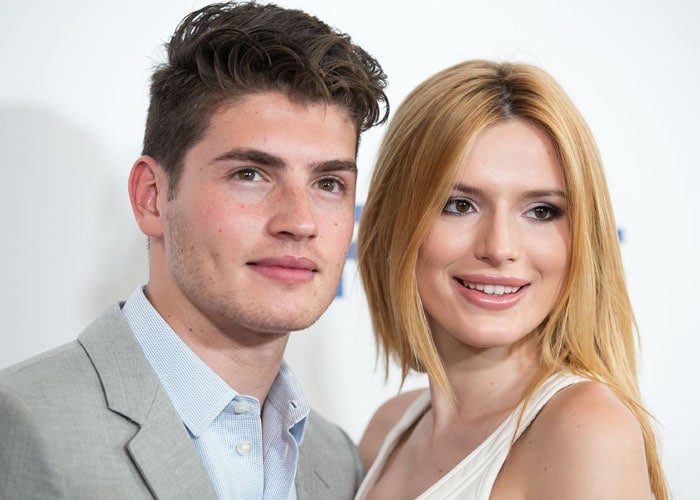 Actress Bella Thorne and her beau Gregg Sulkin pose together for a photo on the red carpet at the 6th Annual Thirst Gala held at The Beverly Hilton hotel in Los Angeles on June 30, 2015
While Bella initially said they two were "seeing where things will lead," it looks to us like things are leading to a very positive place.
So far, Bella has gone on movie dates with Gregg's parents and has watched Gregg take care of an elderly person in need of help. Plus, Bella's just so gosh darn gorgeous, it's no wonder these two seem to be inseparable.
Bella Thorne and Gregg Sulkin joke around during a photo opportunity at the Thirst Gala
The two were spotted making their first official public appearance together on the red carpet of the 6th Annual Thirst Gala.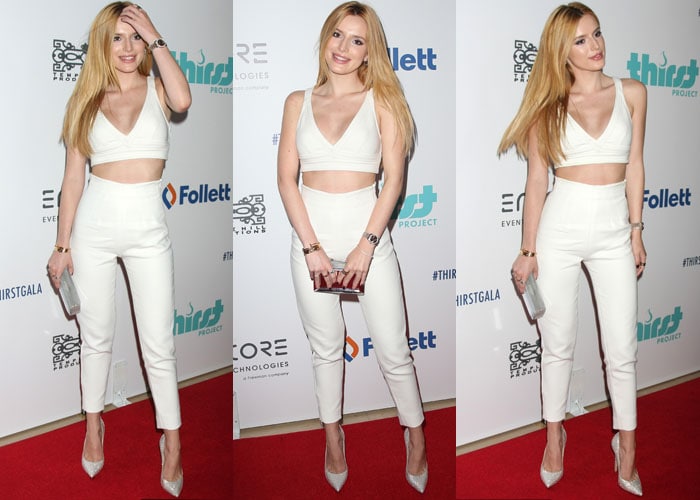 Bella Thorne was white-hot in a color-less set, flashing her toned midsection in a crop-and-pants combo
The paparazzi went into rabid mode at the sight of the two, even asking Bella to plant a kiss on Gregg's cheek. Gregg saved his damsel-in-distress from embarrassment in the nick of time by planting a wet one on her cheek instead.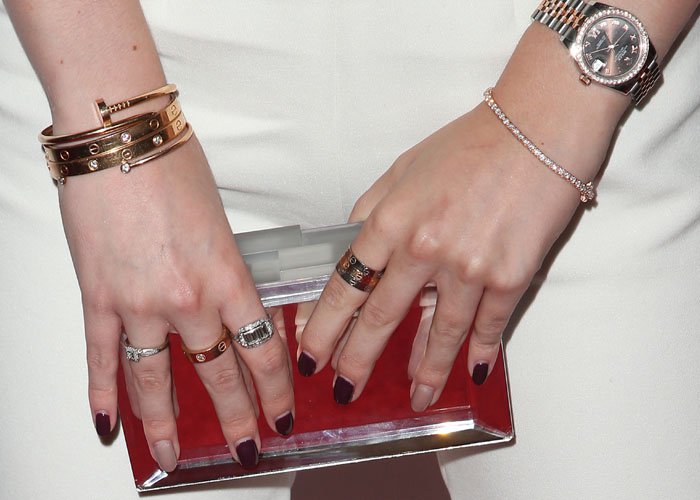 Bella Thorne accessorized to the max with a Rauwolf clutch, several pieces of Cartier jewelry and a black manicure with nude accent nails on each hand
Bella wore a gorgeous crop top and hot pants ensemble by Tamara Mellon coupled with a pair of Jimmy Choo "Animal Tartini" shoes.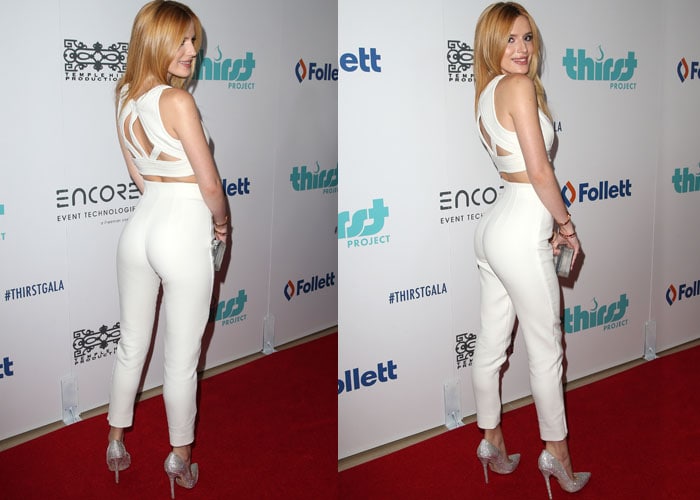 The back of Bella Thorne's Tamara Mellon set featured a cut-out design, which the actress was not shy to show off
The 17-year-old accessorized with an emerald clutch by Rauwolf and dressed up her whitewashed look with several pieces of jewelry from Cartier.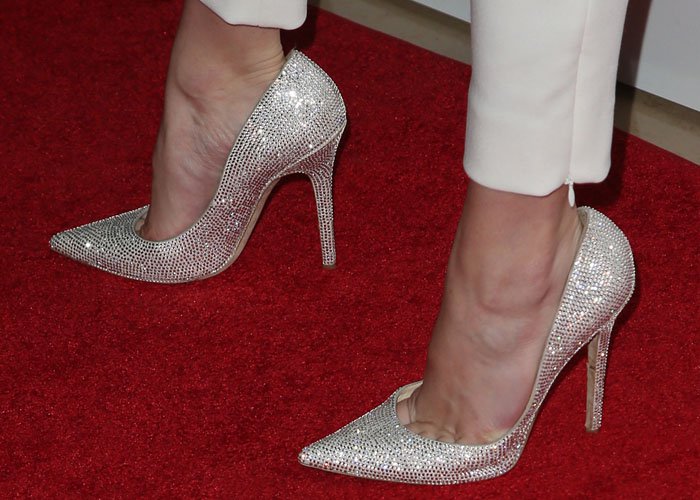 Bella Thorne's Jimmy Choo "Animal Tartini" shoes seemed to be slightly too big but were still flashy and show-stopping nonetheless
Gregg Sulkin was born in the City of Westminster, London, England on May 29, 1992. Best known for appearing in the Disney Channel comedy series As the Bell Rings and Wizards of Waverly Place, he has a net worth of $3 million.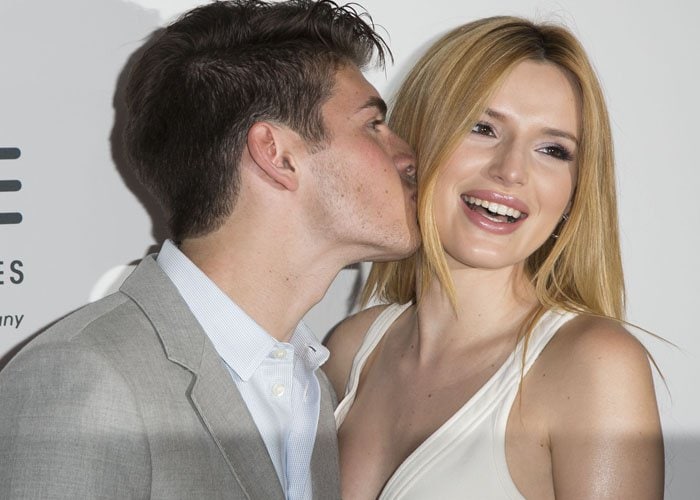 Aren't Bella Thorne and Gregg Sulkin just the cutest?
The Jimmy Choo "Animal Tartini" pumps are already sold out at Farfetch, but you can check out other versions of this gorgeous style at Nordstrom.
Jimmy Choo "Animal Tartini"
Tartini Degradé Swarovski-Crystal-Covered Pumps, $2,695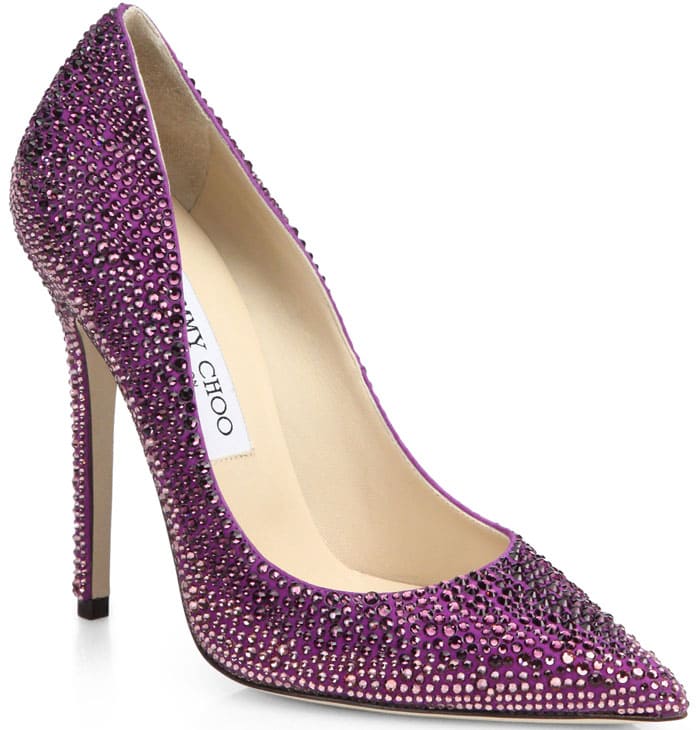 Tartini Square Pavé Crystal & Suede Pumps in Champagne, $3,150
Credit: FayesVision / Nicky Nelson / Brian To / WENN