If you're a fan of "Grey's Anatomy," you know the doctors rarely get a chance to doll up since they're always in their scrubs. That's probably why when they do hit the red carpet for events, they go all out and look fantastic.
And, even though it's a shame we don't see them in dresses more often on the show, in January 2016 Camilla Luddington and Sarah Drew stunned all gussied up.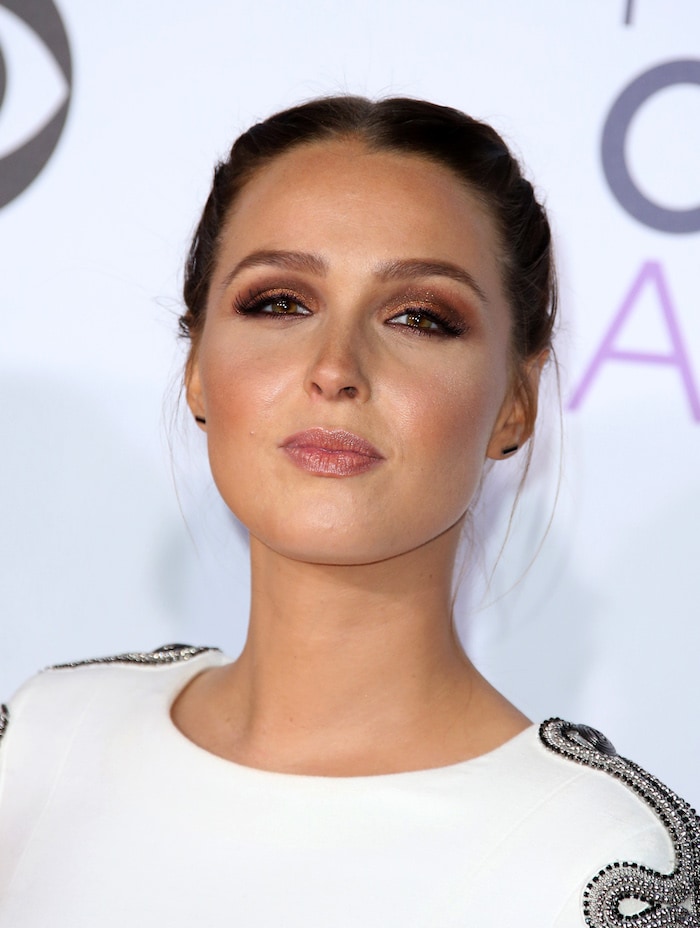 Camilla Luddington wears her hair back at the 2016 People's Choice Awards at Microsoft Theater on January 6, 2016, in Los Angeles, California
Camilla, who plays medical intern Jo Wilson on the ABC drama, wowed in a white Balmain dress with embellishments on the sleeve.
The British-American actress joined the cast in July 2012 when she was 28-years-old. Born on December 15, 1983, in Ascot, Berkshire, England, she turned 29 on December 15, 2012.
Camilla Luddington shows off the shoulder detailing on her Balmain dress
She paired the stunning dress with a pair of bronze Stuart Weitzman "Nudist" sandals, a Jimmy Choo clutch, and earrings from Jen Meyer jewelry. You can buy her shoes at Nordstrom.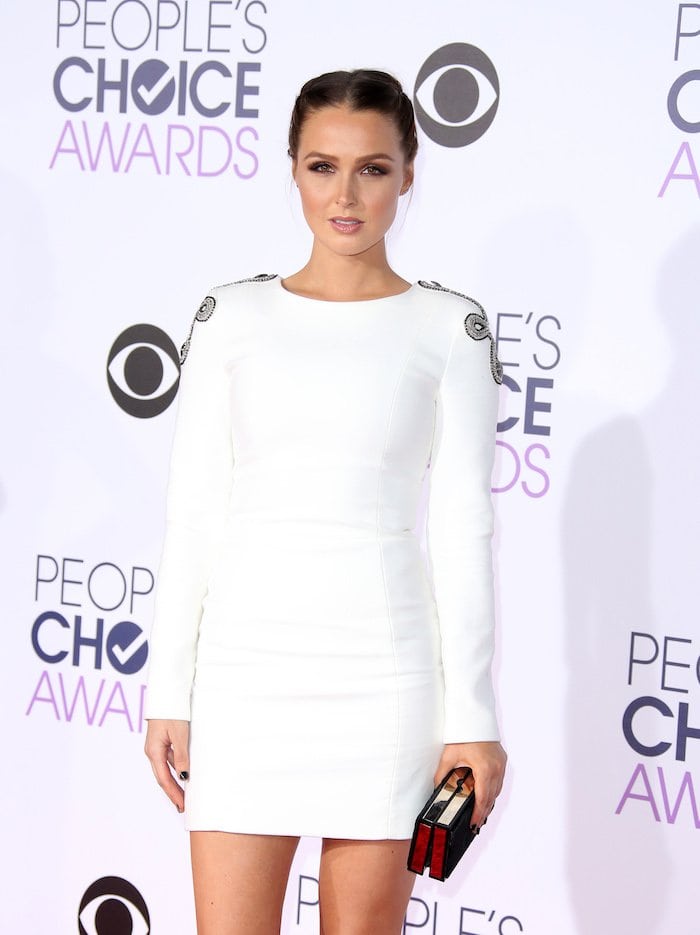 Camilla Luddington holds a Jimmy Choo clutch on the red carpet
We must say, it's nice to see Camilla out of those scrubs!
Camilla Luddington pairs a white Balmain dress with silver Stuart Weitzman heels on the red carpet
Also known for playing Kate Middleton in the Lifetime film William & Kate: The Movie (2011), Camilla Luddington has a net worth of $2 million.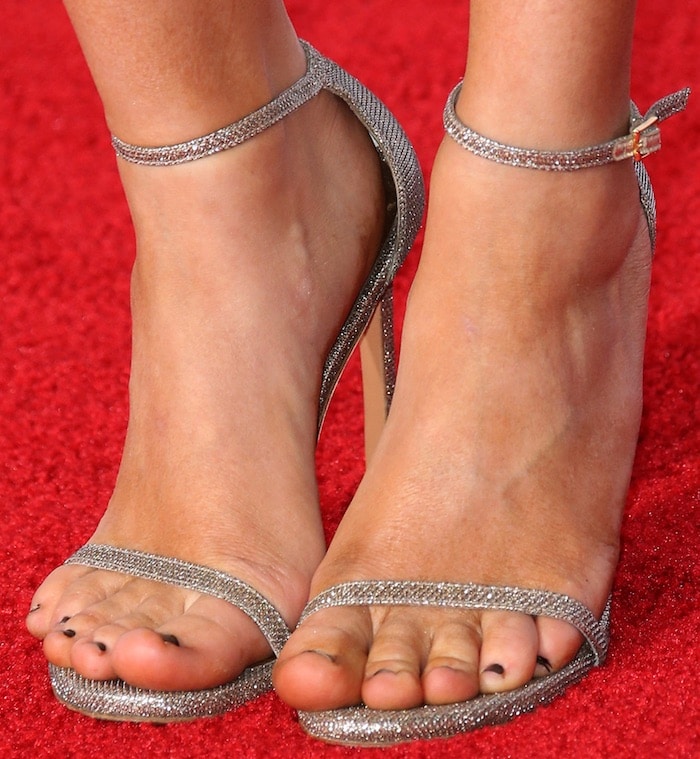 Camilla Luddington's feet in silver Stuart Weitzman sandals
Stuart Weitzman "Nudist" Sandal in Bronze Napa Leather, $318.40 – $415.00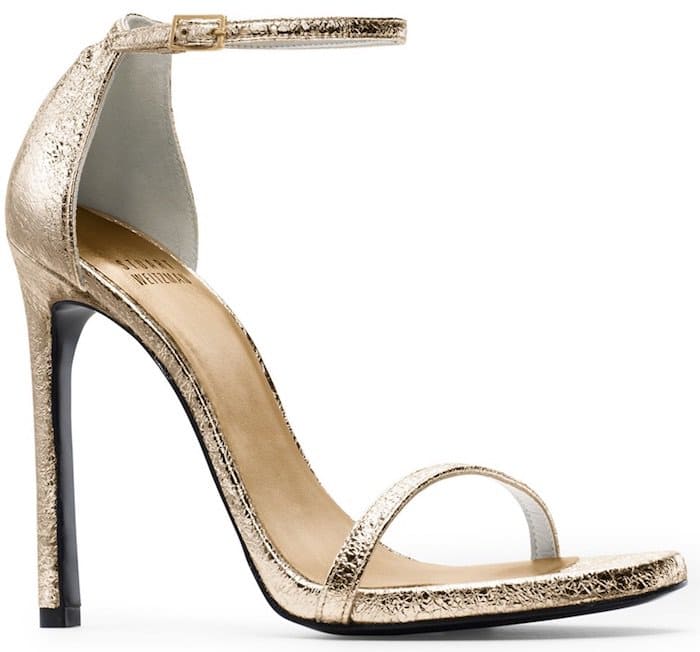 Camilla's co-star Sarah, aka Dr. April Kepner, also looked stunning in her People's Choice Award ensemble. Sarah actually gave a shout-out to Camilla on Instagram for the styling help.
She was cast for the show in late September 2009 and first appeared in the sixth season episode "Invasion" that aired on October 15, 2009. Born on October 1, 1980, in Stony Brook, New York, she turned 29 just a few days earlier, on October 1, 2009.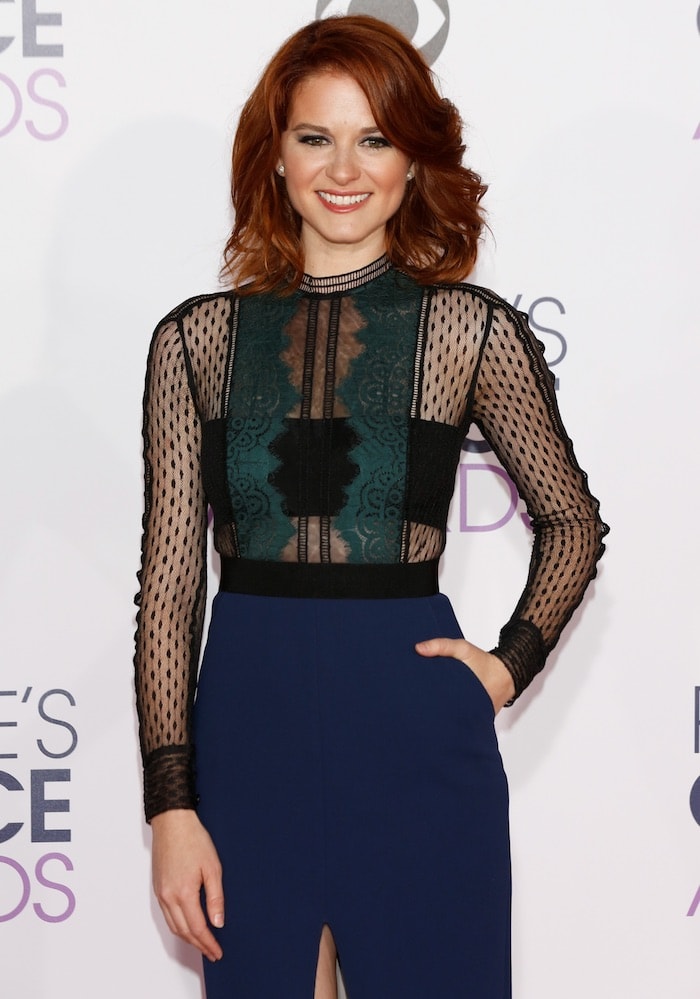 Sarah Drew wears her red hair down at the 2016 People's Choice Awards at Microsoft Theater on January 6, 2016, in Los Angeles, California
The redhead wore a navy, lace-trimmed pencil dress from Self-Portrait Studio with a pair of chunky Mary Jane shoes.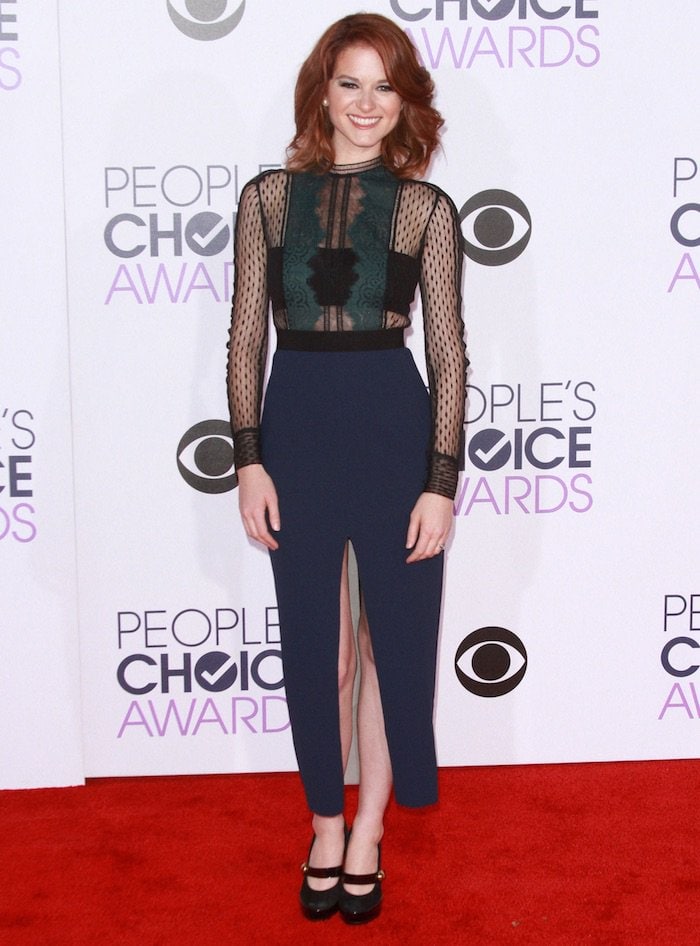 Sarah Drew wears a black, blue, and teal Self-Portrait dress on the red carpet
While we love the combination of teal lace, black lace, and blue fabric, we think a pair of strappy pumps would have better complemented this outfit.
Sarah Drew pairs her Self-Portrait dress with a pair of Mary Jane shoes
Why did Sarah Drew leave Grey's Anatomy?
In March 2018, it was announced that Drew would be exiting the series. According to Hollywood Reporter, the decision to write out April Kepner was purely a creative one. It's not known how much Sarah Drew was paid per episode, but she's believed to have a net worth of $3 million.
"The suggestion … that our cast changes are in any way related to Ellen Pompeo's salary renegotiation is wrong and hurtful and misguided," wrote executive producer Krista Vernoff.
Sarah Drew's feet in silver-embellished Mary Jane heels
"It smacks of an old, broken, patriarchal notion that women must be pitted against each other and that one woman's success will be costly to others," she added in reference to Ellen Pompeo's $20 million renewal with the television series.
April Kepner made her last appearance in "All of Me," the twenty-fourth episode and the season finale of the fourteenth season of Grey's Anatomy that aired on May 17, 2018. Sarah Drew was 37-years-old when the final episode aired.
Self-Portrait Lace-Trimmed Pencil Dress, $530
Congratulations to both Camilla and Sarah — and the rest of the "Grey's Anatomy" cast— for winning Favorite Network TV Drama at the event!
Credit: FayesVision/ Adriana M. Barraza/ Brian To/WENN