Halle Berry has jumped on the celebrity shoe brand bandwagon and now has one of her own.
Called '5th Avenue by Halle Berry', the shoe line Halle created with German retailer Deichmann Shoes is set to hit stores in 21 European countries on March 5th 2012.
Now we don't know why Halle's shoes will be available only in Europe but this news piece has got us mulling over an even bigger mystery: Why of all celebrities has Halle Berry been given a shoe collection?
Halle Berry has never really shown herself to be a big shoe fanatic — not in her everyday life, not in photo ops and not even on the red carpet. The fact that is the very first time we're writing about Halle Berry here on Your Next Shoes shows that Halle has always preferred classic, safe but not-at-all blog-worthy shoes.
The first ever 5th Avenue by Halle Berry collection for Spring/Summer 2012 will be comprised of 40 shoes including studded gladiators, slip-on wedges, strappy sandals and other flat and low-heeled shoe styles. Given these simple and easy-to-wear shoes, maybe this shoe collection does match with Halle Berry after all.
The price point for 5th Avenue by Halle Berry shoes will start at £29.99 (approximately $47.00).
We're happy for Halle Berry but if you could choose any other celebrity to have a shoe line, who would you choose?
Check out pictures of from Halle Berry's photoshoot for her 5th Avenue by Halle Berry shoe collection below:
Halle Berry launches shoe collection with Deichmann Shoes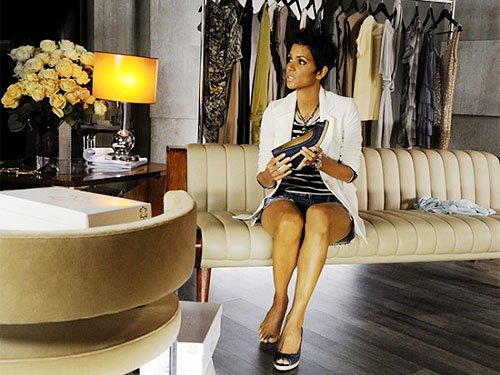 Close-ups of Halle Berry's 5th Avenue shoes:
Credit: Deichmann