If you think that swimsuit models work out just to prance around beaches in bikinis, think again. Those toned and photo-ready arms are surprisingly strong!
Sports Illustrated swimsuit model Hannah Ferguson proved that her toned physique isn't just for looking good at the "Summer of Swim Fan Festival" held at Coney Island.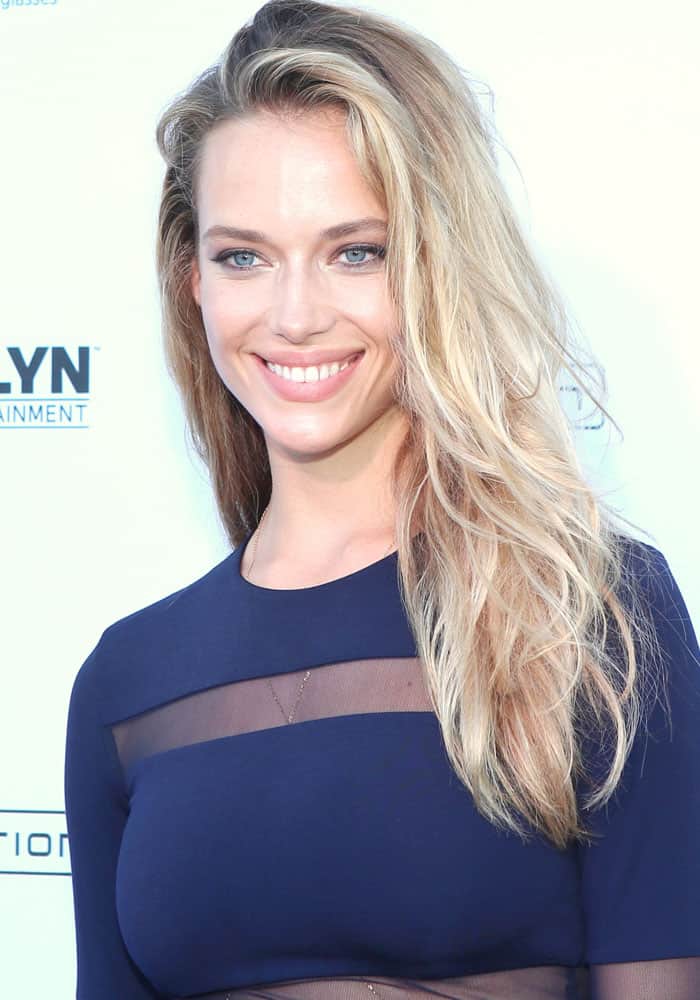 Hannah Ferguson attending the 2016 Sports Illustrated "Summer Of Swim Fan Festival" at Coney Island Boardwalk in Brooklyn, New York on August 28, 2016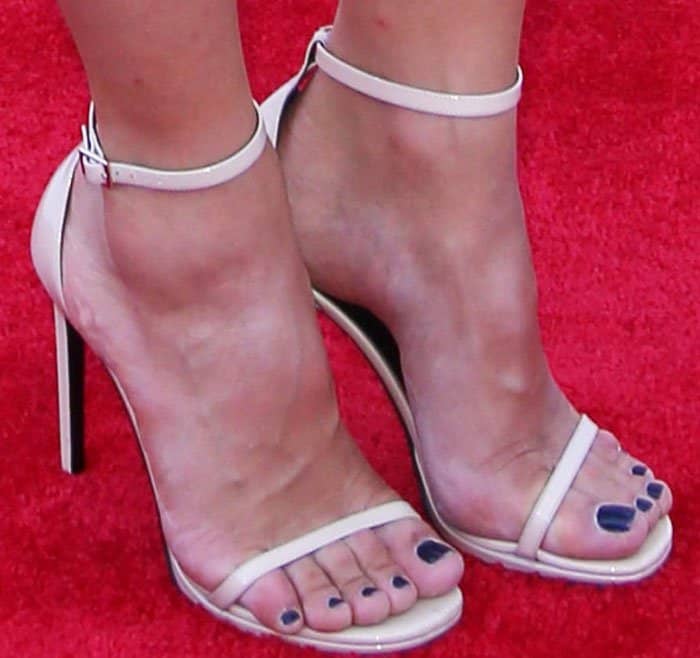 Hannah keeps gets straight to the point in a pair of no-nonsense Saint Laurent "Jane" sandals
Hannah arrived for the sunset cocktails in a navy blue mesh cutout dress. While some mesh dresses can come off as tacky (especially for curvy swimsuit models), Hannah's dress made her exude class and confidence on the red carpet.
The 24-year-old polished her look with minimal jewelry and a pair of Saint Laurent "Jane" sandals in white patent.
The swimsuit model traded in her bikini for a classy mesh dress
For a pair of the classic Saint Laurent "Jane" sandals, click over to Neiman Marcus.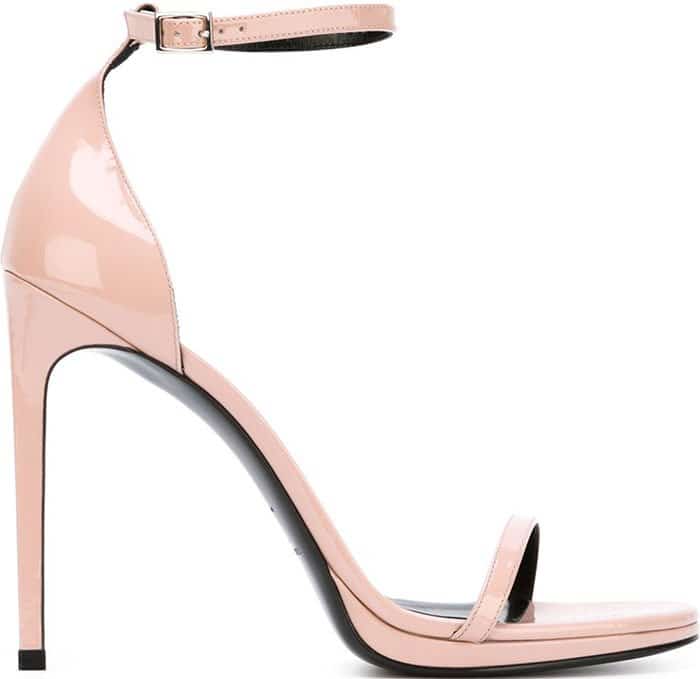 Saint Laurent "Jane" Leather Sandals in Rose, $695 at Neiman Marcus
The beach festivities took place earlier in the day where Hannah and model gal pals Barbara Palvin and Samantha Hoopes enjoyed some sun and games. The strongman competition was held among the three ladies, and Hannah surprisingly emerged as the clear winner. Our bets were on Samantha, to be honest.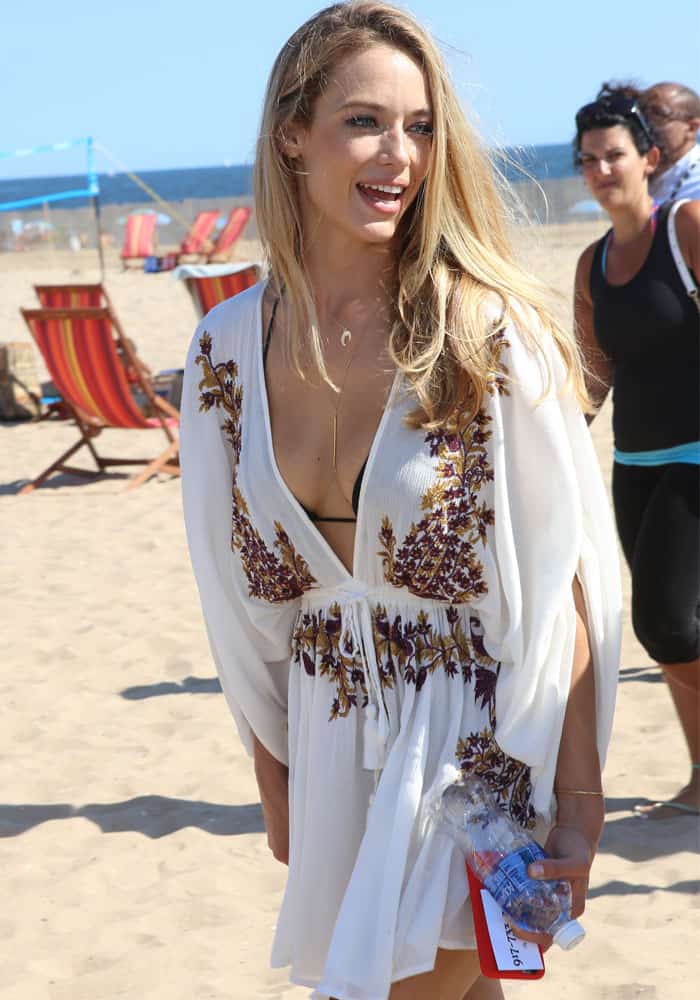 Sun and games: Hannah enjoyed herself at the Sports Illustrated event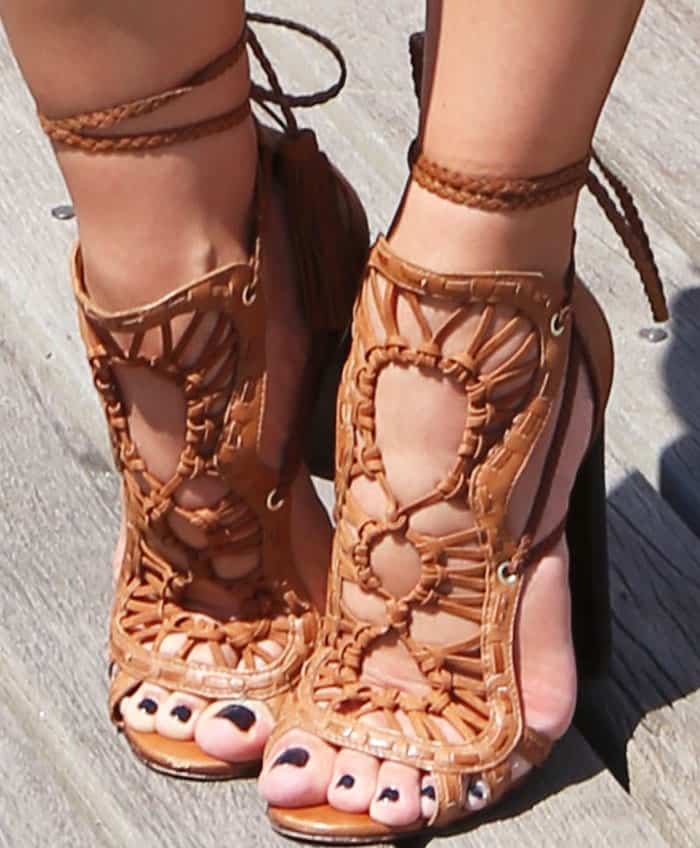 The model showed off a gorgeous pair of Schutz "Dubai" sandals
Hannah was beach-ready in a black bikini top that she wore underneath a kimono beach cover-up with embroidered floral details.
The 24-year-old wore a pair of Schutz "Dubai" woven sandals for the perfect mix of tropical casual and event formal.
Hannah poses as the clear victor in the Sports Illustrated models strongman competition
Honestly, Hannah looked like she would be the meekest of the three. With Samantha's strong personality and Barbara's competitiveness, who would have thought that the quiet and dainty model would out-strongman the two?
Watch the highlight clip by Sports Illustrated below.
Grab Hannah's beautiful Schutz "Dubai" woven heels at Shopbop, Amazon and Zappos.
Schutz "Dubai" Sandals, $260 at Shopbop, Amazon and Zappos
Credit: Derrick Salters / WENN