Hayden Panettiere has officially confirmed that she is engaged to be married. The 'Nashville' beauty and her boxer boyfriend are finally tying the knot. Now, all we can hope is that they'll actually make it to the altar.
Speaking of Hayden, it's no secret that the blonde cutie is a big-time fan of boots. Her latest acquisition are these Saint Laurent Classic "Janis" boots, which we saw her wear in Manhattan yesterday.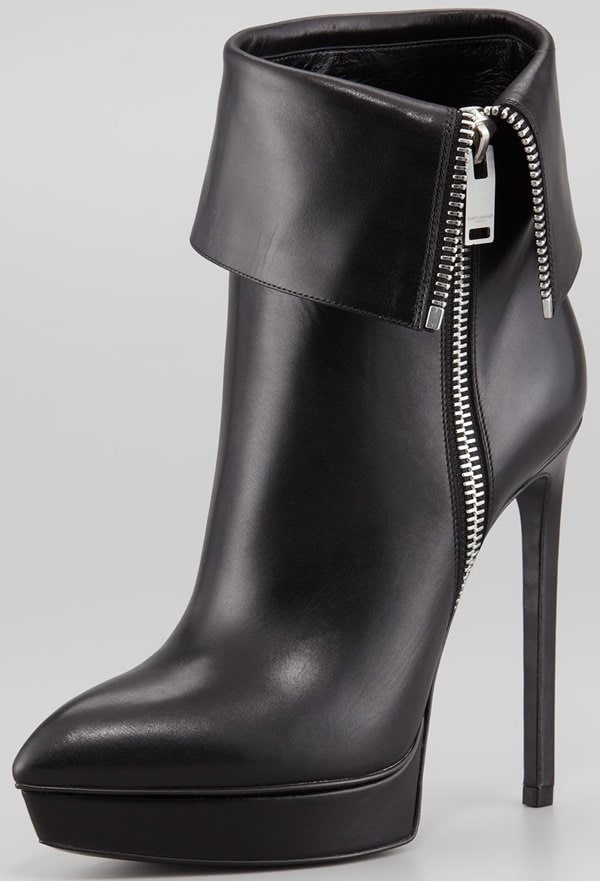 Saint Laurent Classic Janis Ankle Boots, $1,095
We honestly don't know how many pairs (of boots) she has in her closet, but we're quite sure it's a double-digit number. We've seen her wear so many that we've lost count and lost track of most of them. However, there are several boot looks from Hayden that we just can't seem to forget. Here's a round-up of some of her most unforgettable "boot moments" this year. Which of these will you consider as perfectly on-point?
1. In Classic Riding Boots
Cool is probably the best word to describe the outfit Hayden wore when she visited BBC Radio 2 studios last June. The actress worked a monochromatic palette and finished the ensemble with classic knee-high riding boots. Paired with a hat and a crossbody bag, she looked so comfy, chic, and laidback — the kind of look you'd want to go for when you're a tad lazy to dress up.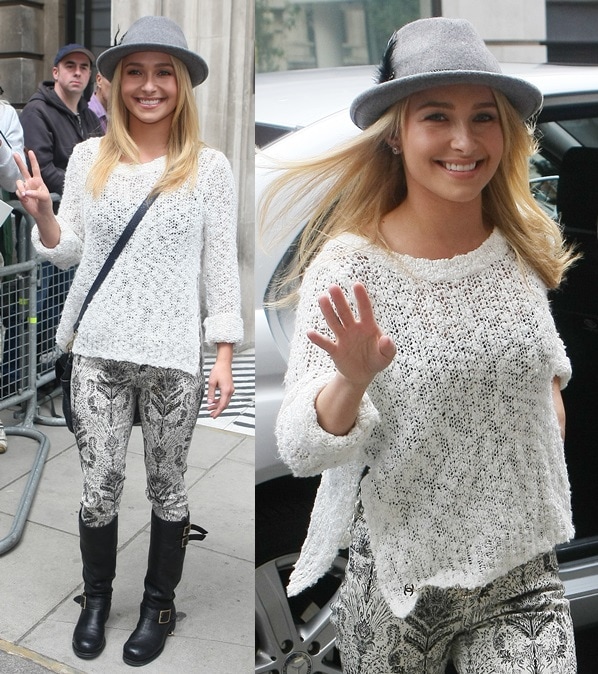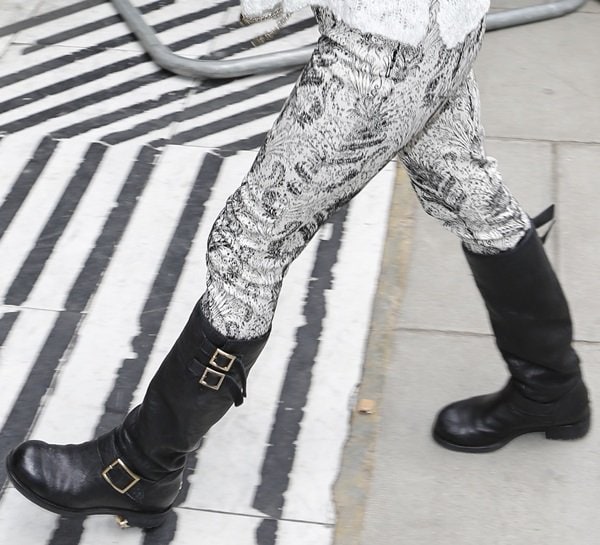 Hayden Panettiere arriving at the BBC Radio 2 studios in London on June 7, 2013
2. In Chloe Suzanna Studs Triple-Buckle Boots
Like many of us, Hayden is also a fan of Chloe Suzanna boots. And we love how she wore the pair so casually at the Billboards Awards afterparty. She literally looked Cali-fabulous!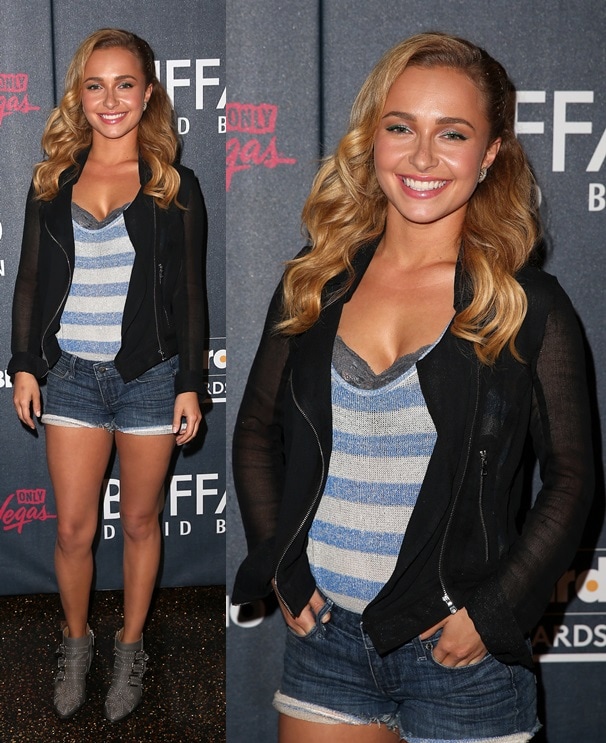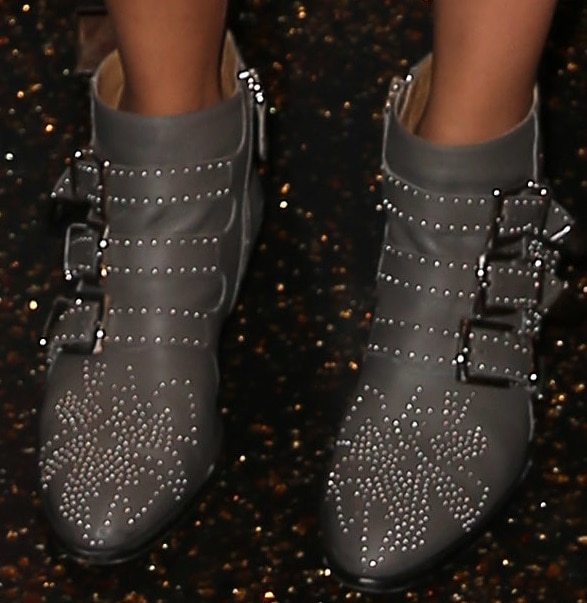 Hayden Panettiere at the 2013 Billboard Music Awards official afterparty in Las Vegas on May 19, 2013
Chloe 'Suzanna' Studded Buckle Boots in Clay, $1,345
3. In Red Saint Laurent Paris Boots
No one, as in no one, can forget the sexy Hayden Panettiere who walked into the the Ed Sullivan Theater for her appearance on the Late Show with David Letterman in August. Fresh bangs, a colorful mini dress, and a pair of red hot (Saint Laurent) boots were the highlights of her ensemble. And we say she carried all three with the perfect amount of edge, playfulness, and flair.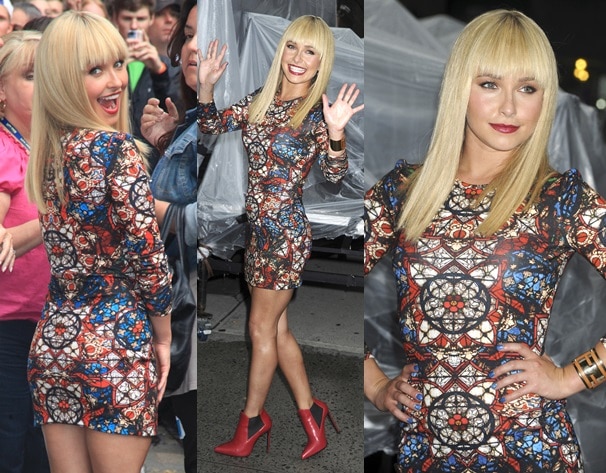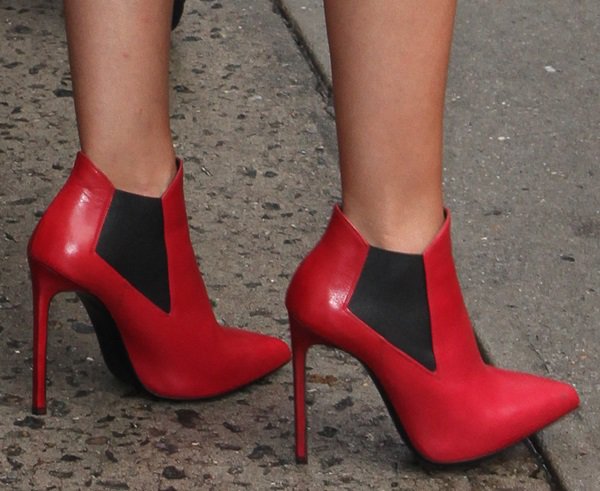 Hayden Panettiere to appear on Late Show with David Letterman in New York City on August 28, 2013
Saint Laurent 'Paris' Ankle Boots, $950
4. In Saint Laurent Classic Janis Buckle Boots
Yes, we just cannot not include the Saint Laurent Classic 'Janis' boots she wore yesterday. The boots were sexy and sleek, and we loved how she paired them with red leather skinnies. Simply chic!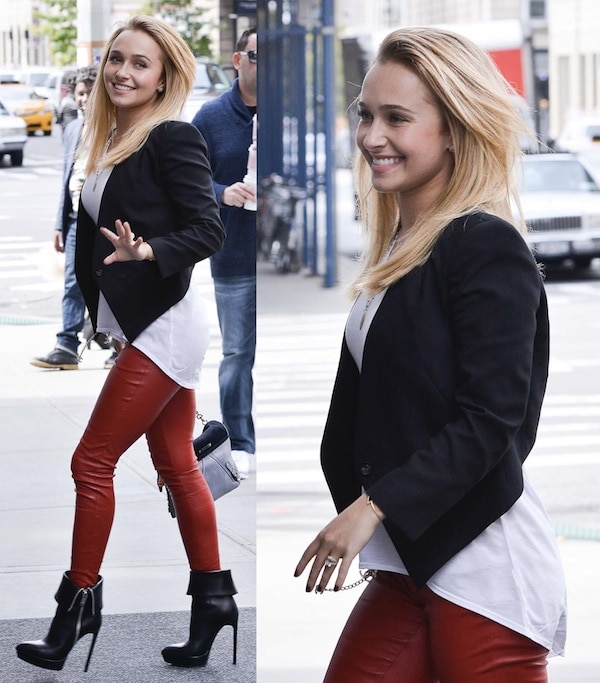 Hayden Panettiere arriving at her hotel in Manhattan, New York City, on October 9, 2013
5. In B Brian Atwood Booties
At the Glamour Women of the Year Awards, Hayden wore a pair of black booties from B Brian Atwood (the "Figara") with her classic but girly black-and-white outfit. It was an unusual combo, but who can forget shoes with swirls that shine?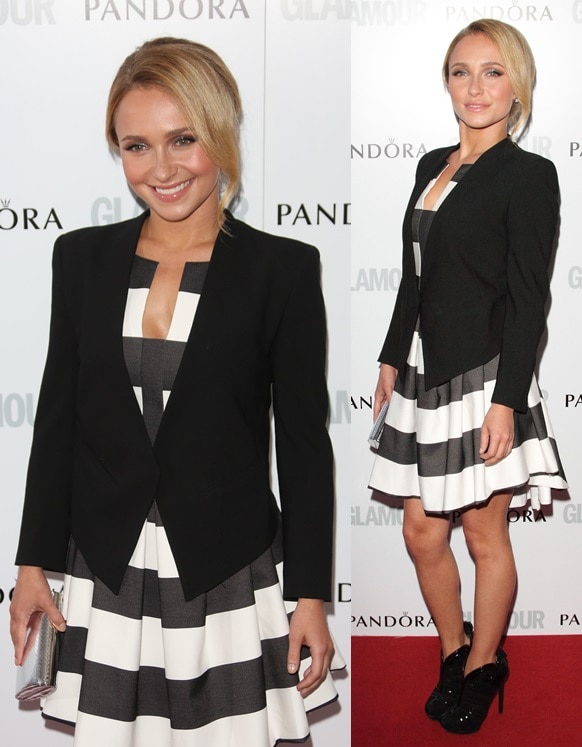 Hayden Panettiere at the Glamour Magazine Women of the Year Awards in London on June 4, 2013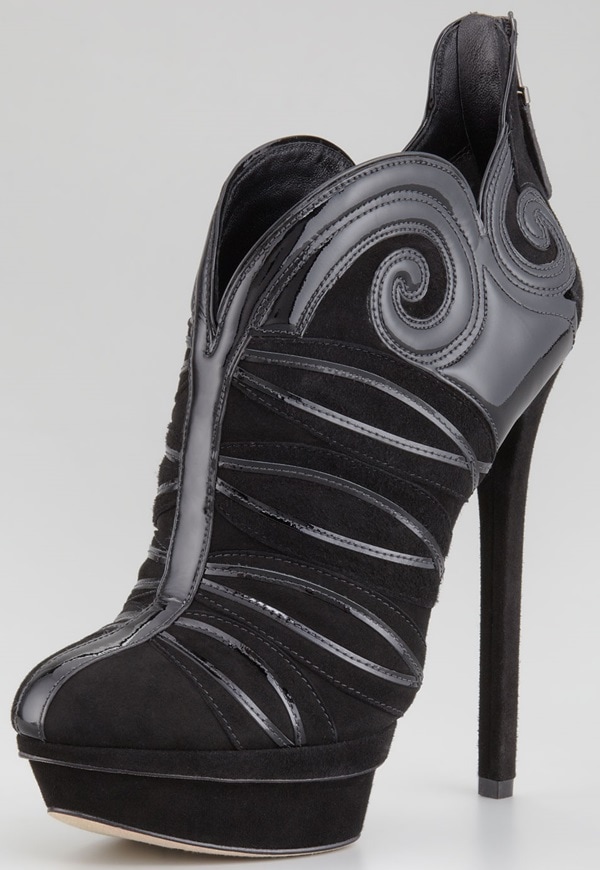 B Brian Atwood 'Figara' Booties, $450
There you have it — Hayden's 5 best boot looks. How do you like our list?
There were actually a couple of other styles that almost made it to the list. The blue wedge booties the actress wore for the PaleyFest were pretty interesting, and the open-toe version she wore at the ABC Upfront Party were also quite hard to forget. But, ultimately, we picked the 5 above for their overall appeal.
In Koolaburra 'Katelyn' Booties
Hayden Panettiere at the 2013 PaleyFest Panel in Beverly Hills, California, on March 9, 2013
In Classic Open-Toe Booties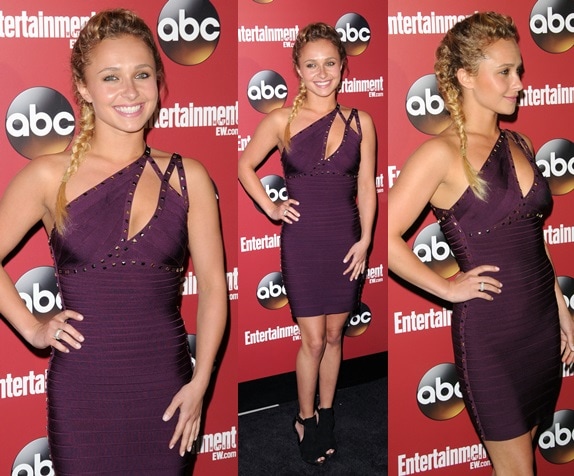 Hayden Panettiere rocking a purple Herve Leger dress and open-toe booties at the Entertainment Weekly & ABC Upfront TV Party in New York City on May 14, 2013
Credit: TNYF/Dennis Van Tine/Future Image/PNP/FayesVision/Nikki Nelson/
Ivan Nikolov/Lia Toby/Will Alexander/WENN