Is there anything Natalie Portman can't do? Natalie, a Harvard graduate who recently gave a commencement speech at her alma mater, has now made her directorial debut with the film "A Tale of Love and Darkness."
Natalie Portman wears her hair back at closing night for "A Tale of Love and Darkness" held on January 27, 2016, during the New York Jewish Film Festival in New York
Did we mention she spoke Hebrew throughout the entire film? No big deal. And aside from that, she speaks conversational French, Spanish, German and Japanese… as well as English, her native language.
The film is based on the autobiographical novel of the same name by Israeli author Amos Oz that you can purchase on Amazon.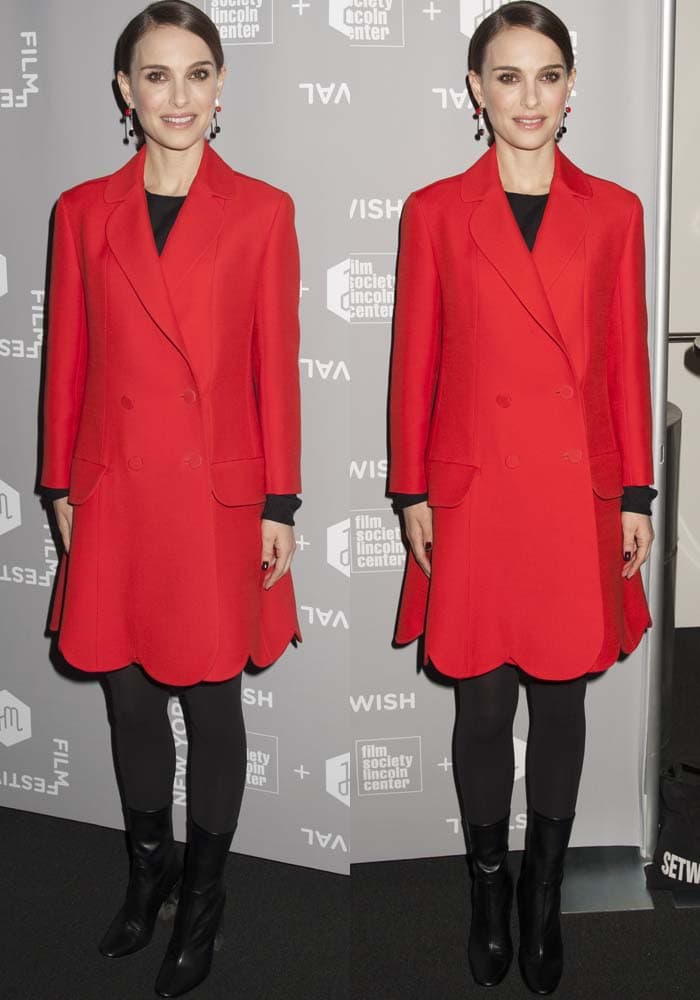 Natalie Portman wears a red coat dress by Christian Dior to the New York Jewish Film Festival
Natalie concluded her film's screening at the 2016 New York Jewish Film Festival in a red coat dress by Christian Dior.
Natalie Portman wears a pair of black boots from Christian Dior
The brand's ambassador dressed up her look with funky red-and-black earrings and ink-swirl heeled boots from the fashion house.
The actress reportedly worked hard to remove her American accent from her Hebrew, since she did grow up in America despite being in an Israeli neighborhood.
We're not experts so we can't tell the difference, but just the same, check out her debut film's trailer below.
"I speak fluent Hebrew and even dream in Hebrew when we visit there, once or twice a year," Natalie said in a 1997 interview.
She was born as Natalie Hershlag in the Israeli capital of Jerusalem on June 9, 1981, to parents of Ashkenazi Jewish descent.
Natalie's Christian Dior heels are not available online, but you can check out similar plexiglass ankle boots at Mytheresa, Farfetch, and Nordstrom.
Christian Dior Patent Ankle Boots
Alexander McQueen Leather and Patent Ankle Boots, $535.50 – $804
Nicholas Kirkwood 'Carnaby' Boots, $1,176.62
Credit: WENN