In a November 2008 interview with MediaBlvd Magazine, Ashley Greene revealed she started acting because she was not tall enough at 5 feet 5 inches (1.65 m) to be a fashion model.
I moved out to L.A. when I was 17, almost 18. I wasn't really that involved with theater, in high school or middle school. I fell into acting. I was thinking about modeling, and the manager and people that I was talking to about modeling were the ones who were like, "Why don't you take an acting class or a commercial class because you're not tall enough to model. If you model, you're going to have to do Cover Girl or Maybelline, or stuff like that, so you'll have to do commercials."
Ashley Greene, whose height was too short to become a model, at the InStyle And Warner Bros. Golden Globe Awards Post-Party at The Beverly Hilton Hotel in Beverly Hills, California, on January 5, 2020
Do you agree that her height is too short to become a model?
In October 2013, we were not really sure what to think about Ashley Greene's red carpet appearance.
Ashley Greene attends "Apple Store Presents: Meet the Actor" outside the Apple store in SoHo, New York, on October 7, 2013
The "Twilight" actress made an appearance at the Apple store in SoHo, New York, in a tiered fit-and-flare dress from Sachin + Babi.
She paired the off-white and gray dress from the brand's Fall 2013 collection with a pair of black mesh booties from Yigal Azrouël's Resort 2014 collection. What do you think of the mix — hit or miss?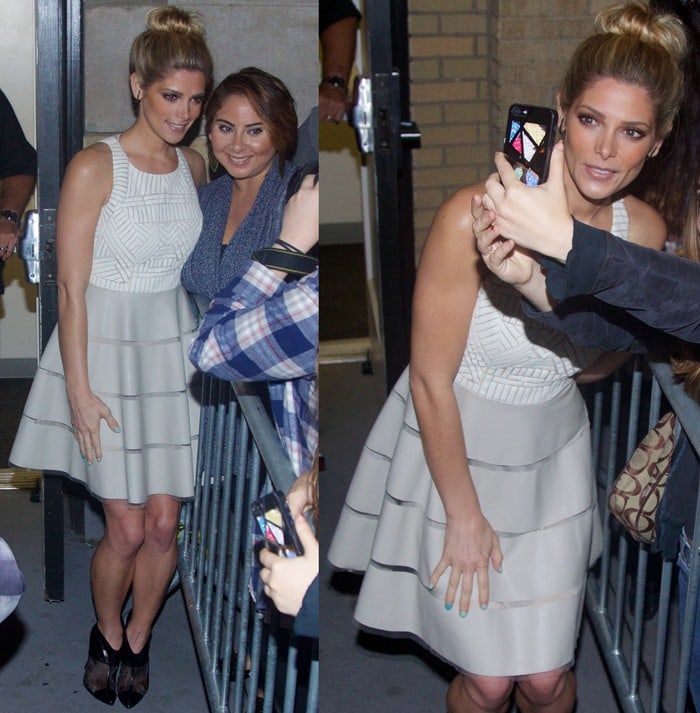 Ashley Greene poses for photos and autographs with fans while wearing a Sachin + Babi dress
We aren't fans. We like both elements of this look separately, but paired together? We'd leave it.
Her dress would look great with classic pumps, and the booties would look great with black skinny jeans or tights.
Ashley Greene wears a pair of black mesh booties from Yigal Azrouël
What do you think?
Credit: Alberto Reyes / WENN / Instar