Hilary Duff finalized her divorce with Mike Comrie earlier this year, and — after sharing a friendly kiss with him— seems to be closing that chapter of her life and moving forward. After she publicly admitted to being on Tinder, it looks like it's time for Hilary to pull out from the game.
Hilary showed off her new boyfriend, personal trainer Jason Walsh, as the two flew out of the Los Angeles Airport.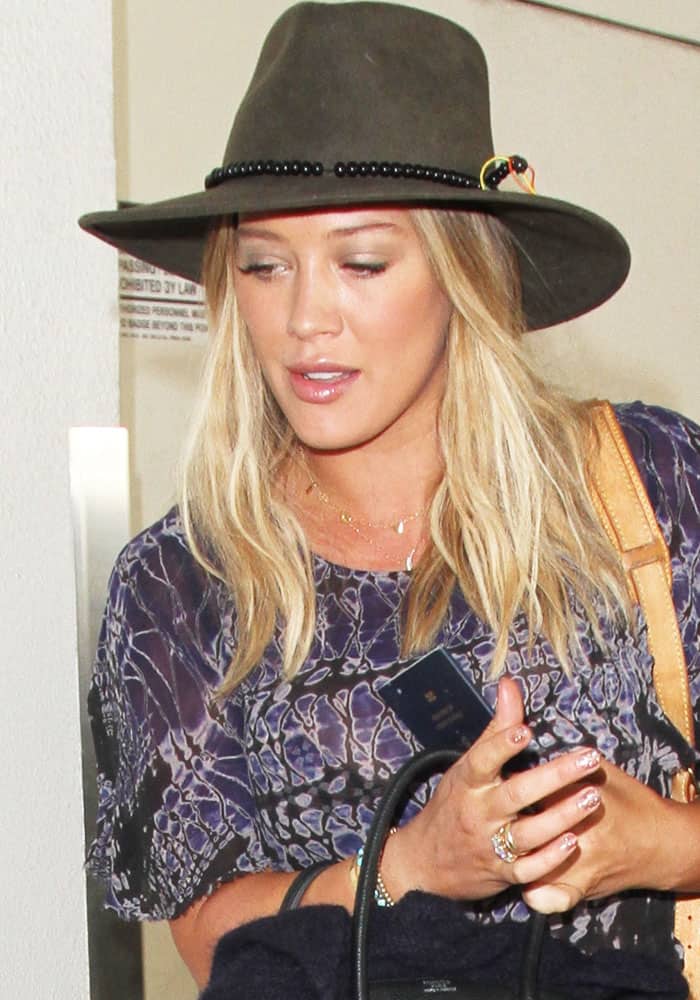 Hilary Duff departs from the airport with her new boyfriend Jason Walsh in Los Angeles, November 10, 2016
Hilary arrived at the airport in her usual oversized sweatshirt and denim cutoffs, but this time she sported massive glutes. It looks like her boyfriend is making sure she's putting in the work.
The actress accessorized her look with a hat, a Louis Vuitton monogram "Keepall" duffle bag, a black Hermes "Birkin" bag and a pair of Valentino "Rockstud" espadrilles.
Hilary sports a comfortable pair of Valentino "Rockstud" espadrilles to the airport
Hilary and new boyfriend Jason Walsh head off to the beach for a mini getaway
If there's one thing you must know about Hilary's new man, it's this: he helped her achieve some pretty solid abs. It looks like they're not just flirting around at the gym — her new beau means business.
Jason was spotted carrying Hilary's bags for her, which prompted a cameraman asked if the trainer was flexing. Even if he totally was, those kinds of muscles take a lot of work to get.
Shop Hilary's trusty Valentino "Rockstud" espadrilles at Neiman Marcus, Selfridges & Co., Barneys New York, Forward, Harrods and Bergdorf Goodman.
Valentino "Rockstud" Leather Espadrilles, $595 – $975 at Neiman Marcus, Selfridges & Co., Barneys New York, Forward, Harrods and Bergdorf Goodman
Credit: WENN