Hilary Duff surprised her fans when she secretly tied the knot with her long-term boyfriend, Matthew Koma, in a low-key ceremony on December 21, 2019.
But while they're known to keep their relationship private, Hilary and Matthew took to social media to share their heartfelt tributes to each other on their first wedding anniversary on Monday.
Reflecting on his married life with Hilary, Matthew posted a throwback black-and-white photo of them in their wedding outfits along with a lengthy, touching caption.
View this post on Instagram
"Happy Anniversary Ba… One year ago today looked a whole lot different. I can't imagine this last year without you to Clorox groceries and avoid the world with."
He continued: "When I asked you to be my wife, we had no idea our first year would look like this… They always say 'the first year is the hardest,' but in our case it was for completely different reasons and I'm so in awe of your badassery."
Amazed by Hilary, Matthew added: "How you're able to be the mom, individual, wife, spirit, and tie-dye influencer you are, while making it look so easy is mind-boggling and I don't know what I did right to deserve being on the receiving end of it."
He then ended his message for his wife by thanking her even for the little things she does for him.
"Thank you for being the most steady, supportive, empathetic, loving, and passionate. Thank you for the endless hours of indulging my obsession with deceased songwriters and pretending it interests you."
He continued: "Thank you for making me drink water and eat breakfast. You make me so much better. You make our family what it is. You're the only thing that makes me cry through the Prozac. I love you."
View this post on Instagram
Hilary also shared with her followers a snap from their intimate backyard wedding in honor of their first wedding anniversary.
Wearing a custom Jenny Packham white gown in the photo, Hilary recalled: "I love this moment so much. Matt and I were both too nervous to eat the day of our wedding… this is directly after… we slammed a plate of apps someone brought us before taking pictures and this pretty much sums us up… Snacking through life, dreaming about dinner at 7 am and wrangling kids. Oh, and dodging covid the first year of marriage."
"Always with you babe. For you. Over and over I choose you and this. Thank you for being a damn good man. Best I've ever met 12-21-19. Thanks for drinking two cups or water today… baby steps. Old dogs can learn new tricks," she continued.
View this post on Instagram
A week before their anniversary, the former Disney Channel star shared a throwback photo of herself in her wedding dress, kissing her musician husband on their wedding.
She captioned the post: "Coming up on a year. My husband. Love you so. Thanks for not saying anything about the sweet potato fries I ate in bed last night at 10 pm…"
Earlier in the day, Hilary was seen on the set of her series, Younger, in Brooklyn.
Filming a scene alongside Sutton Foster, Hilary dressed warmly in a black leather jacket, a pair of skinny jeans, and white leather heeled boots.
Hilary Duff filming a scene with Sutton Foster in black leather jacket and white heeled boots on December 11, 2020
Hilary and Matthew are undoubtedly one of the cutest couples in Hollywood. They first crossed paths professionally in 2015 before beginning a romantic relationship in 2017 and becoming parents to their first child, Banks Violet, in 2018.
In lieu of their wedding anniversary, let's relive their romance from the first time they met to their on-and-off relationship to finally settling down.
2015
Hilary and her ex-husband Mike Comrie amicably separated in January 2014. A year later, in 2015, she met Matthew Koma while working on her album, Breathe In. Breathe Out.
But while a US Weekly source said "they had great chemistry in the studio," it wasn't until 2017 that the two started a romantic relationship.
Before they dated, she was in a relationship with personal trainer Jason Walsh from August 2015 until November 2016.
"There wasn't an instant spark, because I think when you're walking into a professional meeting, you know nothing about the other person. I didn't know if he was dating someone… And then when we started talking about music, things started sparkling and he was being funny enough, not flirtatious, but funny enough to where we started creating a banter and a nice friendship right off the bat," Hilary told Vogue.
January 2017
After her split from Jason Walsh, Hilary was rumored to be dating Matthew.
Hilary Duff and then-rumored new boyfriend Matthew Koma in Los Angeles on January 19, 2017
Just two months later, Hilary and Matthew made their red carpet debut at Entertainment Weekly's pre-SAG Awards party in Los Angeles.
The record producer then shared with his Instagram followers three Polaroid photos of him and Hilary having fun at the party, captioned: "Date night."
View this post on Instagram
February 2017
The So Yesterday singer debuted her new beau on her Instagram after posting a photo of them kissing while on a holiday getaway in Costa Rica.
View this post on Instagram
March 2017
According to E! News, Hilary and Matthew briefly separated because of their busy schedules.
October 2017
They reportedly dated on and off for a while.
Fast forward to October 2017, the two rekindled their romance and Matthew started appearing on the Lizzie McGuire star's Instagram again.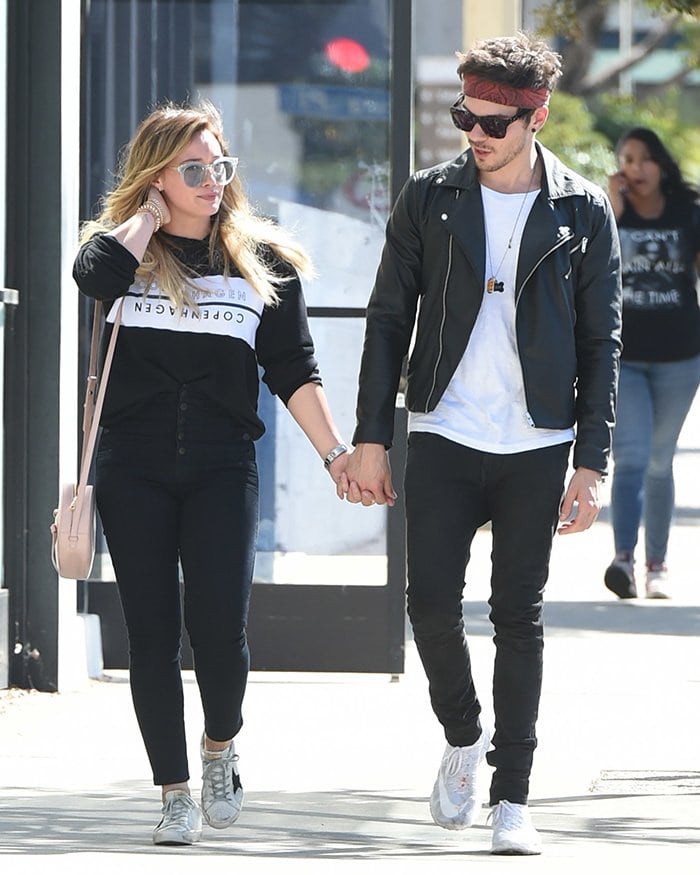 Hilary Duff and Matthew Koma pictured on October 15, 2017 after their brief split
A source told E! News: "Since Matt got back from tour, they've been seeing each other again. Him being gone on tour was the main reason things didn't work out the first time around, so now that he's back, they picked up right where they left off."
December 2017
Speaking about their on-and-off relationship, Hilary revealed on The Talk that it was already the third time they were dating.
"It's going so great. I mean, this is the third time that we've dated." She added: "Timing is such a big deal… third time's a charm! I think that you have history and a past with someone and love, and just because it doesn't work out the first time, the second time, as long as there's not too much damage done, then, it can always work out again."
March 2018
Hilary and Matthew welcomed a new addition to their family. She shared with her Instagram followers a photo of her and Matthew with an elderly dog, and wrote: "Hey guys! We adopted an old dog."
View this post on Instagram
Matthew also posted on his Instagram a photo of him and the dog along with the caption: "I Love Lucy and she…looks fairly indifferent towards me. I will Ricky Ricardo her heart."
View this post on Instagram
June 2018
Hilary and Matthew announced via Instagram that they are expecting their first child together.
Showing her growing baby bump, she said: "Guess what guys! @matthewkoma and I made a little princess of our own and we couldn't be more excited!!!!!!"
View this post on Instagram
Posting the same photo on his social media, Matthew captioned his post: "We made a baby girl! She will be as beautiful and sweet as her mother… @hilaryduff another incredible chapter begins."
Pregnant Hilary Duff and Matthew Koma step out in Studio City on July 15, 2018 a month after announcing that they're expecting their first child together
October 2018
Four months after announcing her pregnancy, Matthew and Hilary welcomed their first daughter, Banks Violet Blair.
Matthew Koma and Hilary Duff take their newborn daughter out in Los Angeles on November 9, 2018
"This little bit has fully stolen our hearts! She joined our world at home on Thursday afternoon and is absolute magic," Hilary captioned a photo of her little family.
View this post on Instagram
May 2019
After two and a half years of on-and-off dating, Matthew finally popped the question.
Matthew and Hilary took to Instagram to share the news. Showing off her ring, she captioned her post: "He asked me to be his wife."
Matthew, on the other hand, wrote: "I asked my best friend to marry me…"
View this post on Instagram
December 2019
Just eight months following the proposal, the couple got married in a low-key wedding ceremony held in their backyard.
May 2020
Proving they are one of Hollywood's sweetest couples, Matthew and Hilary celebrated the anniversary of their engagement.
"Bubba, thanks for forcing me to go on that walk with you today (last year) I love you so much. I will always choose sandwiches and 8 om bedtimes over fancy date nights… over and over again. My best friend, lover, and papa bear that can not be rivaled… it's always been you," Hilary captioned her Instagram post.
View this post on Instagram
Matthew also posted on his Instagram to commemorate their engagement. "Asked my best friend to marry me a year ago today."
View this post on Instagram
September 2020
Matthew Koma debuted his new tattoo as proof of his love and commitment to Hilary. He posted a very cheeky photo of his bare butt with Hilary's name tattooed on the left cheek.
View this post on Instagram
October 2020
Hilary announced that baby number 3 is on the way. "We are growing!!! Mostly me…," she captioned her photo.
Matthew also posted a short clip of himself caressing Hilary's growing belly, with the caption: "lol quarantine was fun. Baby #3 – 2021"
View this post on Instagram
Credit: FayesVision / Instar / WENN