Elsa Pataky recently opened up about her marriage to Chris Hemsworth in an interview with Australia's body+soul. She revealed that the public's perception of their relationship doesn't actually match how it is in real life.
"It's funny that people think of us as a perfect couple," the 44-year-old actress said.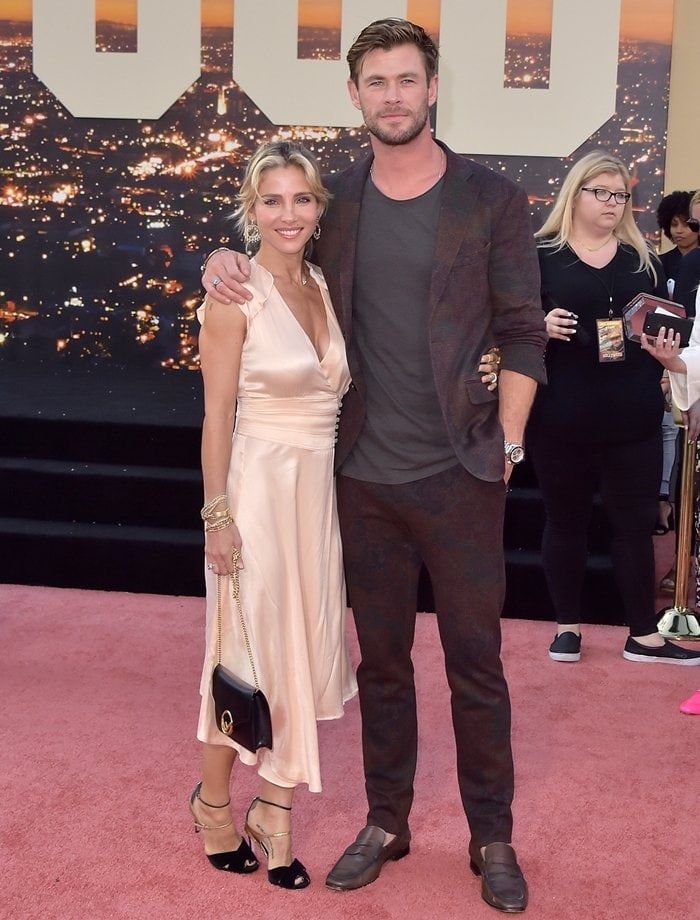 Elsa Pataky and her husband Chris Hemsworth attend Sony Pictures' "Once Upon A Time…In Hollywood" Los Angeles premiere on July 22, 2019, in Hollywood, California
"No way. It's been ups and downs, and we still keep working at the relationship. I think a relationship is constant work. It's not easy."
She added that the celebrity couple is stronger after a decade together, adding, "I always try to see the positives of things."
"I remember feeling a bit lost when I had India," Elsa said about giving birth to their first child on May 11, 2012.
"I thought my life was going to be the same [when I had kids] and I would keep working. But I couldn't. Chris would come home and say, 'How was your day?' And I didn't feel proud to say: I'm just a mum. But you should. Because it's the hardest but greatest job in the world."
How did Chris Hemsworth meet his wife Elsa Pataky?
They met when they were introduced in early 2010 by talent agent William Ward. The two immediately fell in love and married later the same year while enjoying a Christmas getaway to Indonesia with their families.
Saying "it just felt right" to make their connection all legal-like, Hemsworth opened up about their relationship on ITV's Good Morning Britain in 2016.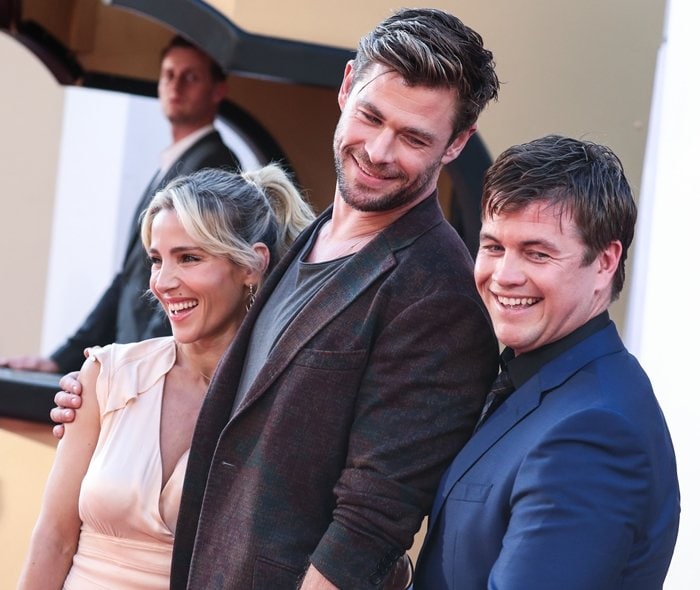 Chris Hemsworth with his wife Elsa Pataky and his brother Luke Hemsworth
"There was no great plan to any of it to be honest, we were on holiday and we said, 'Why don't we get married, too?' And then the next minute…There probably should have been some planning, but it all worked out. Honestly, we had both our families on holiday at the same time, just randomly, and we said, 'This is a good opportunity with everyone together.' So, we just did it."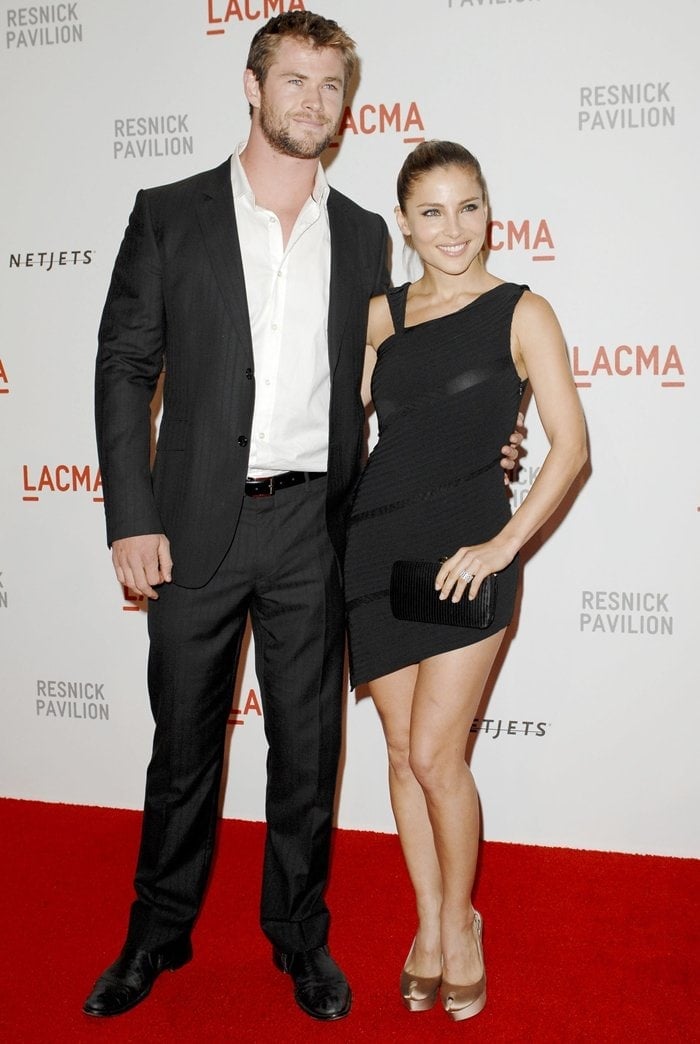 Pictured at the Opening Gala and "Unmasking" for the Resnick Pavilion at LACMA on September 25, 2010, in Los Angeles, California, Chris Hemsworth and his wife Elsa Pataky met earlier the same year
They have three children: a daughter, India Rose Hemsworth, born in May 2012, and twin sons, Tristan Hemsworth and Sasha Hemsworth, born in March 2014.
Elsa Pataky had turned 38, but that didn't stop her from flaunting her killer body at the 2015 Elle Gourmet Awards held at the Italian Embassy in Madrid.
Elsa Pataky wears her blonde hair down at the 2015 Elle Gourmet Awards held July 6 at the Italian Embassy in Madrid, Spain
The mom-of-three won the Healthy Icon award, and her amazing look during the ceremony was clear proof that she deserved it.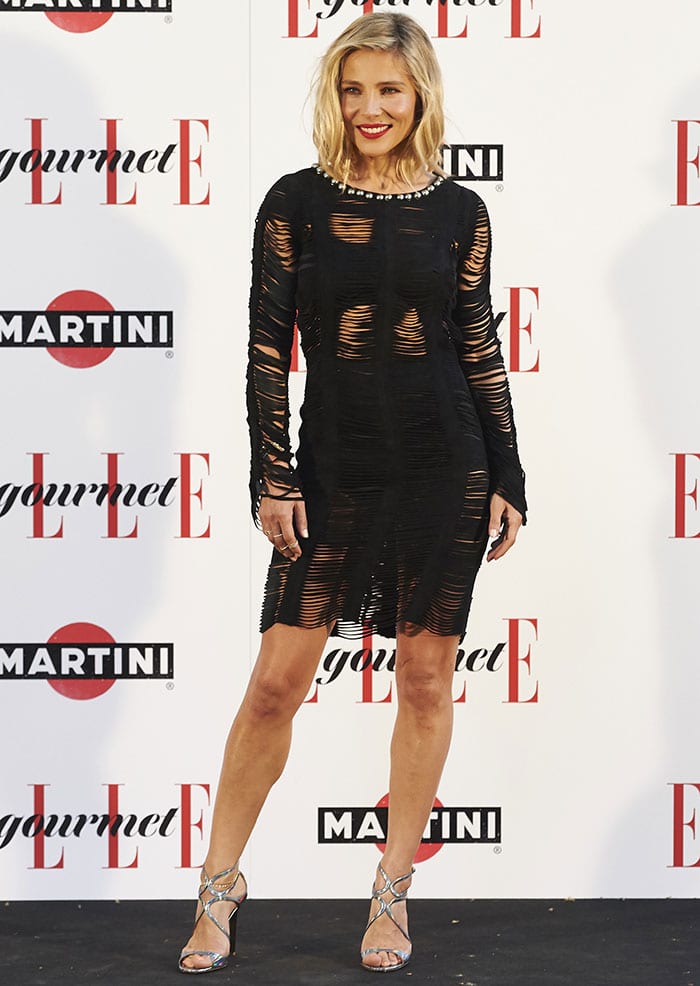 Elsa Pataky flashes some skin on the black carpet in a long-sleeved torn dress
The Spanish model and actress wore a risqué black long-sleeved torn dress, which gave onlookers a peek at her underwear. She amped up the sex appeal with a slick of red lipstick and a just-got-out-of-bed hairstyle.
Elsa Pataky shows some skin in a tattered-looking black dress
In an attempt to glam up the tacky-looking but sexy outfit, Elsa wore a pair of Jimmy Choo "Lance" sandals, which matched the silver ball detailing around the collar of her frock.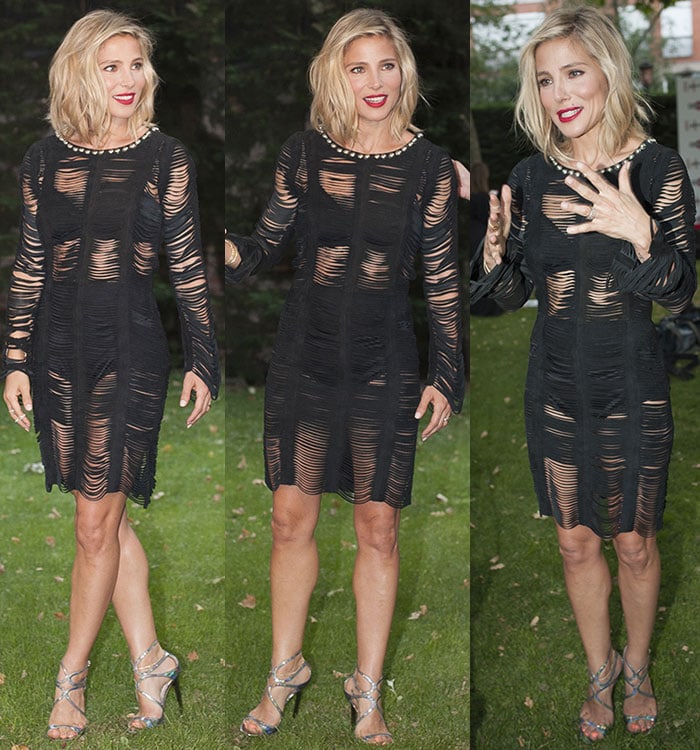 Elsa Pataky gestures for the camera at the 2015 Elle Gourmet Awards
These heels, which feature wavy straps, double buckled ankle straps, and 4.75-inch heels, are available in various versions and have been the choice of a number of celebrities.
Elsa Pataky's feet in Jimmy Choo sandals
Check out these Jimmy Choo sandals in various versions at Nordstrom and Mytheresa.
Jimmy Choo Lance Sandals in Silver, Gold, and Anthracite Hologram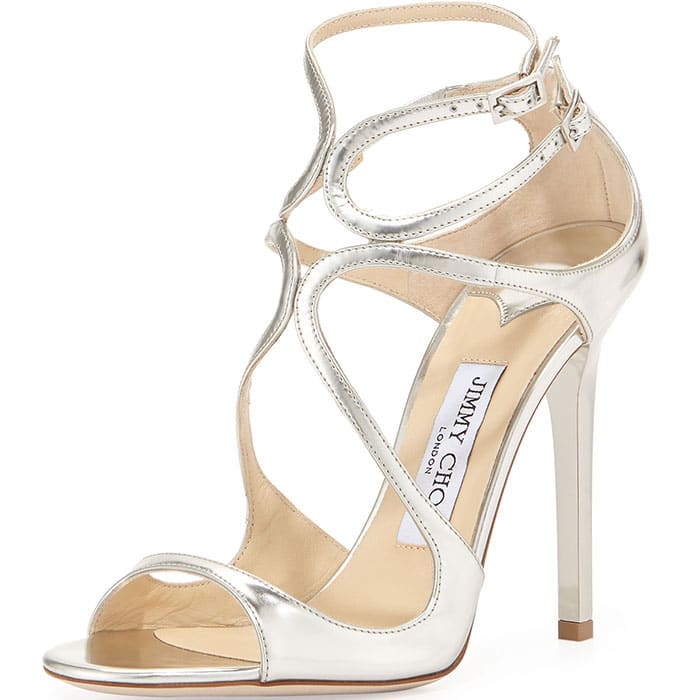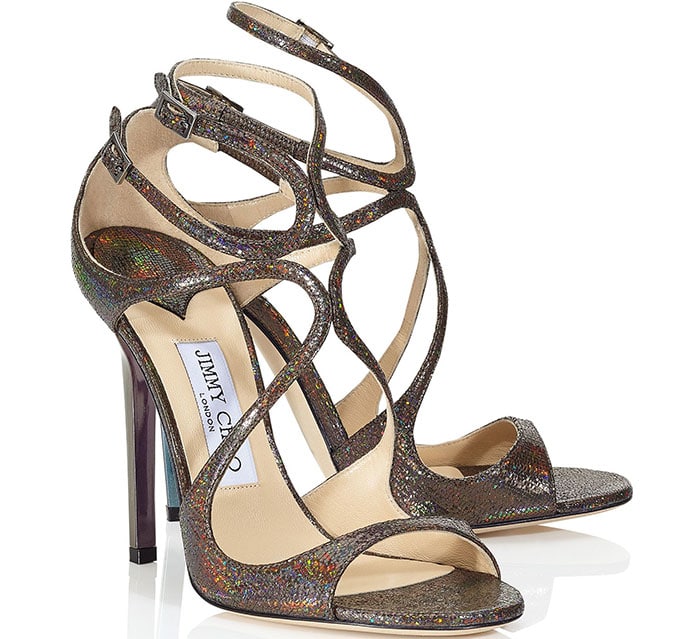 Credit: Sean Thorton / Oscar Gonzalez / WENN / Avalon / FayesVision / Apega