Everyone has their own list of staple clothing. One person may find a crisp, white button down shirt imperative in her wardrobe and another person's taste may lean more towards statement outfits. To each his own.
On the other hand, there are certain pieces that are so versatile and timeless, they work for a cornucopia of styles and a variety of tastes. One of them is the denim shirt.
Whether your style is feminine, retro, modern or boho, there seems to be a room for the classic denim shirt. It never goes out of style and never gets old. If it gets faded from use, it will still look stylish. You won't even have to worry about it getting worn out because the distressed look is quite the trend. Needless to say, the denim shirt is a wise investment.
So go ahead and find the perfect shade and texture of denim shirt and get a lot of wear from it. This season, try styling it the way these celebrities did:
1. Fearne Cotton layered a faded denim shirt over a tank top and a pair of printed shorts.
Fearne Cotton at the BBC Radio 1 studios in London on May 19, 2014
A denim jacket can be too heavy to wear on sweltering summer days. Opt for a denim shirt instead and turn it into a layering option. It complements prints so a nice printed bottom should be partnered with it.
Get This: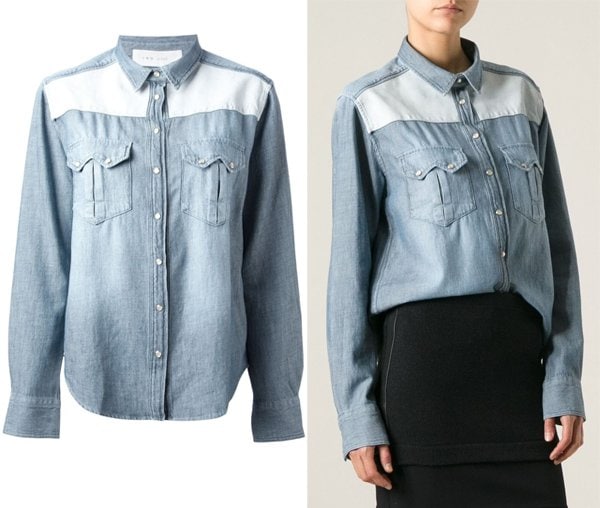 IRO Denim Shirt, $268.96
Wear it with:
Valentino Scuba Butterfly Shorts, $1350.00
Calvin Klein Collection Sleeveless Tank, $336.78
Salvatore Ferragamo Persy Cork Wedge Sandals, $416.50
Rebecca Minkoff Mini Perry Satchel, $395.00
Prism Matte Black Sunglasses, $397.50
2. Pair a boxy denim shirt with a jumpsuit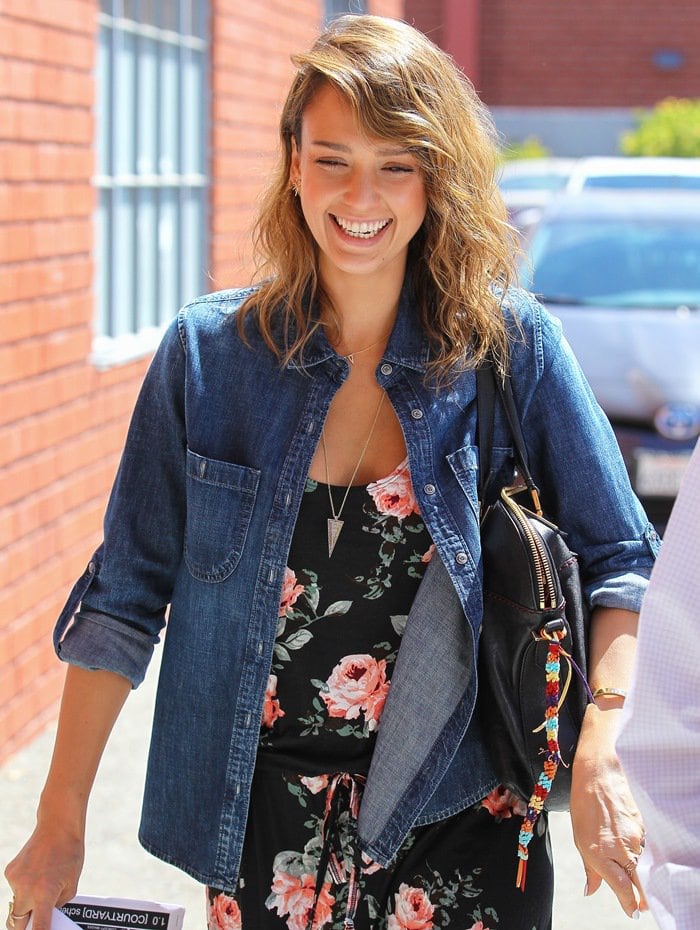 Jessica Alba arriving at an office in Santa Monica, Los Angeles, California on May 15, 2014
The jumpsuit trend is strong this season. But if you find one-pieces too boring, amp it up a little bit with a denim shirt just like what Jessica Alba did here. Polish up the look by styling it with a pair of pointy pumps.
Get This:
Diesel Denim Shirt, $166.03
Wear it with: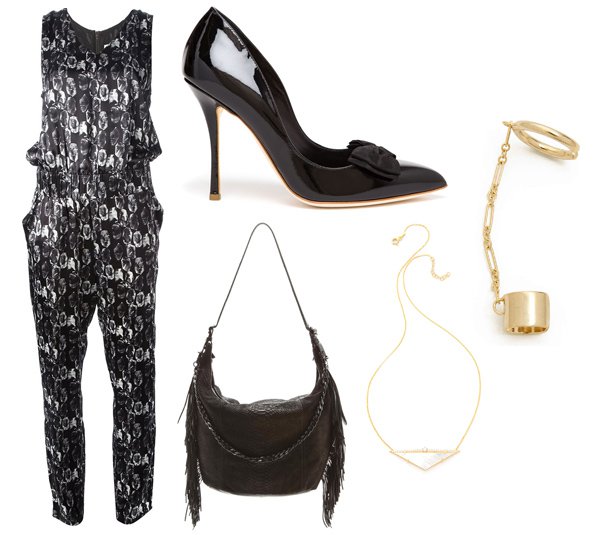 Surface To Air Omo Jumpsuit, $460.95
Rupert Sanderson Patent Bow Detail Pumps, $715.00
Ash Chain Hobo Bag, $395.00
Mary Louise Designs Triangle Pendant Necklace, $216.00
Dannijo Joel Ear Cuff, $195.00
3. Pick a pretty pencil skirt to soften the denim look
Vanessa White seen leaving the Itv Studios in London after appearing on daytime tv show This Morning in London on April 7, 2014
Strike a balance in your outfit and pair up your denim button down with a feminine skirt. A pretty printed or lace pencil skirt can create a look that can go beyond your 9-5 schedule.
Get This:
Mr Start Woman Denim Shirt, $210.00
Wear it with:
MSGM Floral Print Pencil Skirt, $337.82
DKNY Lidia Pointed Pumps, $136.50
B Brian Atwood Ava Cross Body Bag, $295.00
4. Try pairing a faded denim top with a pair of black jeans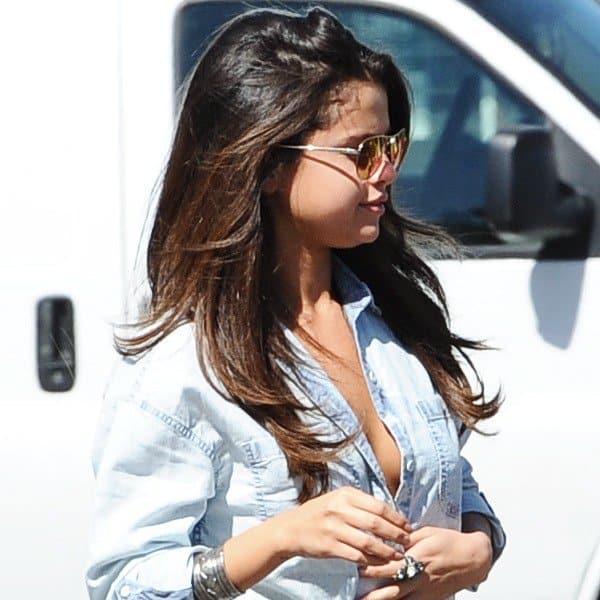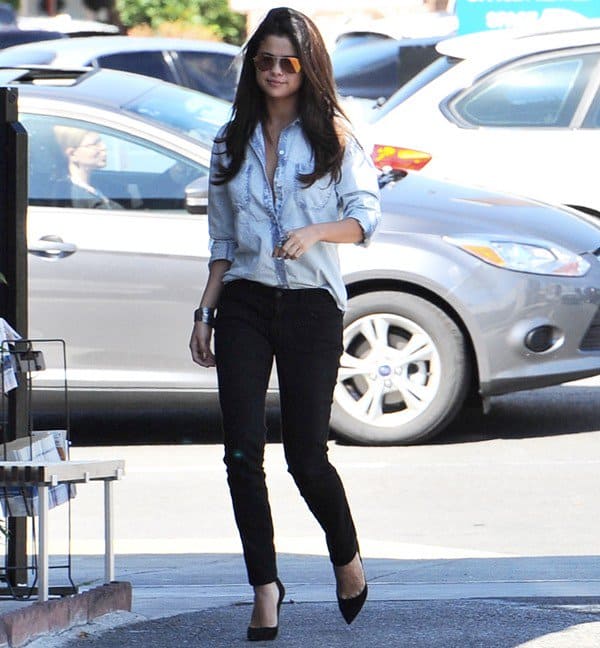 Selena Gomez eats lunch at Kabuki Japanese Restaurant in Woodland Hills with friends. Gomez, sporting a button down shirt, had a wardrobe malfunction when her shirt opened up slightly, exposing side-cleavage while heading back to her car in California on March 14, 2014
Black skinny jeans jeans go well with everything and that includes your denim shirt! The end result would be much more pleasing to the eyes if the denim is of the faded variety. Like Selena Gomez, accessorize with black pumps and mirrored sunglasses.
Get This:
Moschino Denim Shirt, $527.02
Wear it with:
Dolce & Gabbana Skinny Jeans, $625.00
Loeffler Randall Poppi Mid Heel Pumps, $295.00
Oliver Peoples Eyewear Benedict Mirrored Sunglasses, $450.00
5. Layer it over a striped dress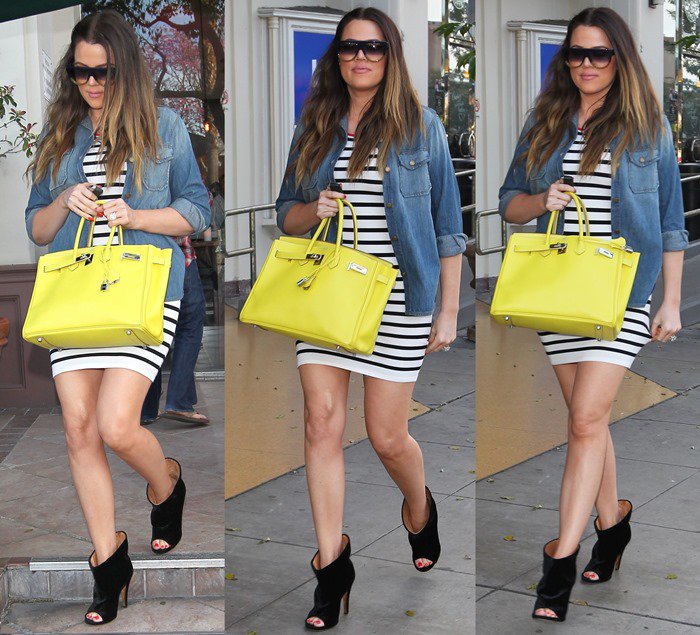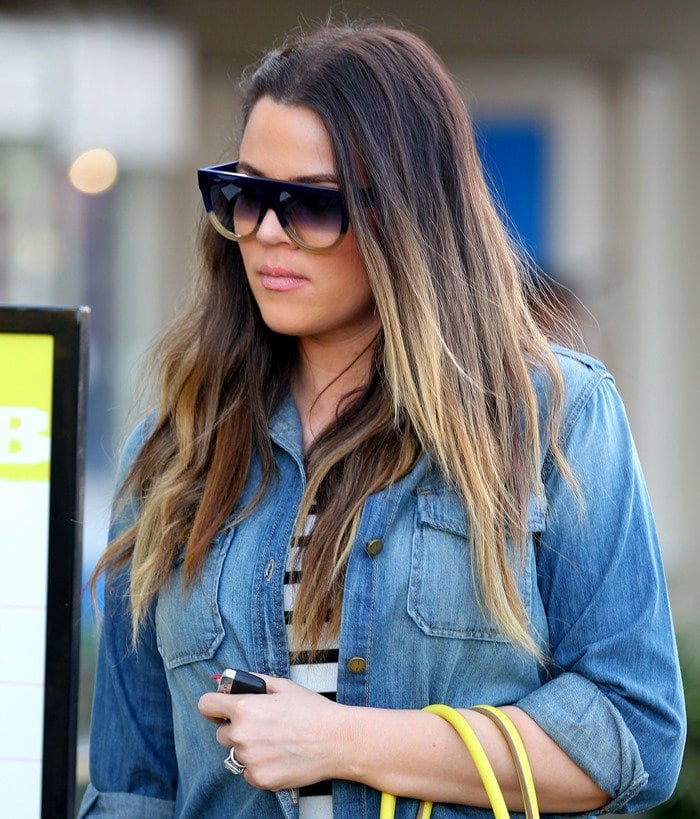 Khloe Kardashian seen leaving On The Thirty restaurant in Sherman Oaks in California on March 14, 2013
Denim and stripes go well like macaroni and cheese. It is the perfect summer tandem! So take a cue from Khloe Kardashian and wear a striped dress with an open denim button down shirt.
Get This: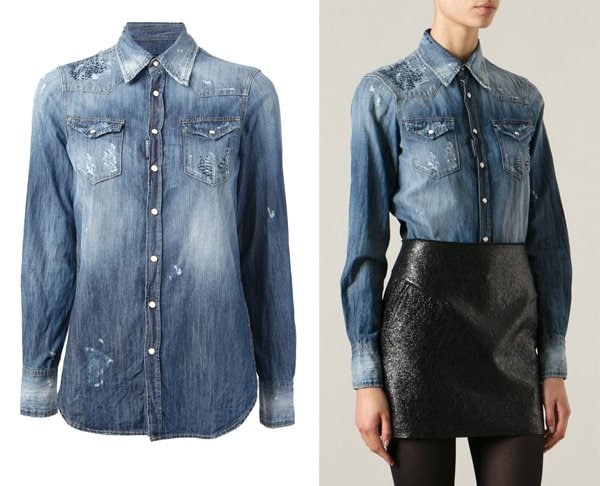 DSQUARED2 Denim Shirt, $537.42
Wear it with:
A.L.C. Webster Dress, $244.00
Botkier Legacy Small Satchel, $295.00
Vince Addison Peep Toe Booties, $395.00
Super Sunglasses Flat Top Large Sunglasses, $189.00
6. Try the denim on denim look
Supermodel Miranda Kerr takes her son Flynn on a playdate in West Hollywood in California on April 8, 2013
There was a time when stylists would advice you not to pair up denim with another denim. But that time is long gone and a new era of fabric matching has dawned. Here's the trick to pull it off – opt for two different shades. And to keep the look from being too busy and tacky, throw in simple accessories like a pair of flats.
Get This: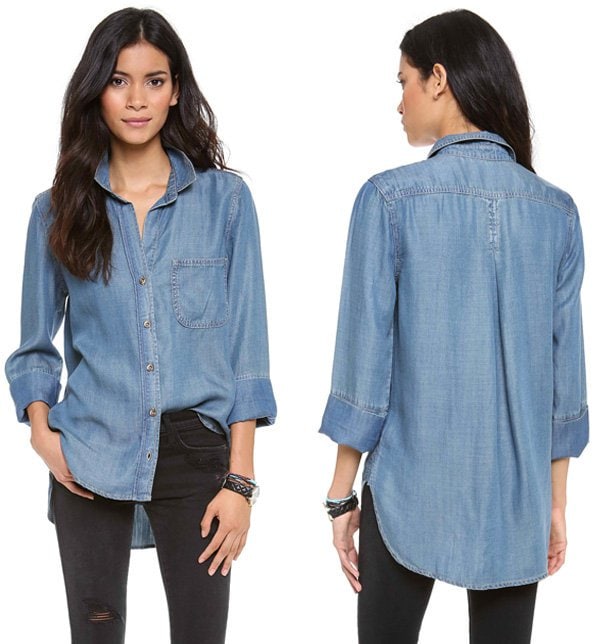 Bella Dahl Button Down Shirt, $128.00
Wear it with:
Rag & Bone Boyfriend Jeans, $198.00
Giuseppe Zanotti Design Fishbone Slippers, $966.39
Linda Farrow Luxe Oversized Gradient Sunglasses, $675.00
Loeffler Randall Walker Tote, $550.00
We're pretty certain your denim shirt will be in heavy rotation this season if you copy these celebrity-inspired looks.
Credit: Derek Jarvis/WENN/ Craig Harris/ Cousart/JFXimages/ revolutionpix