Sure, we're all about shoes here, but clothing and accessories always go hand-in-hand in fashion, so we thought it might be a good idea to work up a post on how you can rock two of summer's best staples — the white blazer and flat strappy sandals.
We have Mena Suvari as our inspiration for today. The actress was recently spotted looking quite chic in her white topper and flat strappies while out and about in Los Angeles. She wore the combo with light blue torn-up jeans, a statement purse, and a pair of sunnies. The look was simple, laid-back, and season-appropriate. But on top of that, it was also quite elegant and put together.
Check out Mena below to find out what we mean:
Mena Suvari looking chic in flat sandals and a white blazer while out and about in Los Angeles on May 15, 2014
Doesn't she look amazing here? Would you like to take a cue from the actress and copy her outfit? If you're game, then here are the guidelines to follow:
1. Look for the perfect blazer
Remember that the key to pulling off this look is to make sure you strike the perfect balance between looking polished and looking casual. Go with a tailored blazer that is a little oversized, and mix it with something informal like distressed denim and flat sandals.
The blazer should be lightweight enough for the weather — if you can find one that's unlined, the better. The length of the blazer is also critical. Choose one that is long enough (hip level or crotch level) but not too long.
Linen blazers are great, but remember that linen wrinkles easily. When mixed with distressed denim, it might end up looking sloppy, so it would be best to avoid linen.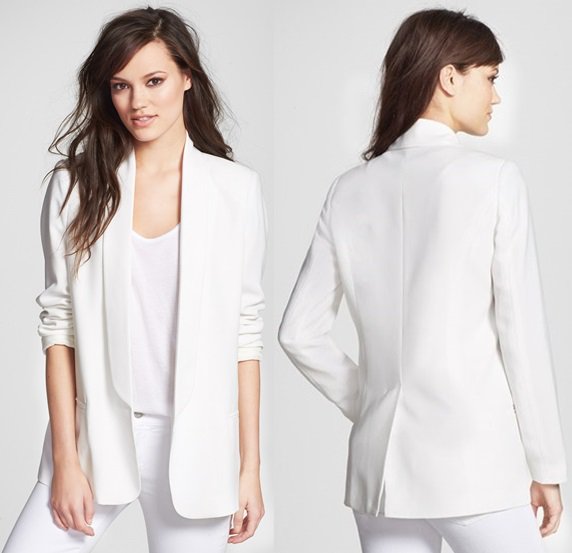 Mural Slouchy Boyfriend Blazer, $74
2. Grab your best-fitting denims
It's important to select jeans that fit right. We recommend the skinny fit ones, and go with a pair that makes you feel sexy. Lastly, don't forget that your jeans have to be distressed and must come in a light blue wash to get that casual and cool vibe.
KUT from Kloth Mia Distressed Skinny Jeans, $79.50
If your jeans are not cropped, fold the hem to expose your lady ankles. This detail is very important, especially since you'll be wearing strappy sandals that will wrap around your ankles.
You can also switch to denim cutoffs or daisy dukes if you feel that jeans are too warm.
3. Strap on those flat sandals
Just because they're flat doesn't mean they aren't or can't be special. Make a statement by going for sandals with a unique silhouette. Mena's strappy flats are great examples. Here are two more styles to consider: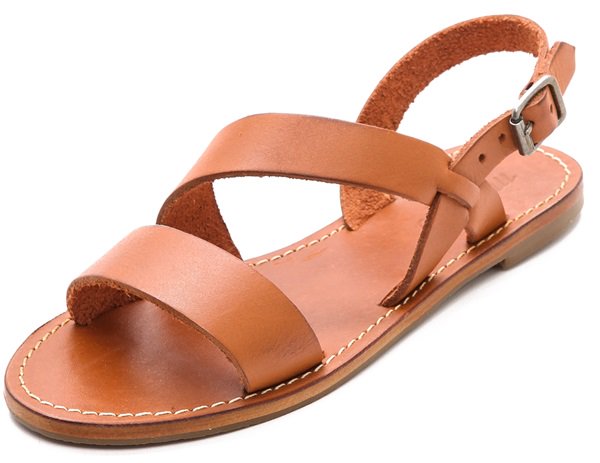 Madewell Slingback Sightseer Sandals, $60
Sol Sana "Asha" Cross-Strap Sandals, $90
4. Keep the add-ons simple
Eyewear and a pendant necklace are just some of the other must-wear items you need. They add a touch of glam without making you look overdone. You can also use a good watch and simple gold stud earrings.
Michael Kors 37 mm Runway Watch, $250 / Kate Spade "One in a Million" Pendant Necklace, $58 / Ray-Ban "Highstreet" Sunglasses, $145 / MARC by Marc Jacobs Enamel Logo Earrings, $48
5. Keep your hair neat
While there's nothing wrong with wearing your fabulous hair down, the idea is to infuse your outfit with a touch of elegance, so keeping your hair in a neat pony or a loose bun is a must. With this type of hairstyle, you achieve a look that is minimalist and chic, with a bit of casual laid-back flair to it.
6. Keep the top classic
A classic tank or tube top will do fine for this look, preferably in black. If you are brave enough to showcase your belly, you can also rock a cropped top or a bandeau.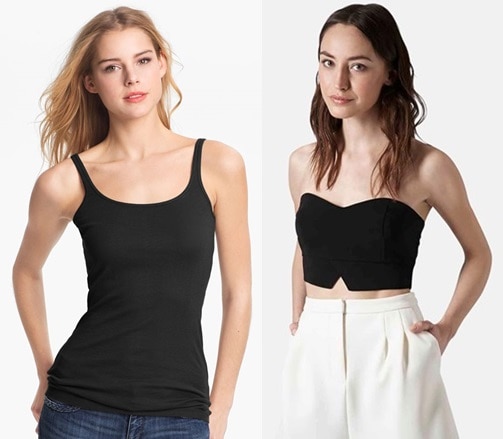 Halogen Tank Top, $18 / Topshop Notched Hem Bandeau, $56
7. Don't forget your statement purse
Of course, you can't not have a purse with you when you're running about town in summer. A great one to use for our target look is a tote that's bright and poppy, one that will give your outfit a splash of color.
Coach "Madison" Saffiano Tote, $298
So, are you ready to rock your white blazer and sandals like Mena Suvari this summer? We've combined the pieces below to make it easier to imagine how chic you can be in this mix. Looks exciting, don't you think?
Credit: Michael Wright / WENN