It's not a well-known fact, but London-born and California-raised Emily Ratajkowski is actually of Irish descent. It's true, even though her last name isn't exactly a dead giveaway.
Her heritage prompted the actress to spend most of her summers in Ireland, taking in the beautiful sights with her parents.
Emily also revealed that her favorite part of Ireland is the country's pubs. The actress gleefully talked about the places she grew up on the red carpet of the 18th Costume Designers Guild Awards in Los Angeles.
Emily Ratajkowski wears her hair down at the 18th Costume Designers Guild Awards held on February 24, 2016, at The Beverly Hilton Hotel in Los Angeles (Credit: Brian To / WENN)
"I absolutely love Ireland. It's one of the most beautiful places on earth and I have strong ties here. Both my grandmothers are from Ireland and I have spent every summer in Bantry since my father, who is an artist, had the romantic idea 20 years ago to buy an old farmhouse on the west coast and renovate it," she revealed in an interview with Sunday Independent in July 2013.
"I go back any time I get the opportunity and I have many friends who I still hang out with in the local pubs. I have great childhood memories cow-tipping, going off and getting lost in the bog for hours, and coming home covered in dirt," she added.
"I love the pubs – the fact that you can find all ages there. It's so easygoing, an old man could be dancing with a young girl having a bit of fun and no one bats an eyelid. It's so relaxed and everyone is so friendly. I'm more of a Smithwick's or Bulmer's girl than a pint of Guinness."
Emily Ratajkowski stuns in a floor-length flapper-style dress from Andrew Gn (Credit: Brian To / WENN)
The iCarly actress wore a gorgeous flapper-inspired satin-and-fringe dress in blush by Andrew Gn.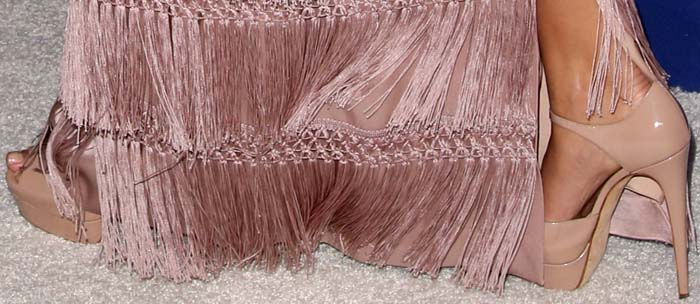 Emily Ratajkowski's feet in nude patent Brian Atwood sandals (Credit: Brian To / WENN)
The 24-year-old accessorized with a sexy body chain from Jacquie Aiche, a ring and earrings combo from Beth Miller, and a pair of nude patent Brian Atwood "Tribeca" sandals.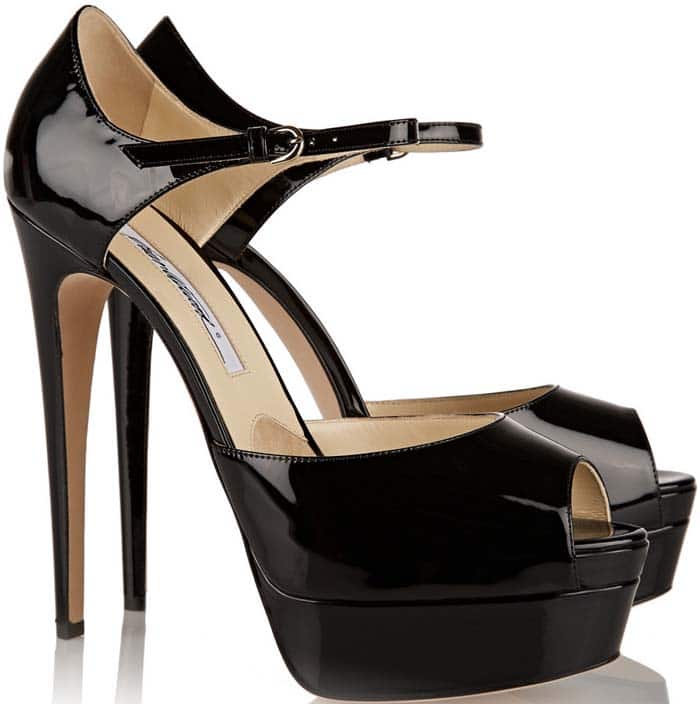 Brian Atwood 'Tribeca' Platform Heels in Black Patent, $895