Many people fantasize about meeting and marrying a rock star, but most of the time, it remains just that – a fantasy.
There are those exceptions, though, like when Janie Liszewski met and married her rock star husband, Eddie Van Halen.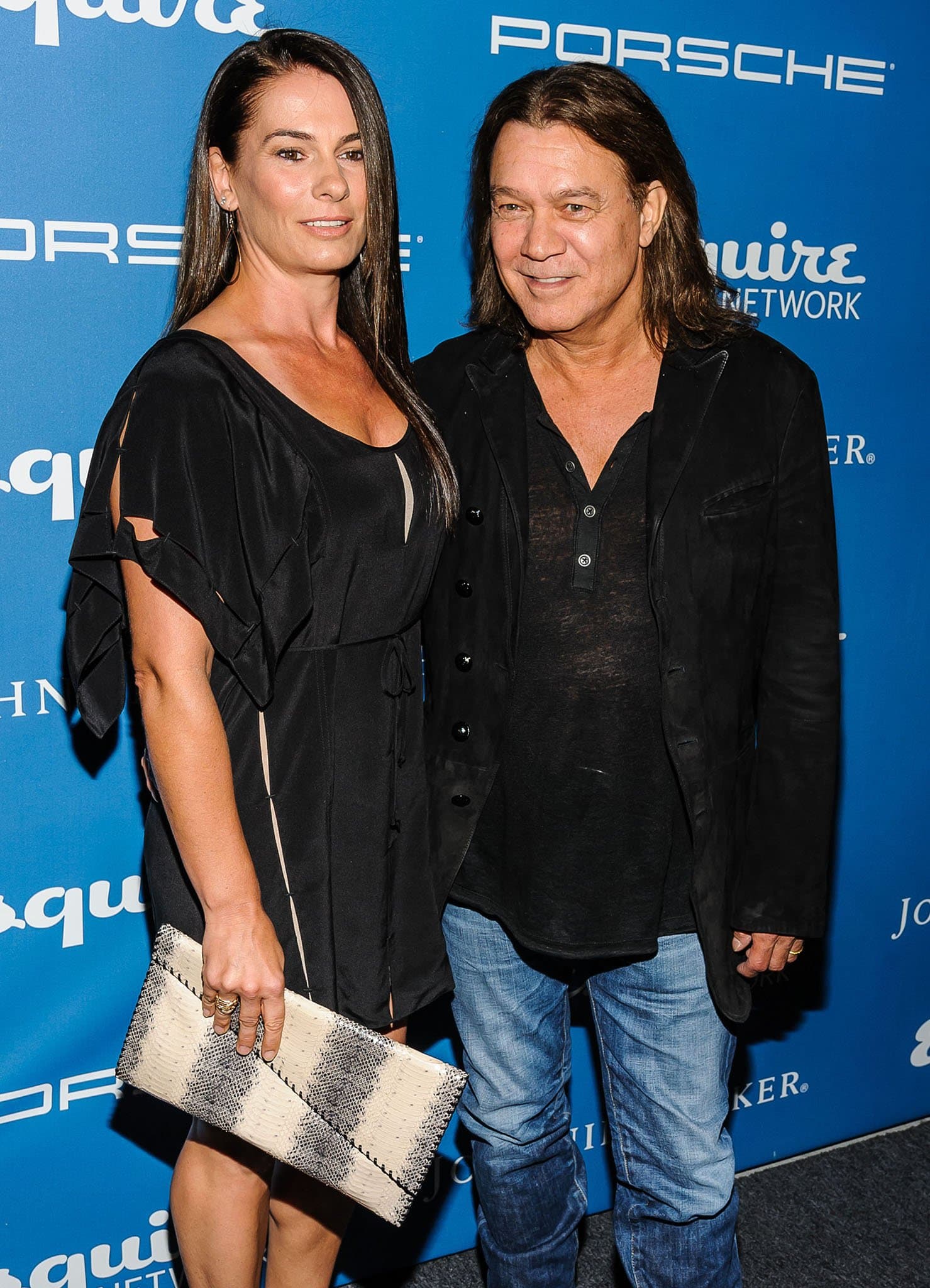 Janie Liszewski and the late Eddie Van Halen pictured at the Esquire 80th Anniversary and Esquire Network launch celebration on September 17, 2013
Eddie Van Halen was the legendary guitarist and co-founder of the band Van Halen. He passed away last year after a long battle with cancer at just 65 years old. Following his death, many shared emotional tributes to him, including his current wife, Janie Liszewski.
Prior to this, Janie wasn't a prominent figure in the media, and the general public knew little about her. Since the emotional tribute went viral, many have wondered how she met her husband, Eddie Van Halen.
In the world of rock 'n' roll, long marriages are few and far between. Janie and Eddie were an exception. The beginning stages of their relationship have remained relatively private.
This is partially due to the fact that the two began dating while he was still technically married to his first wife, Valerie Bertinelli.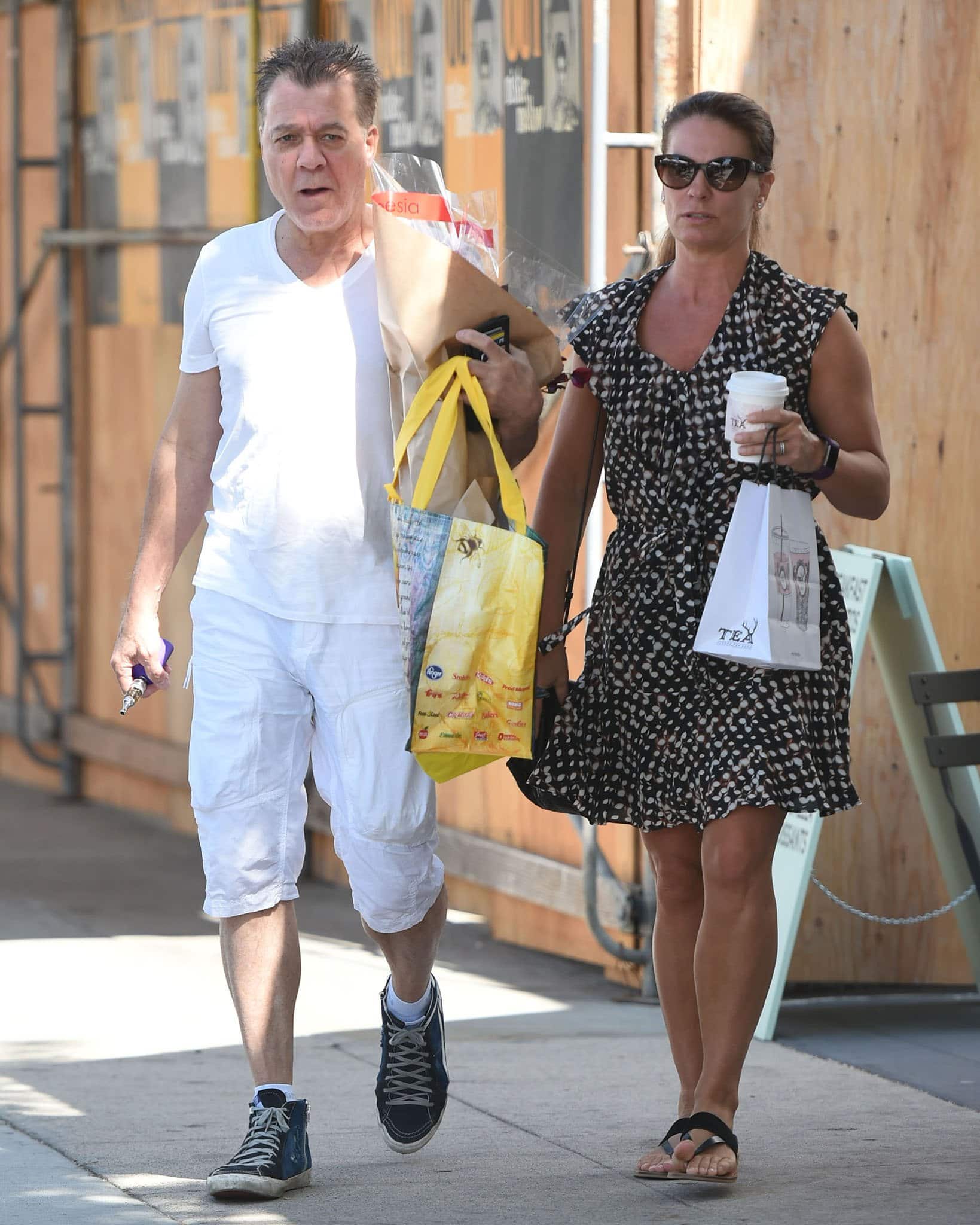 Eddie Van Halen and Janie Liszewski, pictured in 2017, met when Janie worked as Eddie's publicist
The two met when Janie became Eddie's publicist. As soon as they started working together, she said in an interview with AVN, "I am so excited to be given the opportunity to work with such a legendary musical force and look forward to going on the road this summer. Obviously, this is a dream come true in many capacities."
I think it's fair to speculate that while on the road, romance bloomed. The two were engaged a couple of years later, in 2008.
Van Halen then proposed while the two were on vacation in Hawaii in a private room in Tiffany's. The following year, in 2009, they officially tied the knot with a casual ceremony at their home.
Eddie Van Halen and Janie Liszewski, pictured in 2006, tied the knot in 2009
Prior to becoming Eddie Van Halen's PR rep, she was a publicist in the adult entertainment industry. She has also worked as a stunt performer in films such as Mulholland Drive and Spider-Man 2 and is both a professional ballroom dancer and wrestler.
The two were married for 11 years and were still married when he passed away. In her post, she said, "My husband, my love, my Peep, My heart and soul have been shattered into a million pieces. I never knew it was possible to cry so many tears or feel such incredible sadness. Our journey together has not always been an easy one, but in the end and always we have a connection and love that will always be. Saying goodbye is the hardest thing I have ever had to do, so instead, I say so long, I will see you again soon in a place with no pain or sorrow. Please watch over Kody and I. We love you and miss you so very much. Love, your PooPee."
Eddie Van Halen's Health Issues and Death
At the time of his death, Eddie Van Halen had a number of health issues. He was first diagnosed with tongue cancer in 2000. Despite having a third of his tongue removed, the cancer spread to his throat and esophagus.
The late Eddie Van Halen, pictured in 2015, was diagnosed with tongue cancer in 2000
Eddie said that although he believed his heavy cigarette, drug, and alcohol use likely contributed, he also felt the metal picks he always had in his mouth, exactly where the cancer started, and spending so much time in the studio also caused his cancer.
Like many rock stars before him, for an extended period of his life, he was engulfed in a world of cocaine, guns, alcohol, and heavy partying.
He was wild and had quite the reputation of living dangerously, including flying off stages after snorting multiple lines of coke. This lifestyle had taken its toll. In 1999, Eddie underwent hip replacement surgery.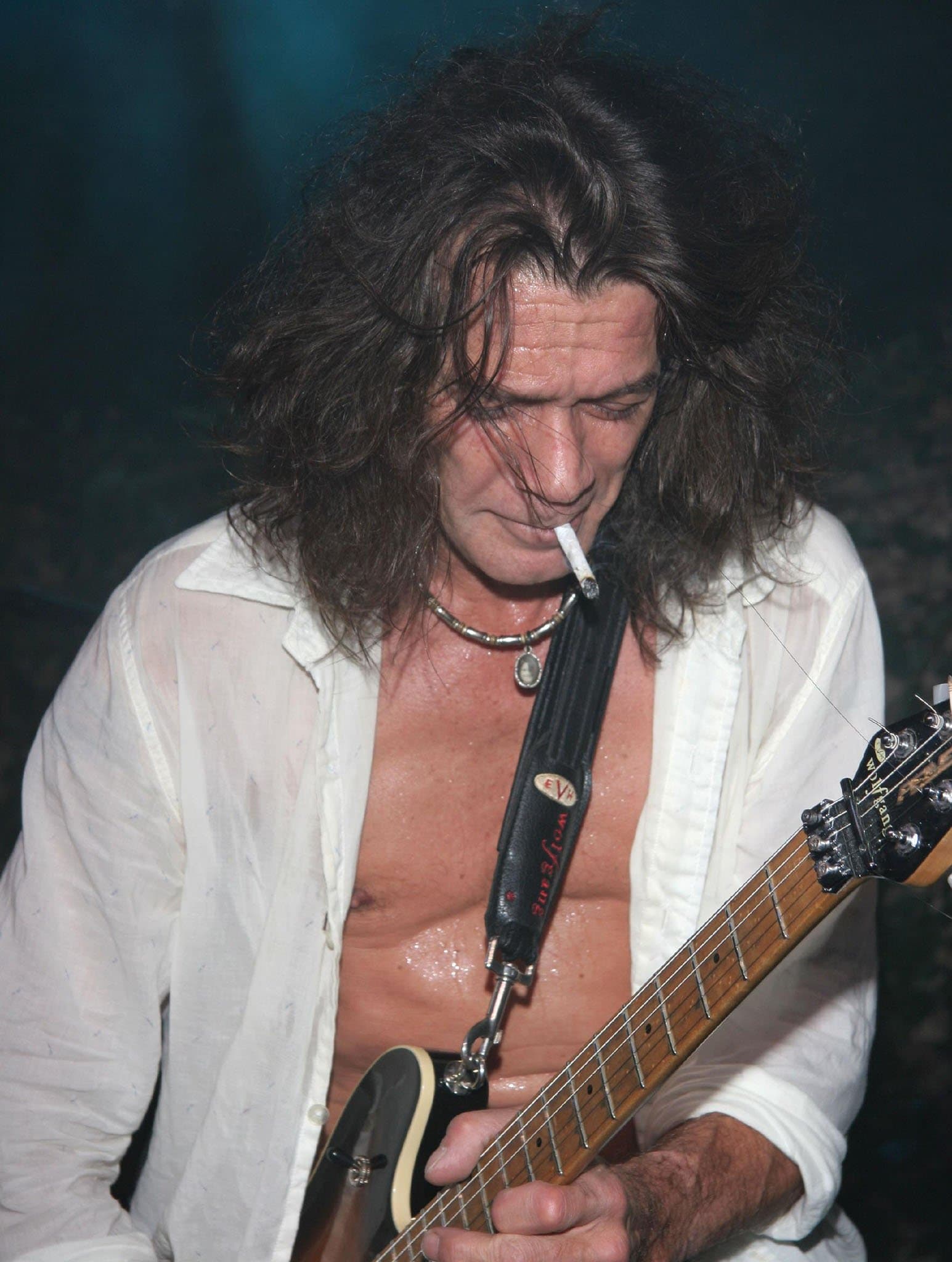 Eddie Van Halen believed that the metal picks he always had in his mouth, in addition to heavy cigarette, alcohol, and drug use, caused his cancer
In addition to throat cancer, Eddie also battled lung cancer. He had been seeking treatment in the US and Germany for the better half of a decade, including rounds of chemotherapy and radiation.
Even while sick, Eddie continued to perform and record music, and in 2007, he went to rehab and had reportedly been sober ever since.
This long battle with cancer started to end as his health rapidly deteriorated roughly 72 hours before his passing. At this time, doctors discovered his cancer has spread to his brain and other organs.
As if that wasn't enough, he also had pneumonia, and a bone marrow disorder called myelodysplastic syndrome.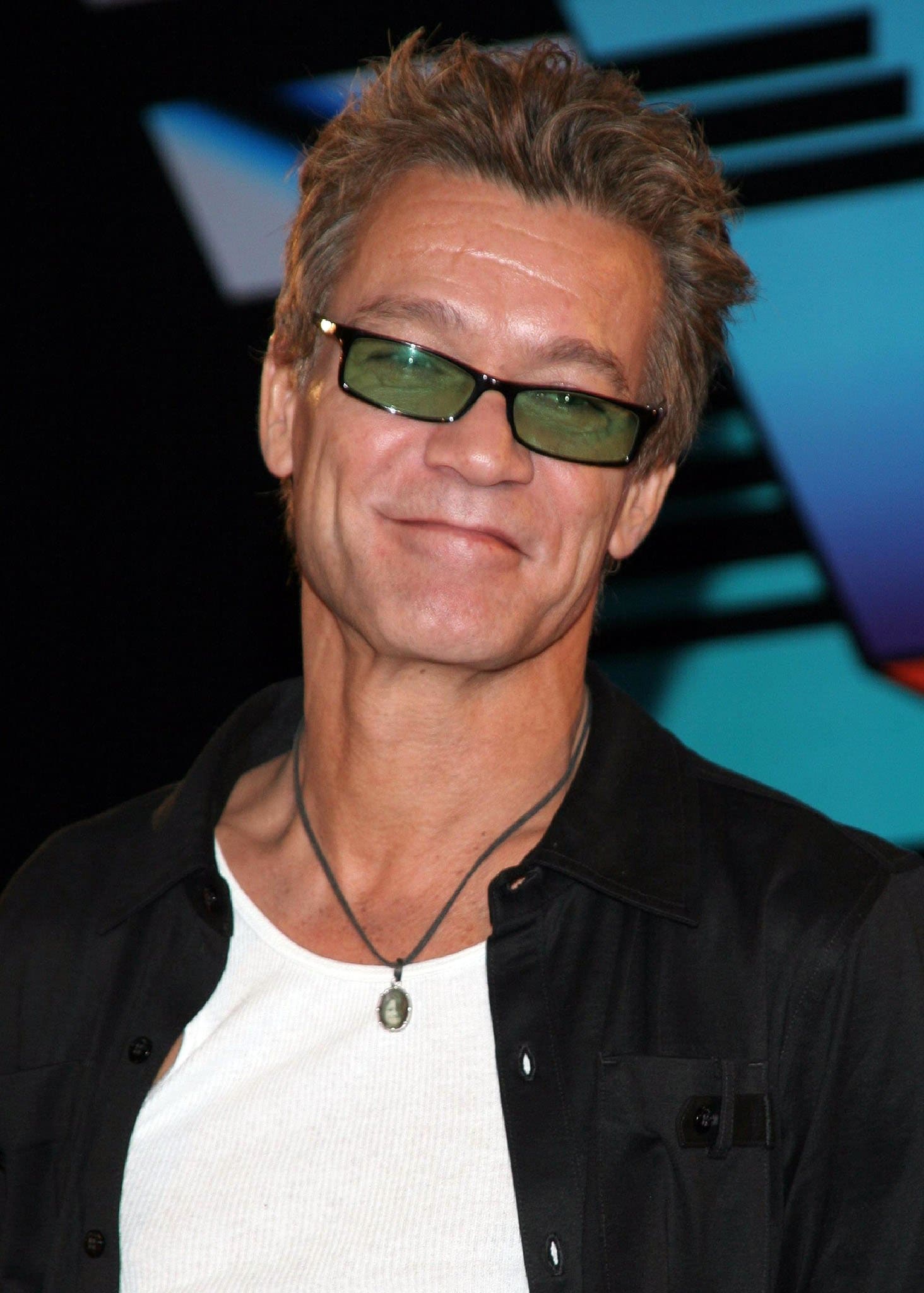 Eddie Van Halen passed away on October 6, 2020, at the age of 65
The Los Angeles Department of Public Health ruled his immediate cause of death as stroke.
Eddie passed away on October 6, 2020, at Saint John's Health Center in Santa Monica, California. He was surrounded by loved ones, including his wife Janie Liszewski, son Wolfgang, ex-wife Valerie Bertinelli, brother, and bandmate Alex Van Halen.
The guitarist's dying wish was to be cremated and have his ashes given to his son to be scattered off the coast of Malibu, California.
Eddie Van Halen's Ex-Wife and Son
Following his death, a lot of eyes were on his only child and son, Wolfgang, and Wolfgang's mother, Valerie Bertinelli.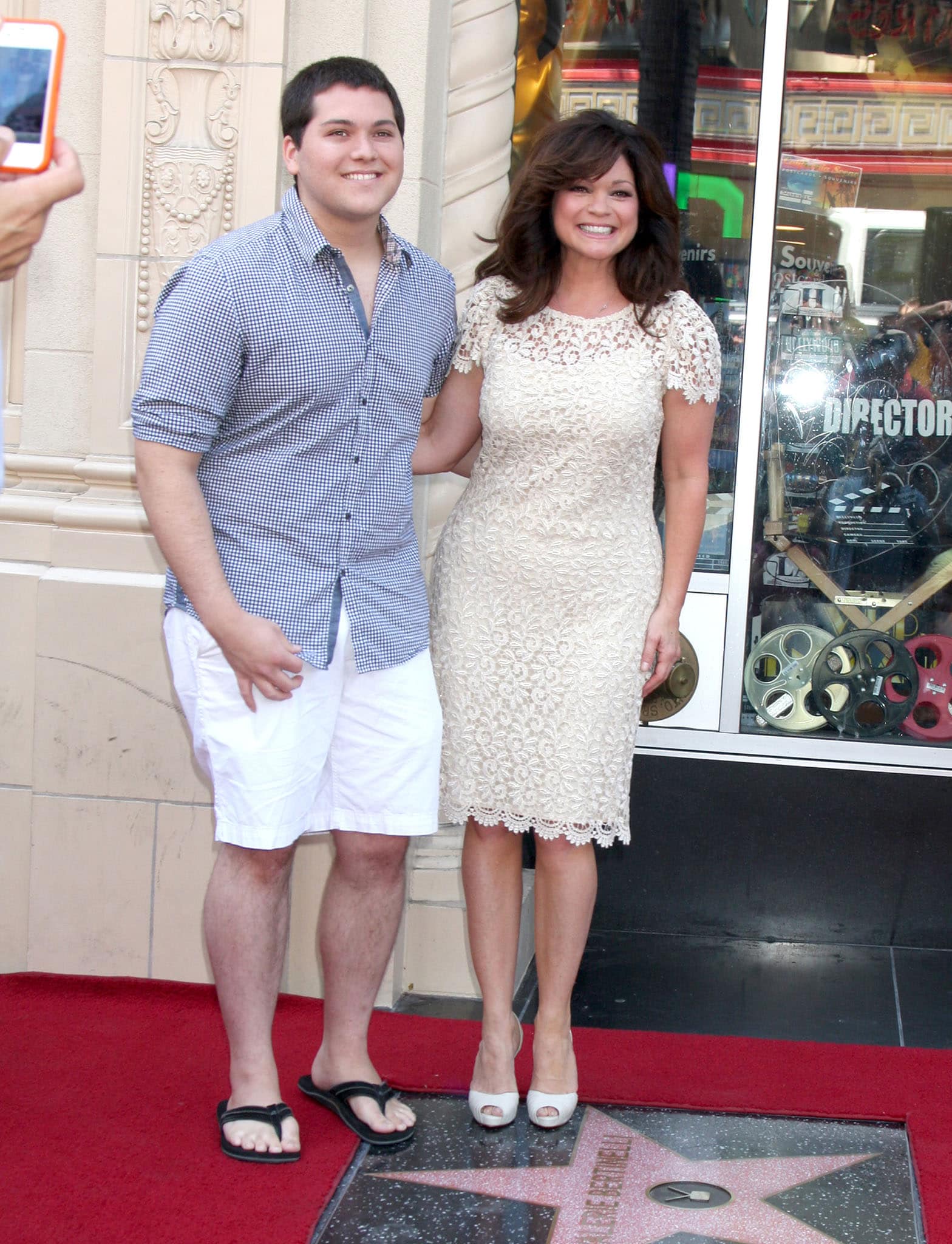 Eddie Van Halen's son Wolfgang and ex-wife Valerie Bertinelli honored with the 2,476th star on the Hollywood Walk of Fame on August 22, 2012
Eddie met Valerie at a Van Halen concert in Louisiana and shortly after the two started dating. They then got married, just 8 months after first meeting in 1981. Valerie was a sitcom star and attended the concert after her brothers asked her to come along.
In Valerie's latest memoir, she talks about the drug and alcohol use surrounding their relationship. The two were married for 10 years before welcoming their first and only child to the world, Wolfgang.
Eddie Van Halen and sitcom star Valerie Bertinelli, pictured in 1992, met at a Van Halen concert in Louisiana in 1980
The two were married for over twenty years, separating in 2001 before finalizing their divorce in 2007. The decision to part ways was based on the well-being of their son. They felt their son deserved more than watching his parents fight and treat each other poorly.
Despite their divorce, the family remained close. Valerie even attended Janie and Eddie's wedding, and Wolfgang was his father's best man.
Years later, when Valerie married Tom Vitale, Eddie and Janie attended the ceremony. Even as Eddie was sick in the hospital or going through chemotherapy, she would often be by his side.
View this post on Instagram
Their son, Wolfgang, had a very close relationship with Eddie. It was Wolfgang who broke the news of his father's passing to the world in a touching Instagram post.
Next to a black and white photo of his father smiling, he wrote, "I can't believe I'm having to write this, but my father, Edward Lodewijk Van Halen, has lost his long and arduous battle with cancer this morning.
He was the best father I could ever ask for. Every moment I've shared with him on and off stage was a gift. My heart is broken, and I don't think I'll ever fully recover from this loss. I love you so much, Pop."
Wolfgang is also a talented musician, and about a month after his father's death, he released his long-anticipated single, Distance. Wolfgang wrote the song with his father in mind.
Knowing his father would eventually succumb to cancer, he imagined how difficult life would be without him. The song is the perfect tribute to Eddie Van Halen, a rock 'n' roll legend, father, and husband.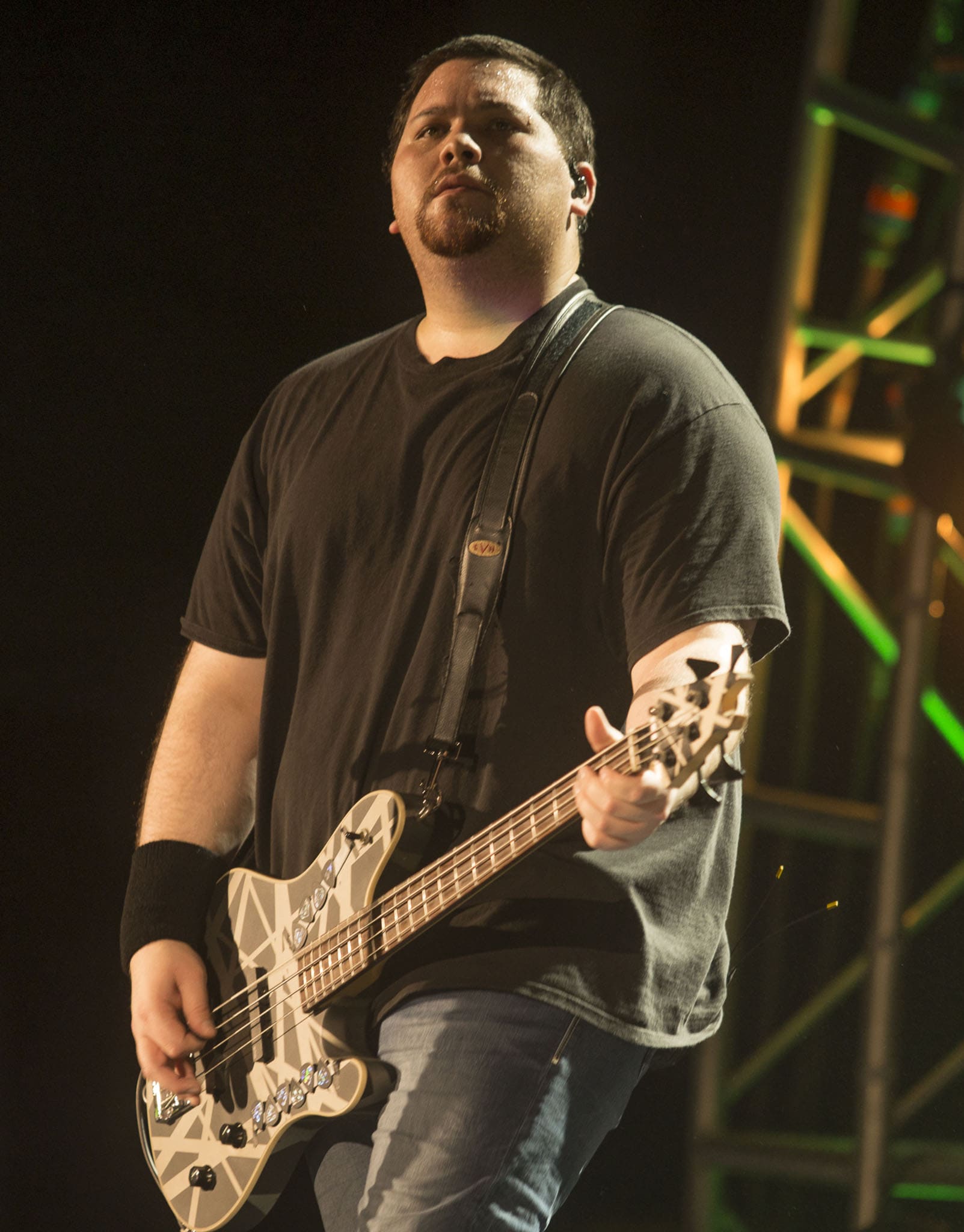 Wolfgang Van Halen is Eddie Van Halen's first and only child
This month Wolfgang released two more singles and shot one of the music videos in his dad's infamous 5150 studio. The Grammys recently asked Wolfgang to perform "Eruption," a Van Halen song, as a tribute.
Wolfgang tweeted about the request and the fact that he turned them down. He felt the proposal was "tone-deaf." When asked about why he declined, he said, "It just didn't feel right. And I think some people are like, 'Well, you should have done it anyways.' And I don't think they were really thinking about the emotional attachment to it. And just the fact that it isn't the right thing to do and something I'm not comfortable with."
Janie Liszewski: Life without Eddie Van Hale
Janie has been sharing her grief through her various social media channels. Months after his death, she tweeted that she would be seeking therapy to provide her with the emotional support and help she needed.
From the photos she's posted, it looks like she is working on new projects. Her official ballroom dancing page @janieandlouie often goes live on Instagram, sharing music, dancing, and podcast-style conversations.
She's also back in the wrestling ring and dedicated a championship belt to the ones she's lost, including her husband, Eddie Van Halen.
View this post on Instagram
Eddie was just 65 years of age when he passed. Although he had his struggles, his love for his family remained unwavering.
Janie, along with the millions of Van Halen fans around the world, will continue to miss and pay tribute to this husband, father, and rock 'n' roll legend.
Credit: Chris Connor / Arnold Wells / C.Smith / Rachel Worth / WENN