Actress/musician Janina Gavankar seems to be having a great year. She has a recurring role in the Apple TV+ series The Morning Show, which started filming its second season last month. In addition, she's currently busy promoting her upcoming sports drama movie with Ben Affleck, The Way Back.
In December, she served as a royal photographer for the Sessexes' 2019 Christmas card, which faced Photoshop accusations. Janina, however, took to Instagram to defend the royal family against the British press.
She posted the original photo of Meghan Markle, Prince Harry and their son Archie with the caption: "So proud to have taken the Christmas photo for one of my best friends and her family. Here's the original that was sent out (cropped to fit IG). …and to The Mail, I see your campaign against my friend continues. Nice photoshop of my non-photoshopped image. Now may we all get back to the spirit of Christmas and not the spirit of maliciousness."
At the Los Angeles premiere of her new movie, Janina opened up about her longtime friendship with Meghan. A trained pianist, vocalist, and orchestral percussionist, she told ET that they maintain their long-distance friendship through FaceTime.
"Listen, our entire friendship has been apart, you know. We met 16 years ago, and we've just been apart since, so our friendship lives on FaceTime, no matter where we are."
The Way Back is set to hit US theaters on Friday. At the premiere, Janina and Ben showed off their chemistry while posing for photographers on the black carpet.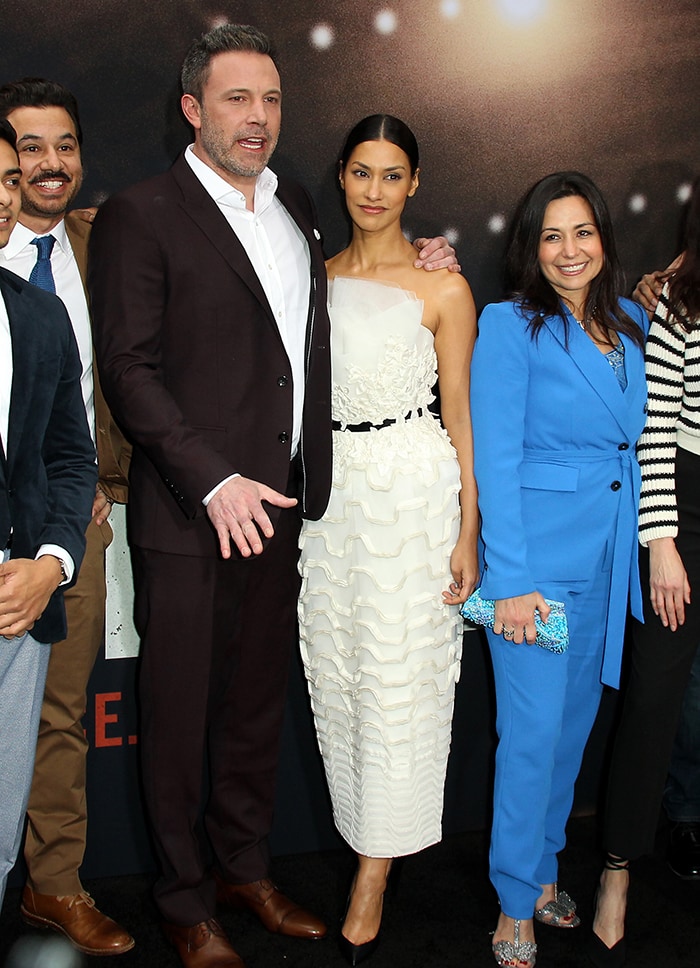 Ben Affleck and Janina Gavankar at the premiere of their movie, The Way Back, held at Regal LA Live in Los Angeles on March 1, 2020
Wearing a dark maroon suit with a white shirt underneath, Ben Affleck had his arm around Janina's shoulders.
The 39-year-old actress was pictured gazing at her leading man while clad in a strapless white midi dress from Azzi & Osta Fall 2019 Couture.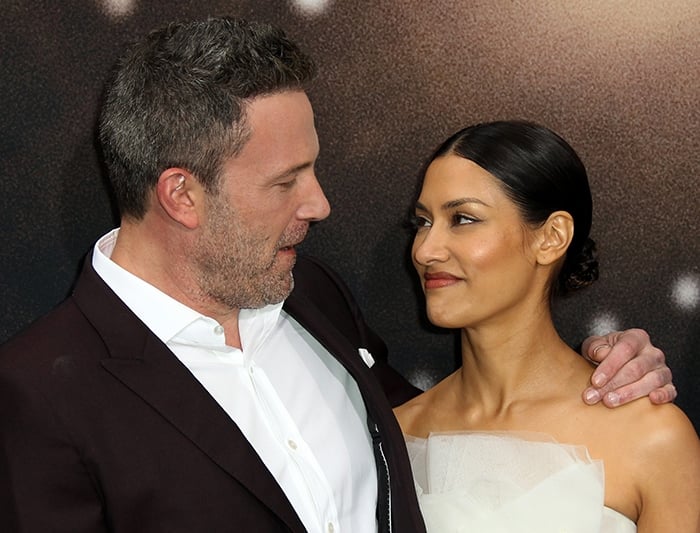 Ben Affleck and Janina Gavankar show off their chemistry at the premiere of their sports drama
Janina's frock features a structured tulle bodice with white flower embellishments. It also has a black belt that helped highlight her tiny waist and a tulip skirt that's embellished with organza wavy embroidery.
Janina Gavankar flaunts her tiny waist in an Azzi & Osta Fall white dress
Janina skipped wearing jewelry and simply paired her dress with black pumps. For her beauty look, makeup artist Jacqueline Reyes applied winged eyeliner, glittery eyeshadow, mascara, and rosy lip gloss.
Hairstylist Elizabeth Cortez styled her dark tresses in a sleek center-parted braided bun.
Janina Gavankar wears her dark tresses in a center-parted bun with cat eye-makeup and rosy lip shade
Credit: Adriana M. Barraza / John Rainford / WENN