Jason Markk, the founder of the eponymous shoe care company, recently showed Nordstrom on Instagram how to clean a pair of black Chuck Taylor high top sneakers.
Using a wood-handled brush and disposable wipes from his shoe cleaning kit that you can purchase on Nordstrom, he easily cleaned his wife's dirty shoes.
Jason Markk gets ready to clean his wife's dirty black Chuck Taylor high top sneakers
1. Use the brush to remove dirt and dust
To make the cleaning process easier, he first used the premium brush to take off the top layer of dirt and dust.
Jason Markk uses a soft-bristle brush to remove dust and surface dirt
2. Clean with dual-textured wipes
After removing the surface dirt, proceed to clean the shoes using dual-textured cleaning wipes. For the best result, start with the raised dotted side before finishing with the smooth side.
Jason Markk's extremely durable dual-textured cleaning wipes are made from unique, groundbreaking material
Each wipe can be used to clean several pairs of shoes. After cleaning, the Chuck Taylors looked brand new!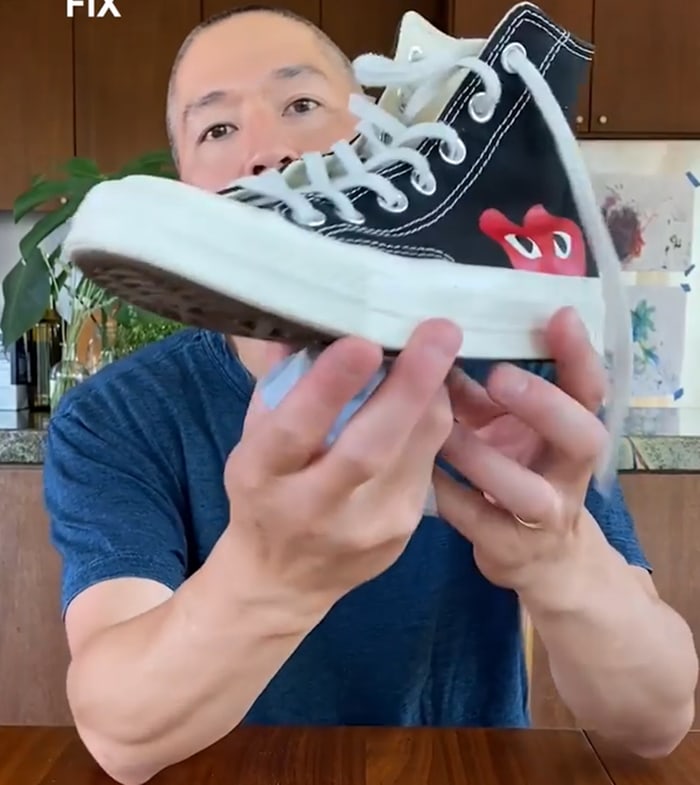 Jason Markk shows off the cleaned Chuck Taylor high top sneakers
You can watch the quick and easy shoe cleaning tutorial below. Your kicks will look good as new in no time!
Also, don't miss our guide showing how to clean white Converse shoes!