All sorts of rumors continue to swirl around Jennifer Aniston and her fairly round midsection. So, before we move on to her ensemble on her way to dinner last night, let us reiterate that the 'We're the Millers' star is not pregnant. She's just put on some weight.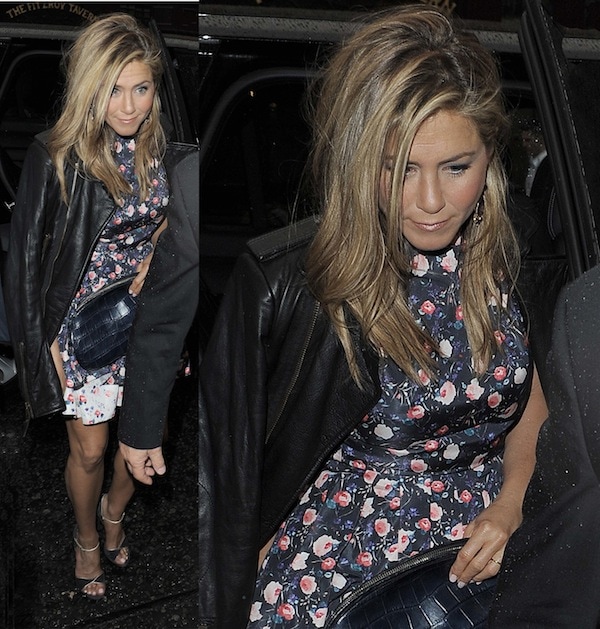 Possibly pregnant Jennifer Aniston arriving at Wahaca restaurant in London on August 14, 2013

Another buzzing rumor reported by E! News Online was that Jennifer moved her scheduled flight to London from Sunday to Monday morning to avoid bumping into her ex-husband's fiancé, Angelina Jolie.
Both actresses were scheduled to leave on a British Airways flight on Sunday in First Class, but a VIP rep from London Heathrow Airport reportedly alerted Aniston's camp of the potentially awkward situation, prompting Jennifer's change of schedule.
Jason Sudeikis and Jennifer Aniston attend the European premiere of 'We're The Millers' at Odeon West End on August 14, 2013, in London, England
Jen and Angie were (apparently) unaware of the whole situation. According to Aniston's reps, they had no idea of Angelina's flight plans. Whether Jen changed her flight to avoid Angie or it was a work-related move, one can only speculate.
Despite all the rumors, Jennifer smiled and looked fabulous in a floral-print dress (still covering her tummy, might we add) under a black leather jacket on her way to Wahaca restaurant in London last night.
Jennifer did not have time to change and wore the same dress she had on earlier in the day at the London premiere of 'We're the Millers'.
Experiencing a minor wardrobe malfunction when her skirt was caught by the wind, she paired her Christian Dior Resort 2013 floral-print dress with a charming printed skirt underlay.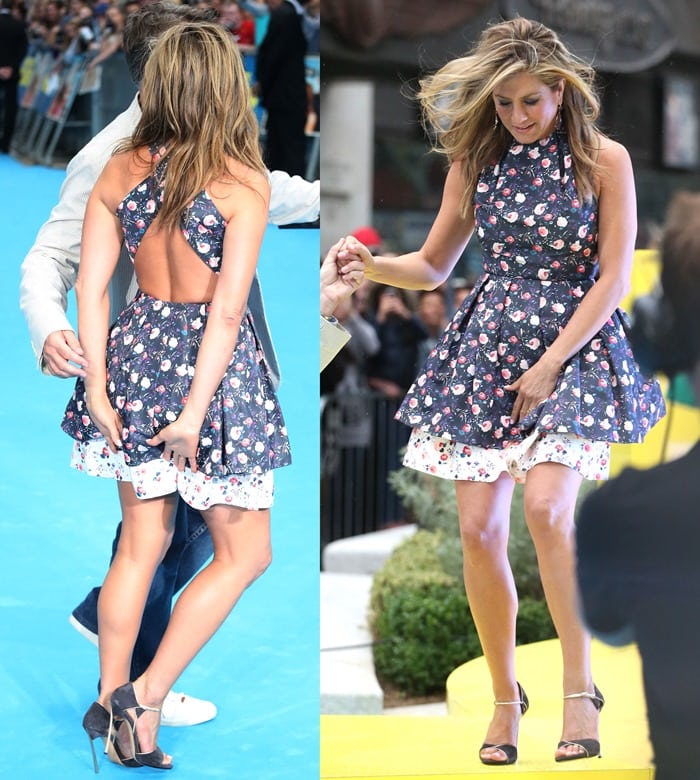 Jennifer Aniston's Christian Dior dress is lifted by the wind
The former 'Friends' star paired the dress with some familiar shoes — Casadei Pre-Fall 2013 suede sandals.
Jennifer Aniston displayed her toes in hot Casadei shoes
She wore the same pair to the 'We're the Millers' premiere in NYC earlier this month. Which outfit do you think looked better?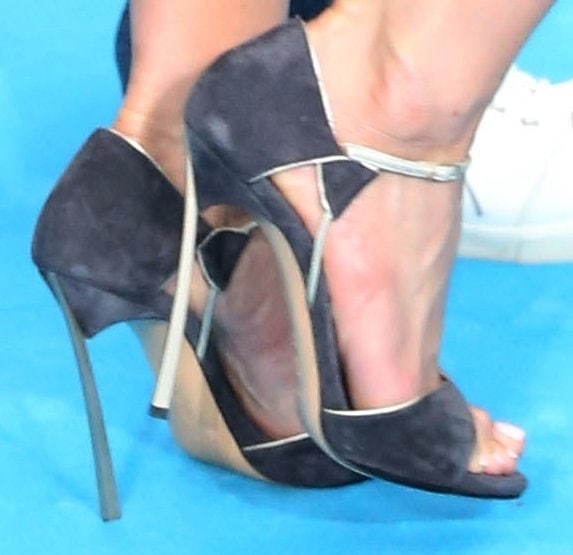 Jennifer Aniston's feet in Casadei suede sandals
Get Jen's sandals in green at Casadei:
Casadei Open-Toe Suede Sandals, $715.46
Credit: Will Alexander / WENN