We've all done it: we've all come across something we really, really liked that we just had to buy it in more than just one color.
Jennifer Lopez had that happen to her recently with a backless boho-print scarf dress. In fact, she loved the dress so much that she not only bought it in yellow and orange but also wore them two days in a row — a bold decision for someone whose every move is documented, scrutinized, and published for the whole world to see.
The dresses must really be something because Jennifer seemed to not even care that she styled both of them in almost the exact same way. On Saturday, she rocked a tight top bun, oversized wayfarers, gold hoop earrings, and piled-on gold rings and bracelets with the yellow dress.
Jennifer Lopez and her family leaving Barnes & Noble in Calabasas, California, on September 14, 2013
The next day, Sunday, she rocked the same top bun, the same gold hoop earrings, and the same piled-on gold jewelry with the orange one.
Jennifer Lopez heading to a recording session with Robin Thicke at a studio in Los Angeles, California, on September 15, 2013
It's a good thing she at least remembered to change her shoes. From wearing casual, easy-wearing black strappy espadrille wedges on the first day, Jennifer went for cage booties that are more suited to her glamorous diva persona the next.
Jean-Michel Cazabat "Fela" Wedge Espadrilles, $75
A closeup of Jennifer Lopez's nude-colored cage booties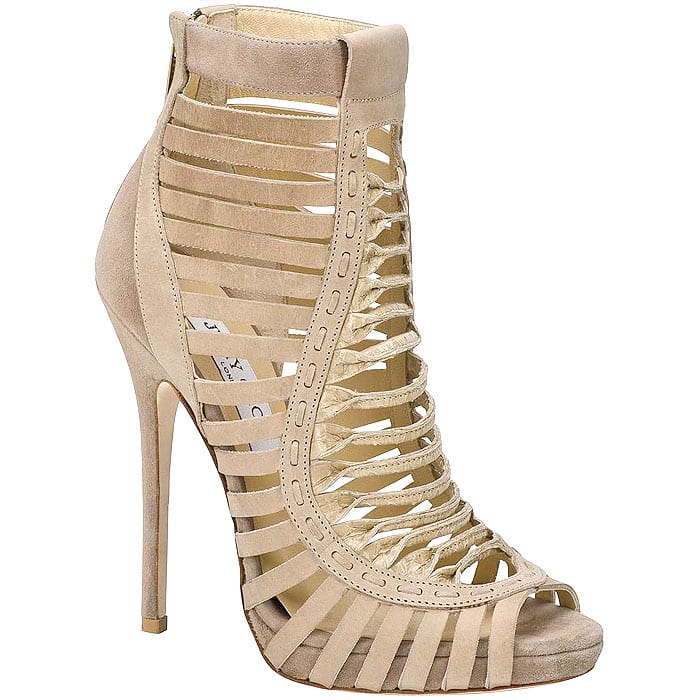 Jimmy Choo Spring 2012 Cage Booties
Which pair do you think goes better with Jennifer Lopez's recent favorite dress? We do think that while the second pair is more up her alley, the first pair matches her dress' boho appeal.
Credit: JP / JFXimages / WENN