Jessica Alba was 18 years old when she starred in the 1999 black comedy horror film Idle Hands. The film was released on April 30, 1999, and Alba celebrated her 18th birthday on April 28, 1999.
In Idle Hands, Alba played Molly Hatchet, the love interest of Anton Tobias (Devon Sawa), a teenage slacker whose right hand becomes possessed and goes on a killing spree.
The hand that appears in the film is the same hand that was used in The Addams Family (1991). While a critical and commercial failure, the film has since become a cult classic.
The movie was filmed in South Pasadena, California, the same neighborhood where the 1978 American independent slasher movie Halloween was filmed. Jessica Alba was born on April 28, 1981, and was 17 years old when filming Idle Hands.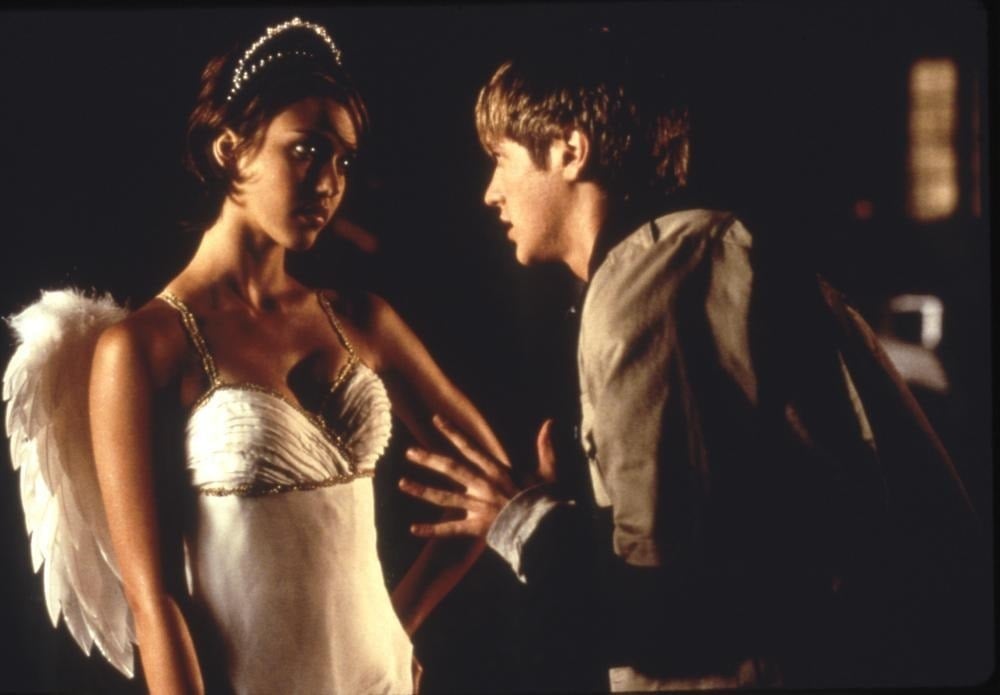 Devon Sawa as Anton Tobias and Jessica Alba as Molly in the 1999 American teen black comedy horror film Idle Hands (Credit: Sony Pictures Releasing)
During an interview with The Onion AV Club in September 2007, Seth Green shared his insights on the filming experience of Idle Hands, expressing the contrasting visions among the cast and crew.
Green explained that everyone involved seemed to have a different mission. He and his fellow actors, Devin and Elden, believed they were creating a heartfelt drama infused with comedic elements. Their primary focus was to establish a genuine portrayal of lifelong best friends.
Meanwhile, the director, Rodman Flender, aimed to produce a nostalgic Italian horror film reminiscent of the works of Dario Argento. On the other hand, the writers aspired for Idle Hands to emulate the dark comedy Heathers.
As Idle Hands unleashed its devilish charm on April 30, 1999, the vibrant cast was in full swing: the youthful Devon Sawa, just 20 years old, injected a dose of rebellious energy, and the charismatic Seth Green, at 25, sprinkled his comedic prowess, the daring Elden Henson, a mere 21, added a touch of mischievousness, the alluring Jessica Alba, a mere 18 springs old, exuded youthful allure, while the captivating Vivica A. Fox, at 34, brought a mature yet enigmatic presence to the screen.
During the release of Idle Hands on April 30, 1999, Devon Sawa was 20, Seth Green was 25, Elden Henson was 21, Jessica Alba was 18, and Vivica A. Fox was 34 years old (Credit: Sony Pictures Releasing)
As for the studio, they took into account the feedback from test screenings and expressed a desire for the zombies to have a more endearing appeal and engage in wacky antics.
Surprisingly, the younger audience members strongly advocated for an increased presence of marijuana-related content, suggesting that pot should play a pivotal role in saving the day. Additionally, there was a peculiar demand for Jessica Alba to have a revealing scene where her top would be ripped off.
The best thing about that movie was that everybody working on it had a different mission statement. We all thought we were making a different movie. Me and the boys-the other actors, Devin and Elden–we were convinced we were making a high drama with some comedic elements, and we tried to make our relationship as lifelong best friends believable…The director, Rodman [Flender], was attempting to make a throwback Italian horror film, like a Dario Argento flick. The writers really wanted it to be Heathers. And the studio was listening to the test marketing and saying that…they really wanted the zombies to be cuter, and have more wacky antics, and apparently all the kids in the audience thought that there should be more pot-smoking, that pot should save the day, and somewhere, somehow, Jessica Alba needed to get her top ripped off. And that's how that whole new ending got shot, where she's up on the car lift and gets her midsection ripped off, and pot saves the day. Like I build a giant bong out of a carburetor.
Jessica Alba's Family Photos Show Her Love for Her Husband and Kids, Despite Paparazzi Drama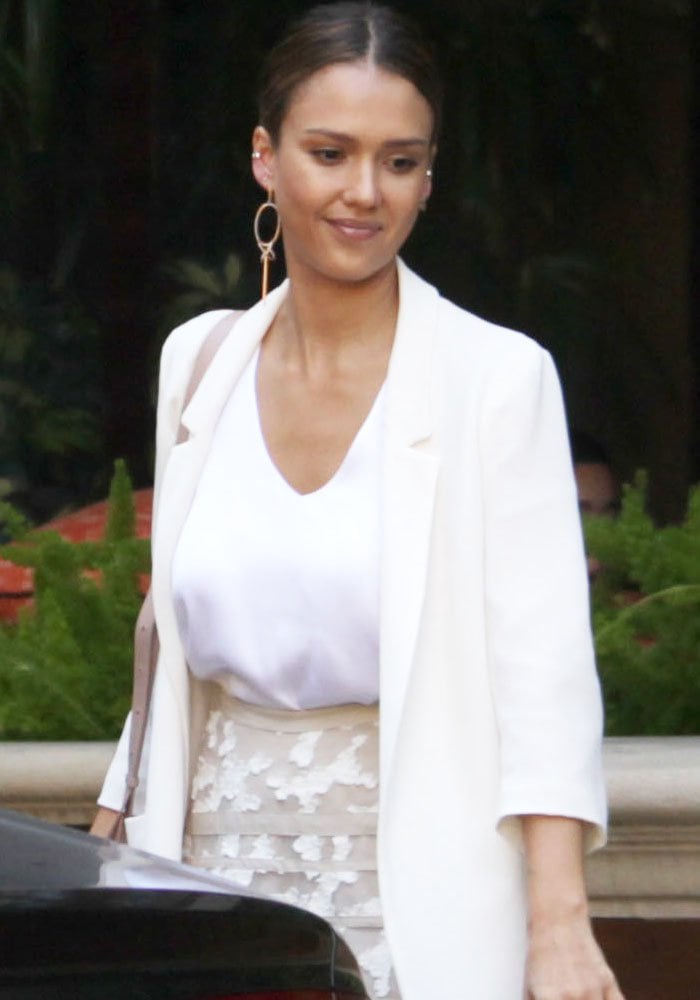 Jessica Alba was photographed trying to stifle a smile in Beverly Hills on June 19, 2016 (Credit: WENN)
Jessica Alba has a huge heart for her family… even if that love doesn't extend to the paparazzi.
Even though street-snapped photos depict Jessica looking completely upset, her family celebration photos on Snapchat paint an entirely different picture of the actress.
Jessica Alba styled a colorful Dorothee Schumacher Floraflage Skirt with a white top and a Cuyana saddle bag (Credit: WENN)
Jessica wore a white top and blazer with a midi lace cutout skirt by Dorothee Schumacher.
The successful movie actress accessorized her look with drop earrings, a saddle shoulder bag by Cuyana, and her favorite Saint Laurent's "Candy" platform sandals in Poudre.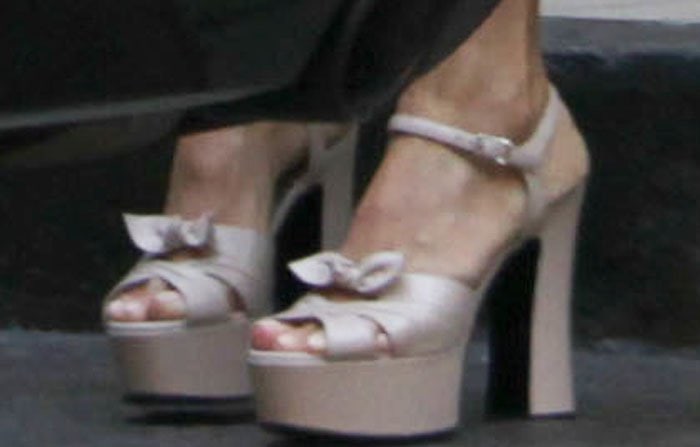 Jessica Alba celebrates Father's Day in Saint Laurent "Candy" platform sandals (Credit: WENN)
Jessica showed some pretty intimate family moments in her snaps — including an upload of her husband, Cash, checking her daughter's mouth for cavities.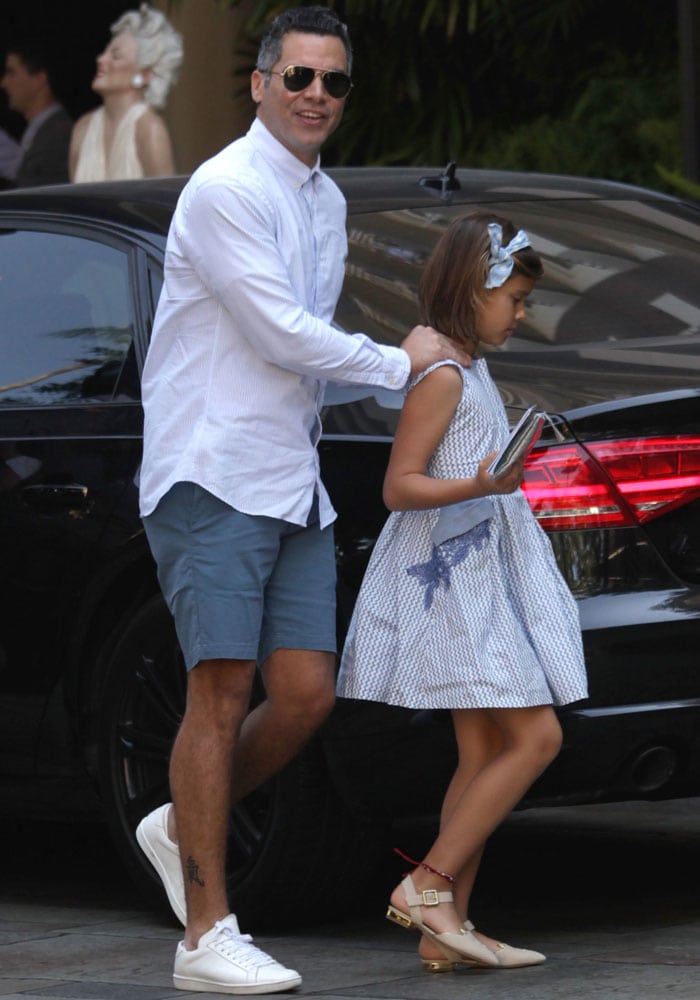 Jessica Alba, her husband, Cash Warren, and their two daughters, Honor and Haven, go out for Father's Day brunch at the Four Seasons Hotel (Credit: WENN)
The family capped off their Father's Day by spending a relaxing afternoon by the swimming pool.
You can order Jessica's Saint Laurent "Candy" platforms on Farfetch and Mytheresa.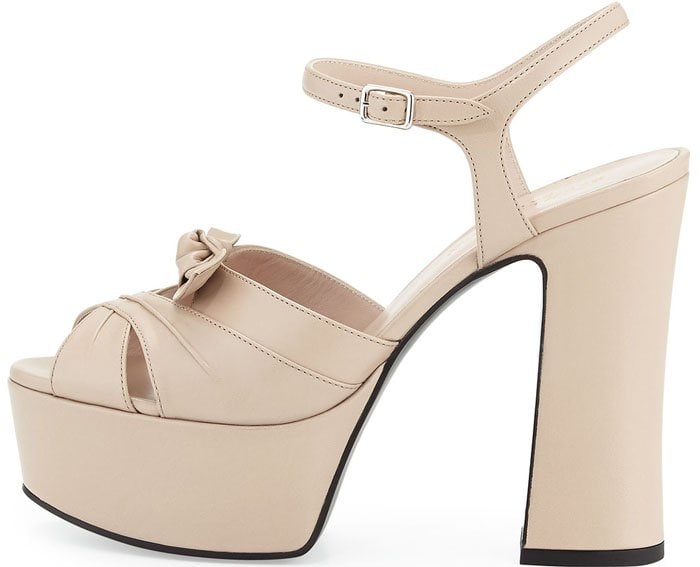 Saint Laurent "Candy" Leather Platform Sandal in Poudre, $643.50 – $895