Jessie J first revealed her bisexuality in a 2011 interview with her statement, "Yes, I've dated girls and I've dated boys – get over it."
Despite becoming a role model for many of her fans, Jessie J no longer identifies as bisexual.
Jessie J, who no longer identifies as bisexual, at the premiere of Cirque du Soleil's Luzia at the Royal Albert Hall on January 13, 2022, in London, England (Credit: Ian West / PA Images / INSTARimages)
In a 2014 interview, she told The Mirror, "For me, it was a phase. But I'm not saying bisexuality is a phase for everybody."
The British hitmaker went on to say, "I'm just so bored of it, and that's kind of it – I want to stop talking about it completely now and find myself a husband."
She Fended Off Some Backlash
Although many fans saw her as a role model in the queer community, she stated, "I feel that if I continue my career not speaking on it, I almost feel more of a liar than if I didn't. I just want to be honest, and it's really not a big deal. Who cares?"
She was forced to defend herself against reports that she used her bisexuality to sell records.
The star was also falsely outed as a lesbian in an unauthorized biography by Chloe Govan called Jessie J: Who's Laughing Now. Jessi countered the claims on Twitter with, "Ha! Thanks for writing yet another boring untrue story."
Who Is Jessie J Dating Now?
Jessie J and Channing Tatum rocked the internet with their on-and-off romance from 2018 to 2020.
Fans were captivated by their gushing Instagram posts and red carpet walks for the entirety of their relationship.
Channing Tatum and Jessie J reportedly met at the 2015 MTV Movie Awards and dated on and off from 2018 to 2020 (Credit: Hahn Lionel / ABACA USA / INSTARimages)
The on and off again relationship came to an end in 2020, and Jessie J was swept up in a whirlwind romance with dancer Max Pham Nguyen.
However, after remaining together for seven months, the couple went separate ways. Jessie told her fans in an Instagram Q&A in October 2021 that "nothing dramatic" happened, but rather "It just wasn't right romantically. So we both decided friends it is."
The 33-year-old – who suffered a pregnancy loss in November 2021 after deciding to become a mother – has continued to make stylish public appearances.
"I decided to have a baby on my own. Because it's all I've ever wanted and life is short. To get pregnant was a miracle in itself and an experience I will never forget and I know I will have again. I'm still in shock, the sadness is overwhelming. But I know I am strong, and I know I will be ok," she wrote on Instagram.
"I also know millions of women all over the world have felt this pain and way worse. I feel connected to those of you I know and those of you I don't. It's the loneliest feeling in the world. So I will see you tonight LA. I may crack less jokes but my heart will be in the room," Jessie J added.
Jessie J revealed in November 2021 that she had suffered a miscarriage and talked openly about her pregnancy loss (Credit: Cover Images / INSTARimages)
The star hit the red carpet for the opening night of Circus du Soleil's Luzia, looking stunning in a black and white outfit.
Her look comprised of a cropped open top with a white collar, skin-tight leggings paired with stiletto boots, and a black cropped blazer that completed the look.
In January 2014, Jessie J showed off her new hairstyle at the 2014 BRIT Awards Nominations.
Jessie J shows off her outfit in a car on her way to the BRIT awards nominations held at ITV Studios on January 9, 2014, in London, England. (Credit: Jessie J's Instagram)
The then 25-year-old singer, who shaved her head for charity one year earlier, sported a black bobbed wig with bangs.
Jessie J looked edgy and sleek in a black number at the event, where she was nominated for Best British Female Solo Artist.
She wore a striped and fitted Alexander Wang dress and a pair of Jimmy Choo boots.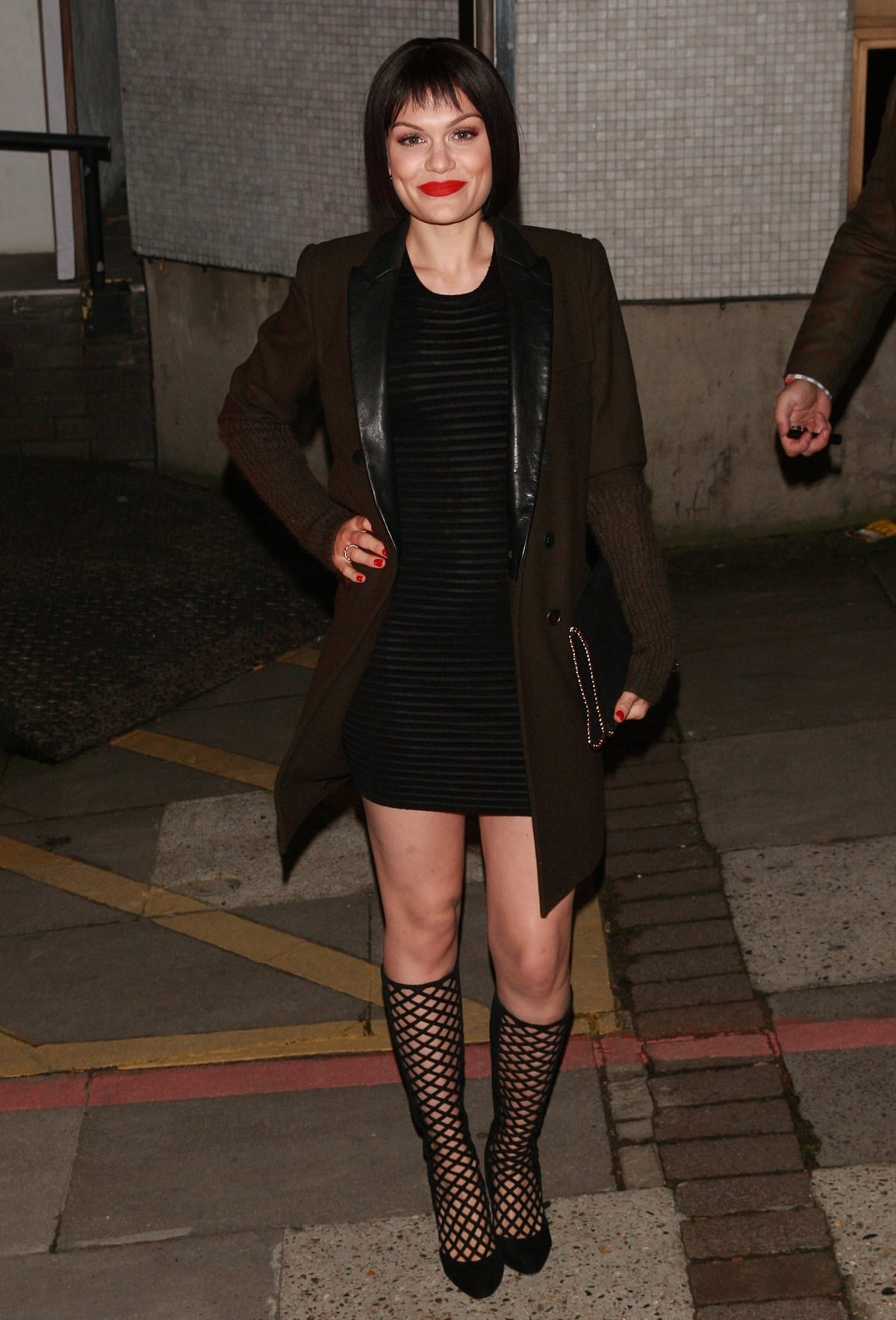 Jessie J styled a striped Alexander Wang chenille dress with a Stella McCartney Falabella Shaggy Deer foldover clutch and a pair of Jimmy Choo Delta boots (Credit: Clements / INFphoto)
The singer carried a Stella McCartney fold-over clutch and finished off her ensemble with red lips.
Jessie J's Jimmy Choo "Delta" boots feature an intricate latticework design that creates a fishnet effect.
They're made of plush suede material and have 4.5-inch heels and a full back-zip fastening that runs all the way down the 14.25-inch shafts.
Black Jimmy Choo "Delta" Suede Boots, €1,695
Jessie J kept busy on Instagram during the event.
Not only did she post a slew of photos showing off her hair and boots, but she also took the time to show off her friendships.
Jessie J posted photos with fellow singer Ellie Goulding, who was nominated for British Female Solo Artist and two British Single of the Year awards.