Prior to her 2014 American Music Awards performance, Jessie J pumped up the crowd at Jimmy Kimmel Live! in Los Angeles on Thursday evening. She performed "Burnin' Up" with hip-hop artist 2 Chainz and her newest single, "Masterpiece," off her Sweet Talker album.
The 26-year-old singer was on fire as soon as she hit the stage. She was seen jumping, getting down on her knees, and clearly rocking the stage even while in a pair of stiletto boots! Check out these videos:
The English singer owned the stage! Aside from nailing her performance, she also nailed it in the style department. Wearing a monochrome top with a zipper fastening at the center, a pair of high-waisted black leggings, black killer boots, and red lipstick, Jessie J was va va voom!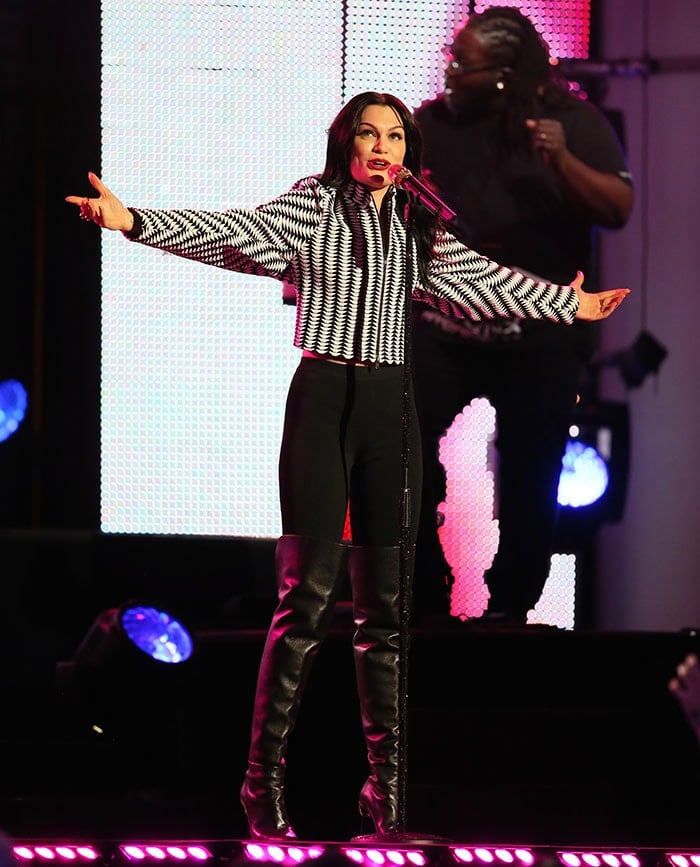 Jessie J performing on stage on Jimmy Kimmel Live! in Los Angeles on November 20, 2014
We're glad she didn't trip despite wearing those high stiletto boots by Tom Ford. They are definitely a killer pair in soft calfskin leather with back slits and full zipper fastenings. What's interesting about these boots are the oversized zipper pull ornaments hooked to the 4 inch heels. Unique, yes?
Jessie J wearing Tom Ford over-the-knee boots
We can no longer find these over-the-knee Tom Ford boots online, but an ankle boot version can still be purchased at Neiman Marcus.
Tom Ford Zipper-Heel Leather Ankle Boots, $625 (before: $1,390)
Prior to hitting the stage, Jessie J was seen outside the Jimmy Kimmel Live! studios in another monochrome ensemble. Wearing a belted coat, tight leather leggings, and another pair of boots, the "Price Tag" singer shielded herself from L.A.'s cold weather.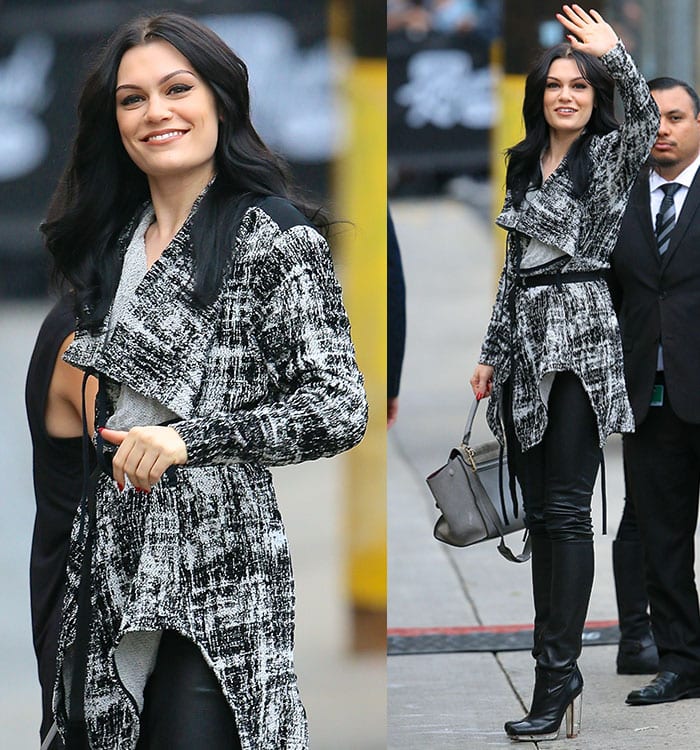 Jessie J outside the Jimmy Kimmel Live! studio in Los Angeles on November 20, 2014
Like her Tom Ford pair, these slim-fit knee-high leather boots are also unique with multifaceted 5 inch mirrored heels and 4.5 inch platforms with copper framing. Unfortunately, these Yves Saint Laurent fall 2012 boots are no longer available.
Jessie J wearing Yves Saint Laurent boots
Credit: Michael Wright/WENN