The name Jimmy Choo has been synonymous with high-quality, designer shoes since the brand's inception in the 1990s.
A pair of Jimmy Choos—or "Choos" as they are often lovingly called—has been spotted on the feet of many well-to-do women and men throughout pop culture.
From the late Princess Diana being spotted wearing the brand countless times to the iconic Sex and the City scene where Carrie Bradshaw loses a Choo in Staten Island—the brand has maintained a reputation for creating beautiful well-designed footwear for those who can afford them.
In 2020, as the world was still deeply entrenched in the throes of the Covid-19 pandemic, Jimmy Choo launched a worldwide contest called "Choo Sketch".
Over ten thousand design ideas were submitted to Jimmy Choo's Choo Sketch competition
The idea was that fashion designers, artists, and shoe lovers alike could send in a sketch of their own, personalized pair of shoes to the luxury brand.
Winners of the Choo Sketch contest would receive the ultimate prize: Jimmy Choo would turn the winning sketches into a real pair of shoes for a capsule collection.
Not to worry, Jimmy Choo is not simply exploiting artists and designers for profit. Though the designs that won the contest are being sold to the public at Jimmy Choo, the brand pledged that 100% of the profits from the capsule collection would be donated to Women For Women International, a nonprofit humanitarian organization that is dedicated to providing both practical and moral support for female survivors of war and refugees.
"I wanted to share my love of sketching with the Jimmy Choo community in the hope it would provide a moment of escape whilst we were all united in the challenges the Covid-19 pandemic brought," says Sandra Choi, creative director of Jimmy Choo and the niece of the brand's namesake.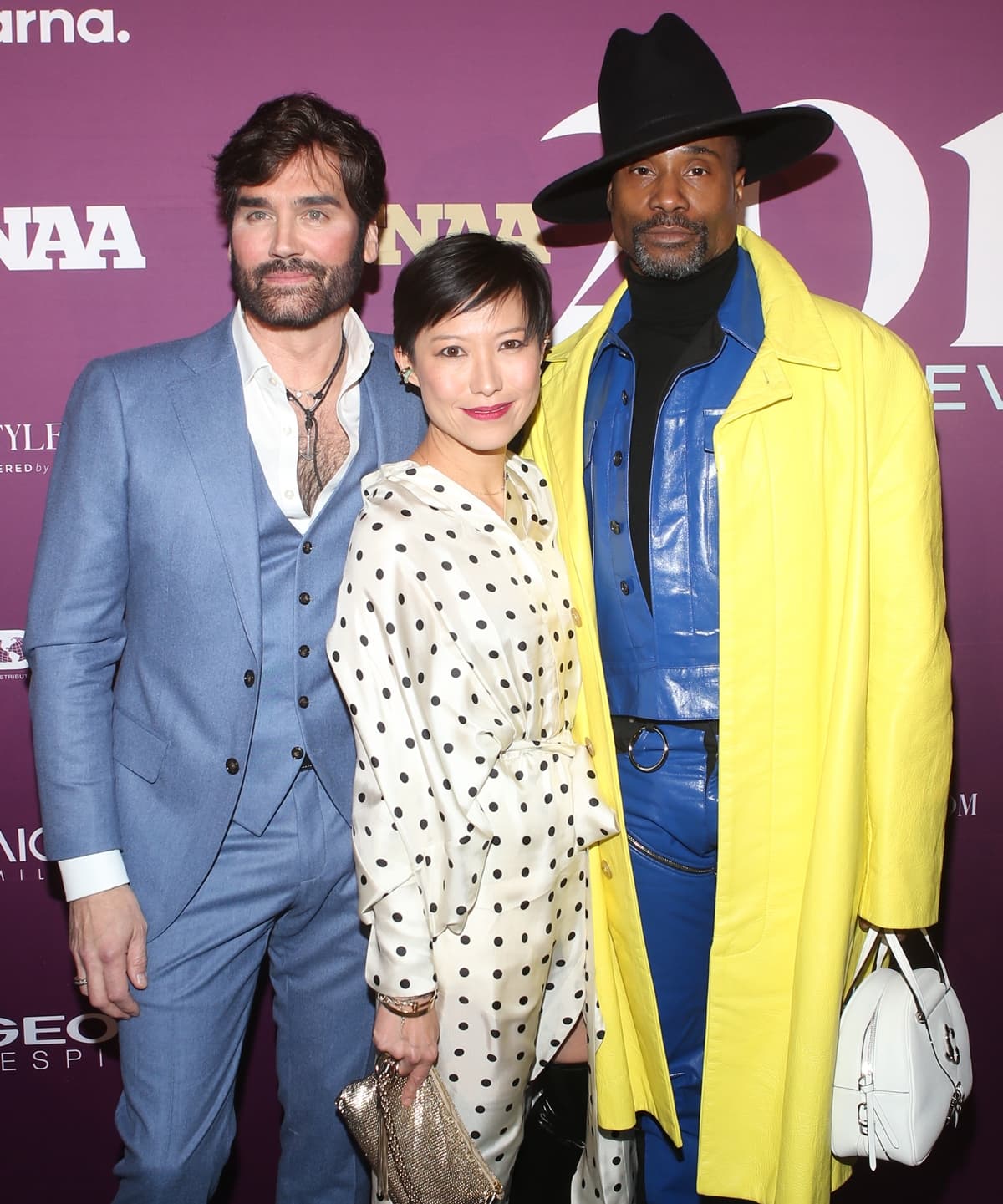 Michael Atmore, Sandra Choi, and Billy Porter attend the 2019 FN Achievement Awards at IAC Building on December 3, 2019, in New York City (Credit: Derrick Salters / WENN)
The Choo Sketch contest was held online weekly, via the image-sharing social media app Instagram. There were over ten thousand entries from every corner of the world, and the brand scoured over each and every one in order to whittle them down to the last ten finalists, which Sandra Choi personally selected.
"I was overwhelmed by the number of sketches and stories we received and felt inspired and touched that we had reached so many people around the world," says Choi. "It was difficult to shortlist the number of submissions down to just 10, but each of the finalists had created a design which really resonated with me."
After the ten finalists were selected, the brand ultimately decided to let the internet pick the winners: the five entries that got the most votes, or "likes", on Instagram would be chosen for the capsule collection.
The 5 Winners of Jimmy Choo's Choo Sketch Competition
On June 8 of this year, the wait was finally over and the five winners of the worldwide Choo Sketch contest were revealed: Joyce Fung, Philip Tan Ramirez, Valentina Badeanu, Nathan Scalzo, and Hema.
All of the designs are beautiful and utterly unique, while still echoing the spirit of the Jimmy Choo brand.
Each artist drew from their own experience, history, or cultural backgrounds, bringing a bit of much-needed beauty into the world during a time where nearly the whole planet was waiting with bated breath.
1. Joyce Fung's Sparkling Broom, $1,250
Joyce Fung, from Hong Kong, created a design entitled Sparkling Broom. It is described as viewing "the classic household essential with a glamorous eye."
Made of clear, Plexi material (for those of you who want to show off your pedicure), the shoe features crystal embellishments along the edges and an elegant pointed toe.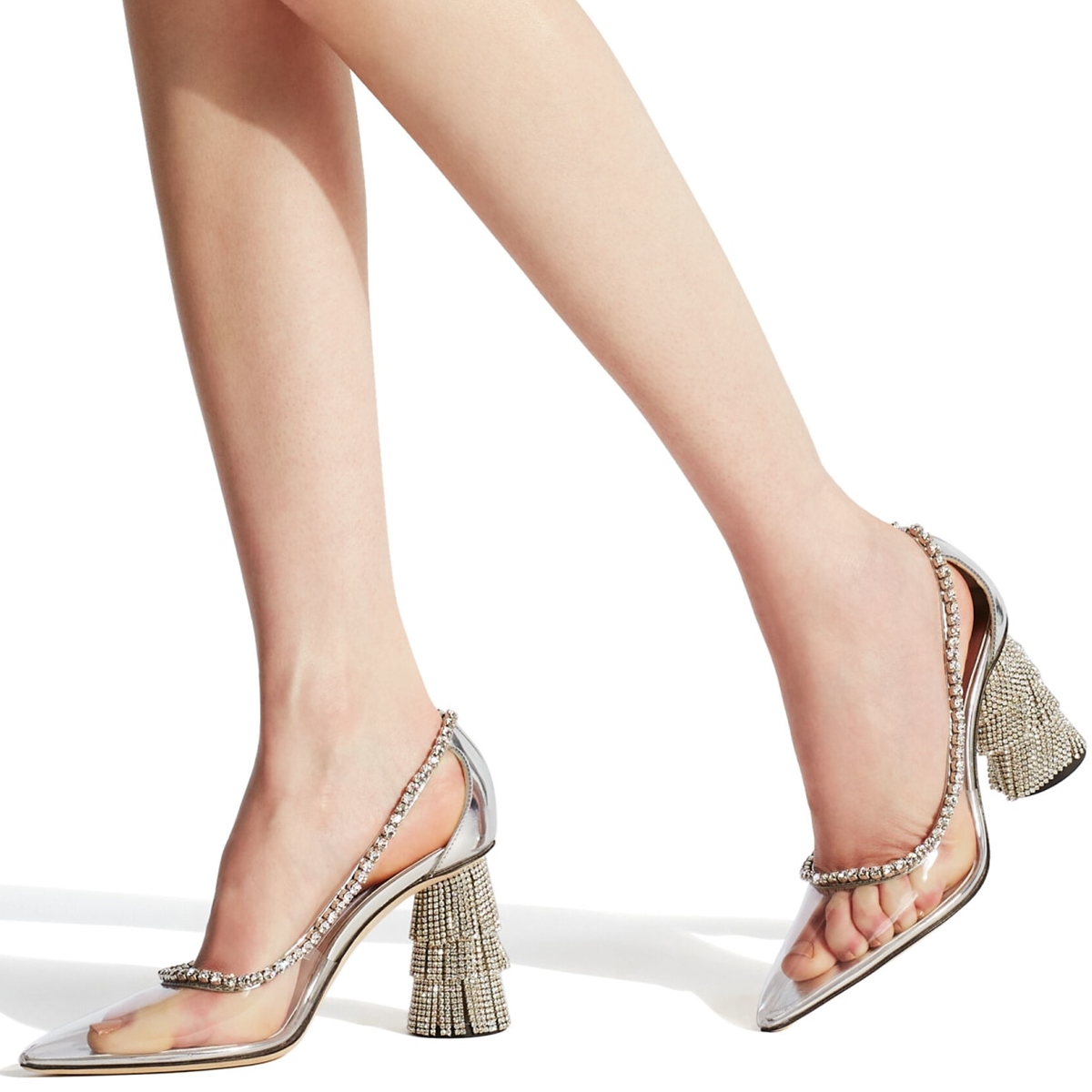 A modern take on the glass slipper, the crystal-embroidered Sparkling Broom is crafted from clear Plexi and sits on a silver insole
The cylindrical block heel features dangling crystal chains that truly make them look like, well, a sparkling broom!
This shoe is a modern, whimsical take on the 1920s heel while reminding us of all the cleaning we did while on lockdown. It is priced at $1,250.
2. Hema's Cynosure, $2,450
Hailing from India, artist Hema designed a shoe entitled Cynosure. It is an absolutely gorgeous take on the sock bootie style that took the fashion world by storm.
Made of net mesh featuring hotfix crystals, crystal, and pearl drop embroidery, and an embellished stiletto heel, this shoe lives up to its name, meaning "center of attention or admiration".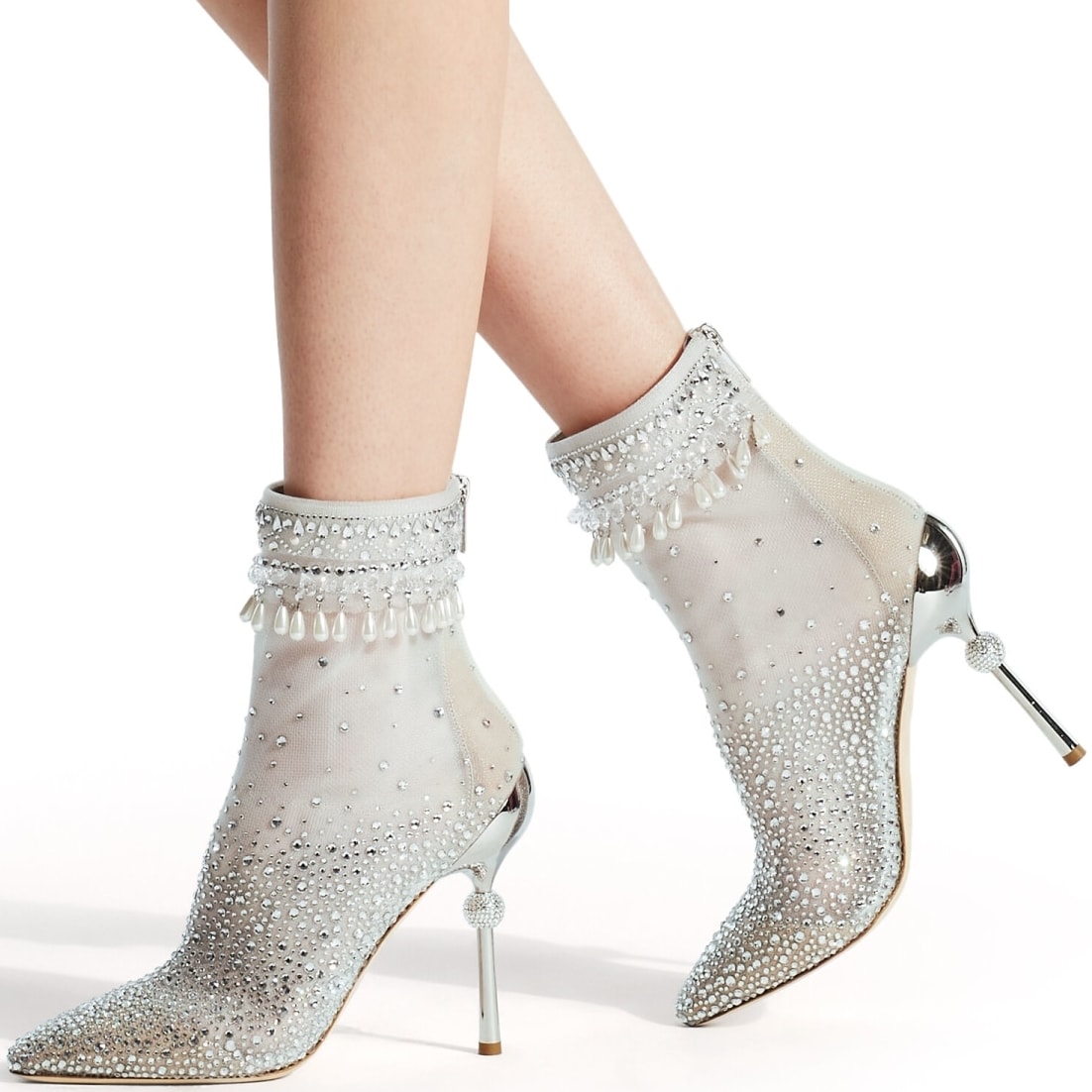 The Cynosure sock booties are made from a fine transparent thread and adorned with a cascade of hotfix crystals in addition to crystal and pearl drop embroidery around the top edge of the boot
The most expensive (and shiny) in the Choo Sketch collection, this pair of heels will run you a pretty penny at $2,450.
3. Valentina Badeanu's Blossom in Your Choos, $1,450
Artist Valentina Badeanu, located in Romania, created the Blossom in Your Choos design. This open-toed heel is a delicate celebration of springtime that offers a floral twist to a classic style.
Crafted in Italy from pink nappa leather, it features beautiful pink satin flowers that adorn the toe strap and wrap around the ankle.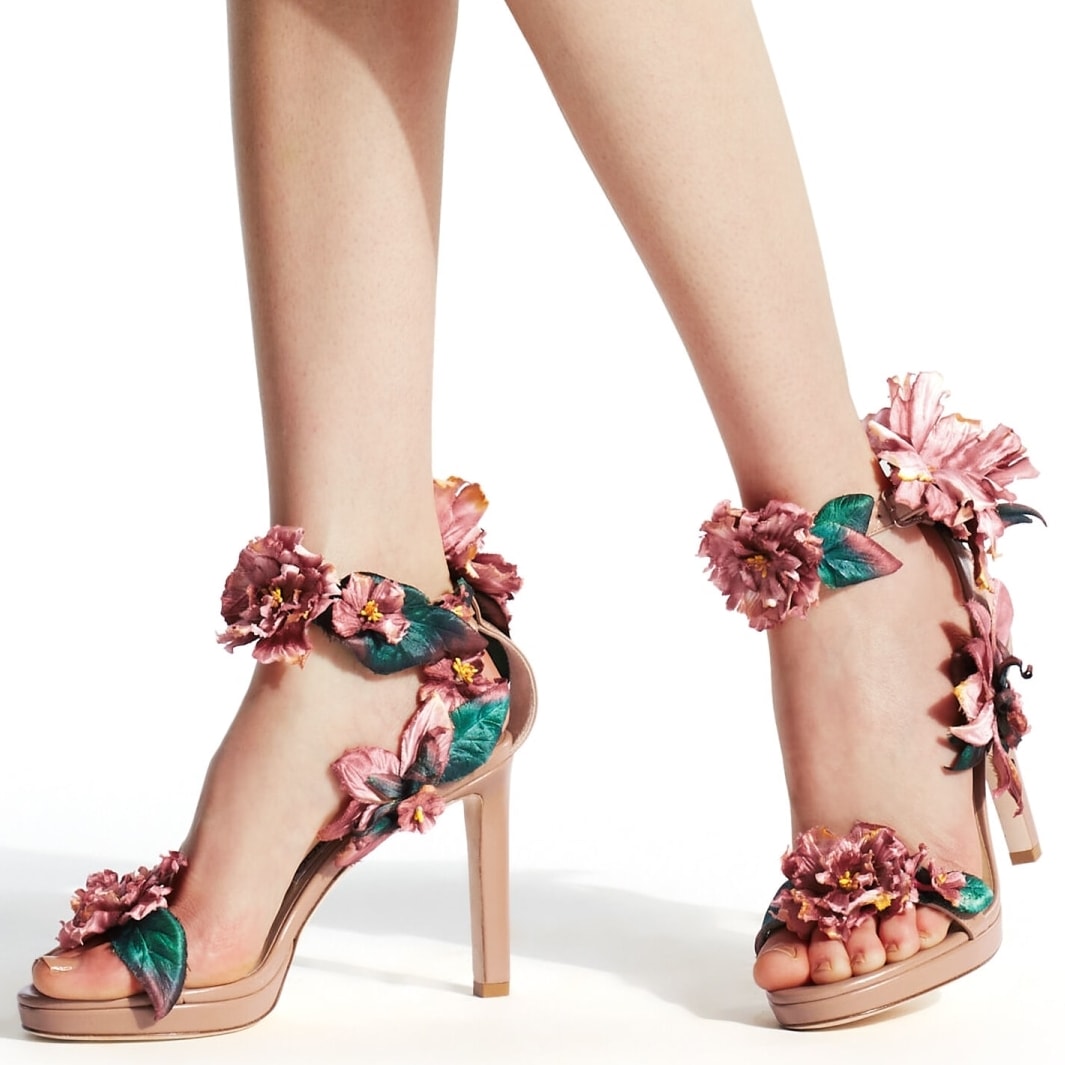 Blossom in Your Choos is decorated with exquisite satin flowers that are painted by hand and embroidered on the toe and ankle strap
With a platform of 10mm/1cm and a heel of 90mm/3.5inches, this shoe gives a bit of a height boost while still being walkable. It is available for $1,450.
4. Nathan Scalzo's Wisteria, $2,250
From France, artist Nathan Scalzo designed a shoe entitled Wisteria. This beautiful green satin heel is a classic, pointed-toe pump embroidered with individually hand-stitched purple petals.
Crafted from rich green satin, opulent purple petals representing the bloom of a Wisteria plant are stitched individually by hand before being embroidered in two separate branches
It evokes the delicate, yet extremely powerful, wisteria flower that it is named after, as the website says the shoe "takes inspiration from a childhood spent watching seemingly unstoppable wisteria grow graciously during spring". It is priced at $2,250.
5. Philip Tan Ramirez's Nina, $1,650
Lastly, Philip Tan Ramirez, from Dubai, created an opulent, pink design called Nina. These pink satin mules feature a pleated bow, pointed toe, and crystal embroidery throughout.
This heel is a perfect match for someone who wants Marilyn Monroe's iconic "Diamonds Are a Girl's Best Friend" look from Gentlemen Prefer Blondes—but as a shoe. These flirty heels are priced at $1,650.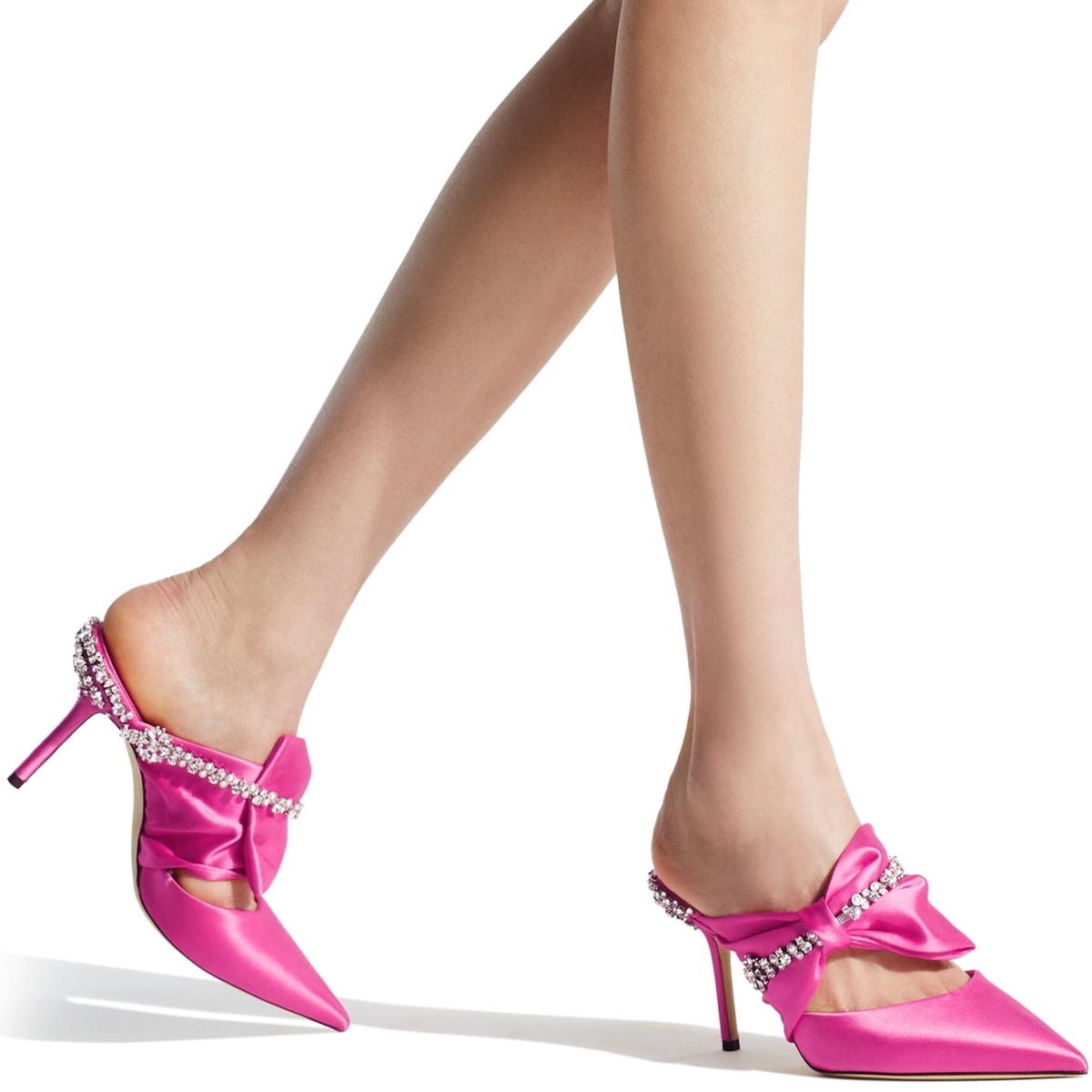 These pink satin Nina mules feature an elegant pleated bow accented by an embroidered chain of crystals
All of the winning designs from the Choo Sketch competition can be purchased online on the official Jimmy Choo website.
Since the Choo Sketch capsule collection was only recently released, Jimmy Choo has not yet released the amount that was earned that will be donated to Women For Women International.
However, considering that Jimmy Choo pledged to donate 100% of the profits and the price of the shoes, one can hope that it will be a generous sum.