This year was John Legend and Chrissy Teigen's first Valentine's Day as a family of five, and they marked the occasion with a sweet social media post.
The couple welcomed their daughter Esti Maxine last month, and they have two other children: Luna Simone, 6, and Miles Theodore, 4.
John, Chrissy, and their three children dressed to celebrate the occasion and posed for a cute photo, which the singer shared on Instagram on February 15.
View this post on Instagram
In the photo, Chrissy wore a pink Magda Butrym ruched jersey minidress ($1,695 at Mytheresa) with matching Rene Caovilla metallic sandals as she cradled the family's newest addition. Miles stood in front of his mom wearing a red jacket and khakis.
Meanwhile, Luna, wearing a red short-sleeved ruffly dress with matching red Mary Janes, stood cutely in front of her dad, who was dressed in a crimson sweater with black and white sleeves.
The 44-year-old singer-songwriter captioned the adorable family-of-five photo, "I had the best Valentine's dates last night. ❤️❤️❤️❤️❤️."
His 37-year-old wife Chrissy also posted the same photo on her Instagram but made light of the situation by writing, "excuse the spit up!! We are doing the best we can over here lol."
The cute post received a lot of love from their followers, who cooed over the adorable family in the comments section.
In a recent interview with WSJ. Magazine's "My Monday Morning" series, John Legend opened up about his wife Chrissy, their family, and their home life.
The hitmaker shared the first thing he does after waking up: "We have a new baby, so we're at her mercy a little bit. Chrissy will usually wake up to feed her around 6, and my older kids will usually come running into our bedroom around 6:30, no later than 7."
Chrissy Teigen and John Legend posing together in front of the Cravings pop-up food truck in Los Angeles, California, on October 25, 2022 (Credit: BauerGriffin / INSTARimages / Cover Images)
He shared that "one way or another, our kids are waking us up. We have a little gym in our house, and I'll usually work out, then get ready for the day and take the kids to school around 8:30."
The proud father of three also recalled feeling "emotional" upon the arrival of his youngest child, daughter Esti. "It was making me emotional the first two nights we were home because I just felt the love expand in the house, and I felt the excitement."
During an appearance on The Jennifer Hudson Show on February 9, John discussed the difficulties he and his wife Chrissy encountered when attempting to conceive their daughter and why he believes it is essential to share these experiences with the public.
View this post on Instagram
"We've been open about it because we've had challenges. We had to use [in vitro fertilization] to conceive our children. We've had a pregnancy loss, and I think a lot of families grow through that, but I think a lot of people were happy that we talked about it because they didn't feel so alone."
The couple previously experienced a miscarriage with their son Jack in September 2020. John shared in the interview, "A lot of people go through this, and they go through it in silence, or they go through it feeling like they're the only ones going through it. And I think Chrissy and I talking about it has made people feel better about that journey."
John also shared that he and his wife were concerned about Luna and Miles' reaction when Esti was born. "We were worried because they seemed a little jealous when Chrissy was pregnant, and I was worried that they wouldn't be excited to welcome her home."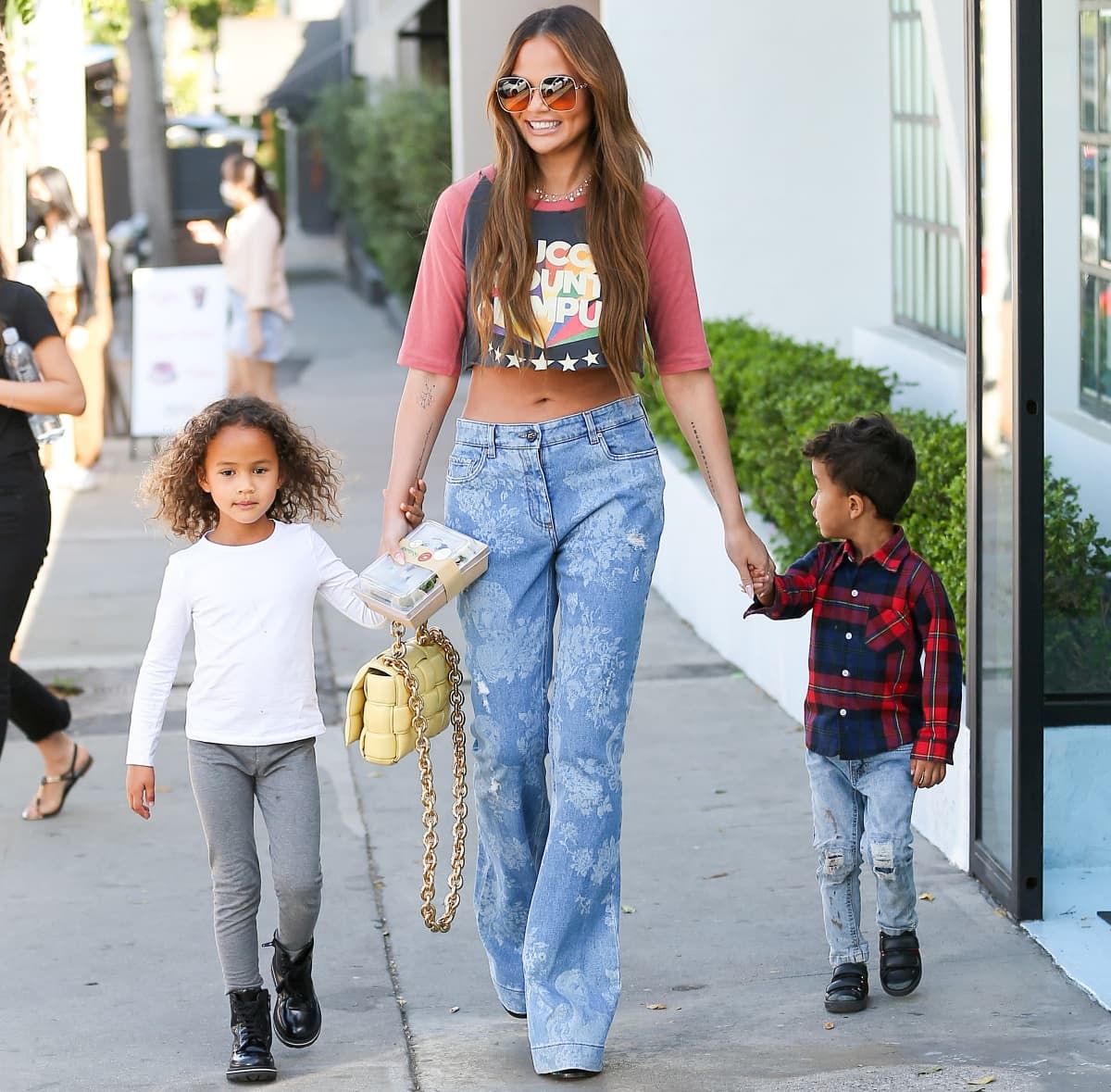 Chrissy Teigen out and about with daughter Luna and son Miles in Los Angeles, California on March 18, 2022 (Credit: BauerGriffin / INSTARimages)
The singer proudly shared, "But they've exceeded our expectations of how loving and excited they are. They're just truly thrilled to be older siblings now."
It's heartwarming to see how much love and joy the Legend-Teigen family brings to each other's lives. Their openness about their fertility and pregnancy loss struggles has helped others going through similar experiences feel less alone.
Here's to many more happy Valentine's Days for the family!