No matter how huge a girl's shoe collection is, there is usually a favorite or go-to pair. Can you relate? Well, we think Jordana Brewster can.
The model has an interesting collection of casual and formal shoes, but we think she loves her Coach wedges the most. Check out our latest sighting of her in Beverly Hills yesterday.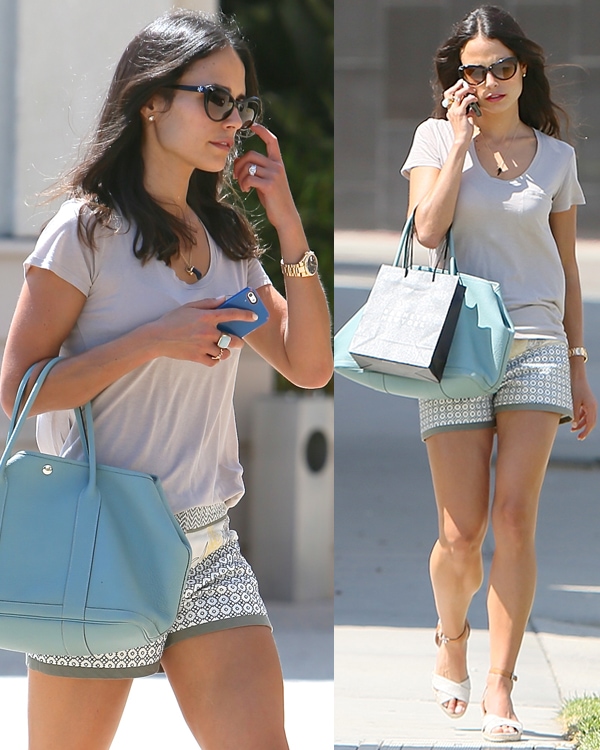 Jordana Brewster in a tee and shorts while out and about in Beverly Hills on July 25, 2013
Jordana Brewster rocking wedges by Coach
These wedges are clearly versatile and perfect for casual use, especially if you want to add extra inches to your height without the extra strain from heels. Jordana paired the sandals with a tee and shorts, completing a summery-chic getup.
However, it seems like these sandals seriously need a break. They look overused, with one sole about to be ripped from the left shoe:
Jordana Brewster's Coach wedges
Looking at the first photo, we thought Jordana just accidentally stepped on something that got stuck on the sole of her shoe. However, the second photo clearly shows that it was indeed the sole getting ripped off.
These Coach "Henley" wedges are available in two great colors.
Coach "Henley" Wedges in Silver/Ginger, $55.26 – $200.00 at Amazon and Nordstrom
Coach "Henley" Wedges in Cyclamen/Ginger, $55.26 – $200.00 at Amazon and Nordstrom
Credit: Michael Wright / WENN