Most designer-model relationships can be pretty shallow, if not just purely business or career-oriented. But on the other hand some — like Joshua Kushner's wife Karlie Kloss and designer Prabal Gurung's friendship — can actually be genuine relationships.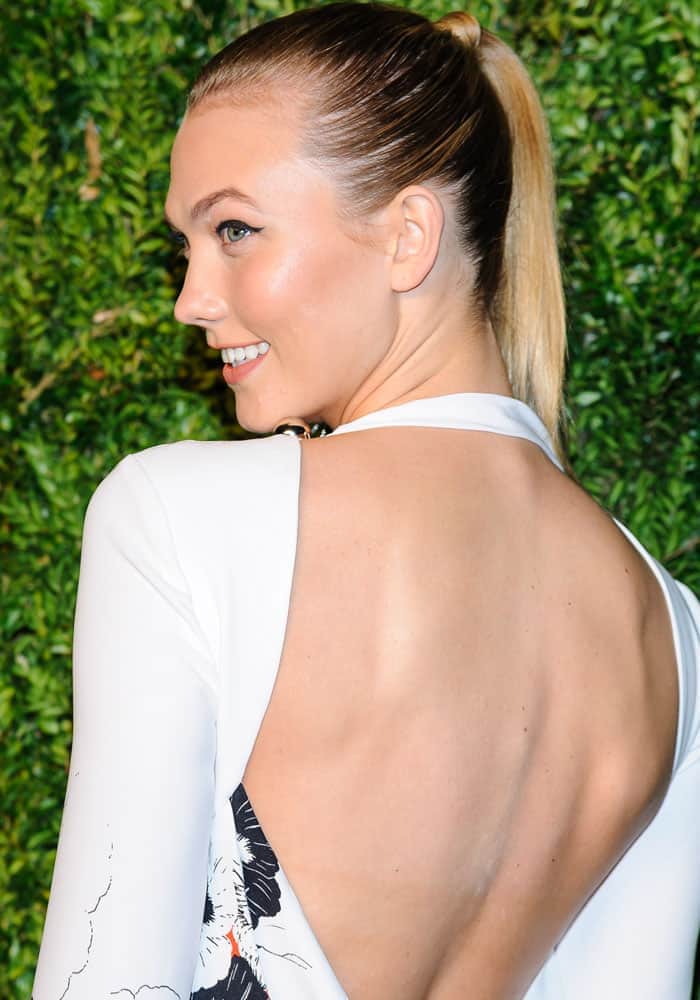 Karlie Kloss shows off her sexy back at the 13th annual CFDA/Vogue Fashion Fund Awards at Spring Studios, New York on November 7, 2016
In November 2016, Karlie took Prabal as her date to the Council of Fashion Designers of America (CFDA) and Vogue's Fashion Fund Awards, where the two showed off their deep friendship on a ten-minute car ride to the event.
Four years earlier, she began dating businessman and investor Joshua Kushner, who is the brother of Jared Kushner, the son-in-law and senior advisor to U.S. President Donald Trump.
On July 24, 2018, Kloss announced her engagement to Kushner by posting to her Instagram Story from Beijing, writing, "My phone is blowing up with the sweetest messages from loved ones…This poor makeup artist is going to kill me."
Karlie Kloss shows off her enormous engagement ring from Joshua Kushner on Instagram
She also showed off her engagement ring that is set on a delicate diamond-adorned band. One month later, Karlie converted to Judaism (Kushner's religion).
According to Vicky Ward's book "Kushner, Inc.: Greed. Ambition. Corruption. The Extraordinary Story of Jared Kushner and Ivanka Trump" that you can purchase on Amazon, Joshua Kushner's parents, Charles and Seryl Kushner, refused to meet Karlie for six years because she wasn't Jewish. They reportedly wouldn't allow Kloss to attend family gatherings and "spoke horribly" behind her back.
"Changing part of who you are for someone else can be seen as weak. But you know what? Actually, if you've been through what I've experienced, It requires you to be anything but weak. It requires me to be stronger and self-loving and resilient. I really did not take this lightly. It wasn't enough to just love Josh and make this decision for him. This is my life and I am an independent, strong woman. It was only after many years of studying and talking with my family and friends and soul searching that I made the decision to fully embrace Judaism in my life and start planning for a future with the man I chose to marry," Karlie said about her conversion in British Vogue's August 2019 issue.
Karlie Kloss and her husband Joshua Kushner started dating in 2012 and got married in October 2018
Model Karlie Kloss and venture capitalist Joshua Kushner have never revealed how they met, though it's likely they had plenty of opportunities to meet at celebrity parties in New York City.
"I met my man in 2012. I was 19 years old. It was 2012, it was a different world," she said while appearing on an episode of Watch What Happens Live in January 2020.
"My man and I have been through a lot together and I'm so proud that he's my partner. It has not been easy, but it's worth it and I would make that similar decision a million times again."
Karlie Kloss and Joshua Kushner pictured on a date in New York City on January 11, 2020
They married in a small and intimate ceremony on October 18, 2018, in upstate New York, and had a second wedding celebration with friends in Wyoming in June 2019.
"I really followed my heart on choosing to be with the person that I love, despite any complications that came with it," Karlie told Diane von Furstenberg about her relationship with Joshua Kushner in an episode of the podcast InCharge with DVF. "You know, I knew for me, it was worth it to fight for that."
"I think that in my career too, you know, being true to my heart or being true to myself, when I know that something is not aligned with who I am, and the message I want to send to the world, or the kind of person that I want to be maybe that comes back to character," she added.
"But like, my heart often is telling me exactly what I need to hear. And I didn't always listen to it."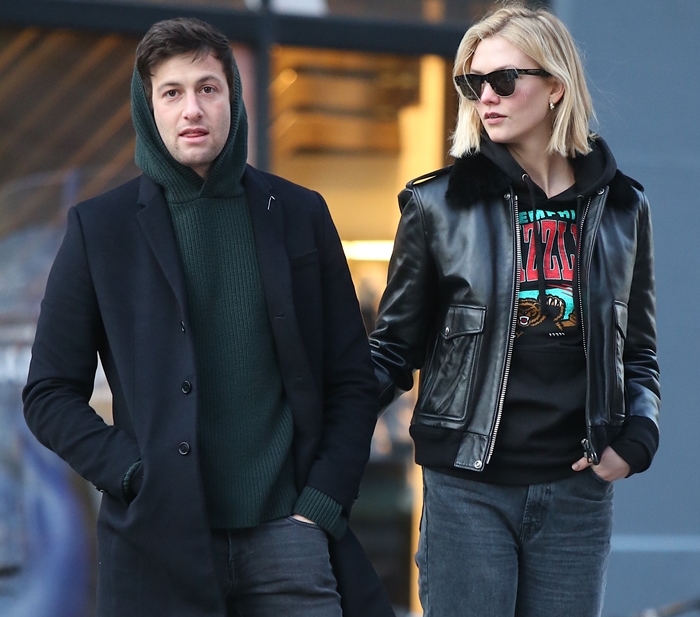 Karlie Kloss and her husband Joshua Kushner are expecting their first child together
In November 2020, Karlie showed off her bare baby bump on Instagram. The pregnant model and husband Joshua Kushner are expecting their first child together.
 

View this post on Instagram
At the CFDA/Vogue Fashion Fund Awards, Karlie's dress had a high neckline in front that contrasted with an extremely low draped back.
Karlie Kloss shows off her feet in CFDA honoree Chloe Gosselin's Narcissus sandals
Karlie was, of course, wrapped in a Prabal Gurung draped neck creation from the designer's Spring 2017 collection.
Prabal sprinkled floral prints on one side of the skirt.
The model finished her look with a single statement earring, a Judith Leiber clutch, and the Chloe Gosselin "Narcissus" sandals that you can buy at Farfetch.
Karlie flaunting her legs in a unique Prabal Gurung low back dress
The two shared a 10-minute ride to the CFDA and Vogue event, where Karlie and Prabal asked each other questions. The questions ranged from Prabal's priorities with family and his descent to the story behind Karlie's fascination with coding.
Even if the two have a 13-year gap between them, the connection they have on certain things is undeniable. And, it's not just for show! The two admitted that they regularly text each other.
Karlie uploaded a photo of her and Prabal right before their CFDA x Vogue date night
Chloe Gosselin "Narcissus" Sandals, $625 – $782.50 at Farfetch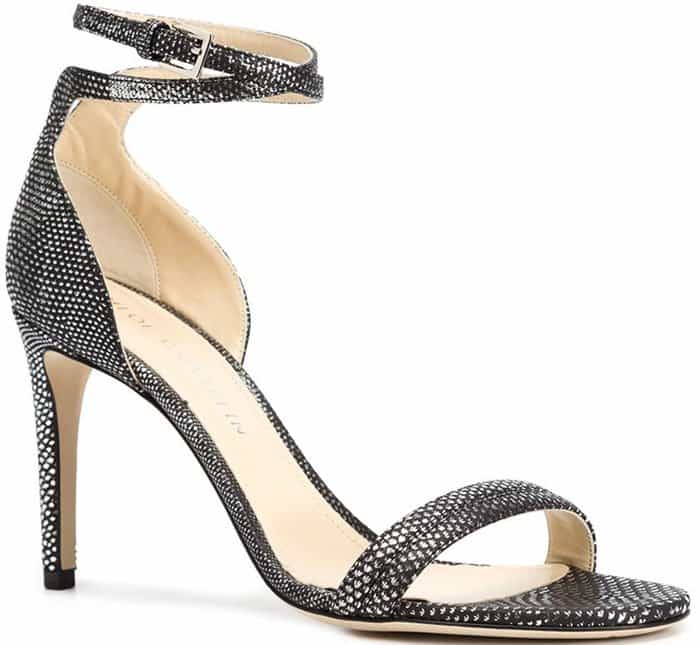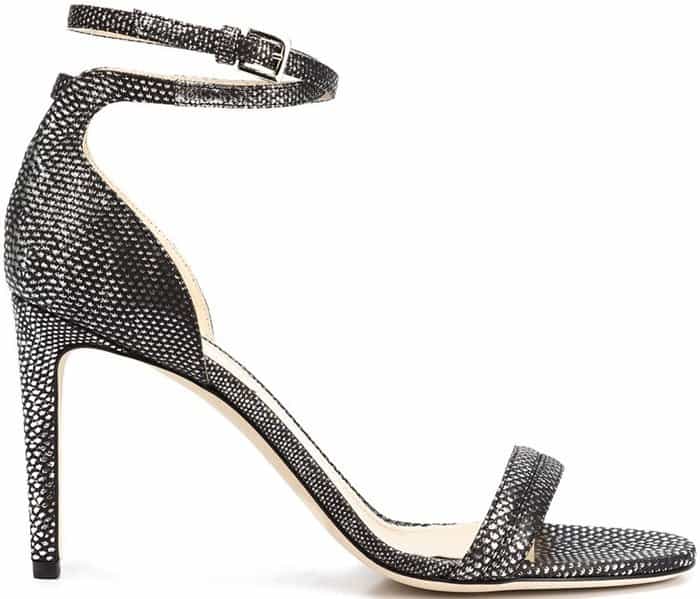 Credit: Karlie Kloss' Instagram / C. Smith / WENN / Instar