A few months ago, Julianne Hough decided to go big on Mother's Day. Instead of giving her mom, Marriann, a classic Mother's Day bouquet, the actress gifted her with a new house.
She shared with her Instagram followers a series of videos showing her mom's reaction to her Mother's Day surprise.
Last week, the doting daughter spent some quality time with her mom as she took her on a lunch date in Los Angeles. They ate at Granville in Studio City, a local chain that serves up a big menu of classic American cuisine.
The mother-and-daughter tandem was pictured holding hands while leaving the restaurant in matching green outfits.
Marriann wore a muted green embroidered tunic with white cropped leggings and metallic toe-ring flat sandals.
Julianne Hough takes her mom Marriann Hough out on a lunch date in Los Angeles on September 4, 2020
Showing off her styling prowess, Julianne wore a green midi dress with white prints from the sustainable clothing brand, Reformation.
The jade frock features bishop sleeves, a fitted waist, and a thigh-high slit that gave onlookers a peek at her toned legs.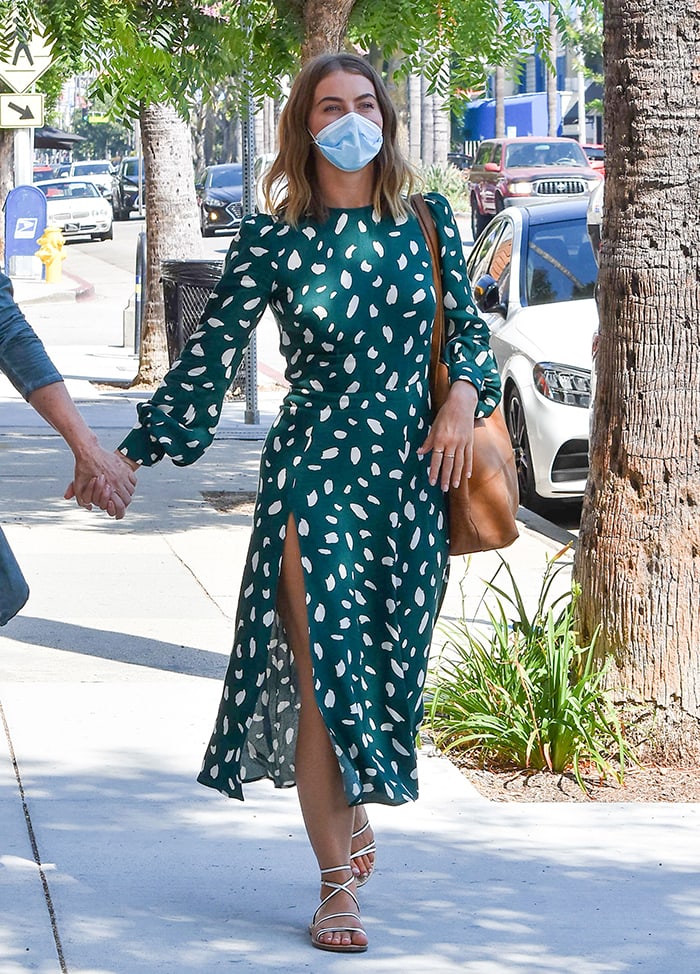 Julianne Hough in a summer chic jade green Reformation midi dress
Allowing her perfect autumn dress to take center stage, Julianne kept her jewelry to a minimum.
She simply styled the look with a large brown leather tote bag and stayed safe with a disposable face mask.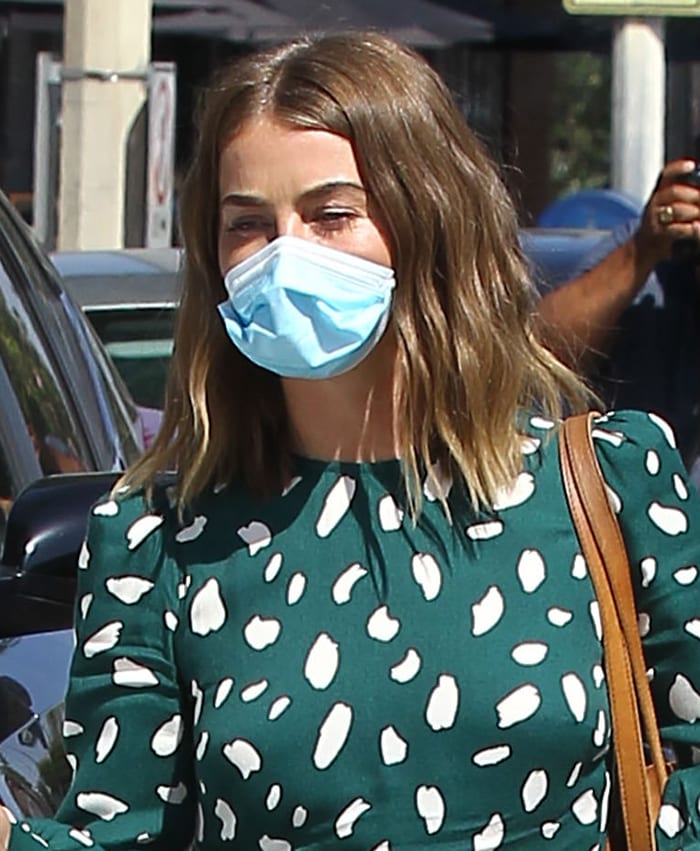 Julianne Hough wears a disposable face mask and styles her loose in natural waves
Wearing her dark blonde tresses down in natural waves, the 32-year-old dancer finished off her ensemble with a pair of white strappy sandals from Amanu, a custom-made, leather sandal label created by L.A.-based stylist Anita Patrickson.
These hand-made sandals feature chrome-free, vegetable-dyed calf Vachetta leather from Italy and hand-made leather soles.
While Julianne's strappy sandals made the outfit fitting for summer, layering it with tights and a pair of boots could easily transition the look into fall.
Julianne Hough shows off her feet in white strappy flat Amanu sandals
White Amanu Studio Style 12 Flat Sandals, $295

A few weeks after surprising her mom with a new home, Julianne and her husband, Brooks Laich, announced their separation after three years of marriage via an exclusive statement to People.
Julianne and Brooks got engaged in August 2015 and were married on July 8, 2017.
Julianne Hough and Brooks Laich pictured on February 1, 2020, three months before announcing their separation
The two said in their joint statement: "We have lovingly and carefully taken the time we have needed to arrive at our decision to separate."
They added: "We share an abundance of love and respect for one another and will continue to lead with our hears from that place. We kindly request your compassion and respect for our privacy moving forward."
Their split came while they were quarantining separately, with Brooks in Idaho and Julianne in Los Angeles.
In July, however, Julianne and Brooks had a sweet reunion as they celebrated her 32nd birthday with a pool party.
Days prior to her birthday, a source told E! News that the two are considering giving their relationship a second chance.
"To say things are complicated would be an understatement, but it doesn't seem like either one of them is ready to close the door for good."
The source added: "With the world now on pause, Julianne doesn't have the distractions she had several months ago and find herself missing Brooks."
And as for Brooks, the source said: "At first Brooks was not open to reconciling. She bruised his ego and left him feeling humiliated, but he never stopped loving her. He was doing all of this to give her what she needed. Now that some time has passed, it seems like he's more open to the idea of reconciling."
Credit: Instar / WENN