Who wouldn't want to wear something new for the New Year? Many people splurge on new outfits as well as on new bags and shoes during the holidays. Although these aren't really necessary, there's nothing wrong with it either, especially if you have extra money to buy what you want.
If you're a celebrity, though, you're lucky to receive gifts from top brands. We all know that celebs indulge in designer pieces, and usually, designers give them some of their new creations as well.
We're not sure if Julissa Bermudez got her new pair of Giuseppe Zanotti Resort 2014 sandals as a gift or if she bought them with her own money. What we know, though, is that her heels are unique and undoubtedly striking!
Check out this photo that she posted on Instagram with the caption 'New Year..New Shoes… #Giuseppe #MiamiNights #2014ready':
Julissa wore these heels at a New Year celebration in Miami, where she paired them with a revealing backless dress in black. Take a look at what she shared with her followers with the caption 'HAPPY NEW YEAR!!!!… Thank you all for all the "likes" and love! Appreciate you! Sending each and everyone one lots of happiness,love,health and wealth in 2014!! ✨🎉😘❤️❤️❤️':
These Giuseppe Zanotti sandals are hard to miss. They come in red suede and feature multiple straps with ornate embellishments. There are crystals in different colors, beads, rocks, and decorative shells. Finishing these sandals are the 4 3/4 inch covered heels and 1/2 inch platforms.
Feast your eyes on the following, and share your thoughts with us!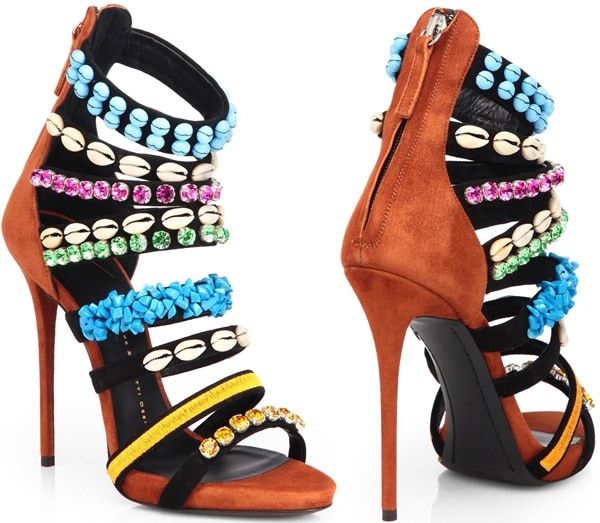 Giuseppe Zanotti Strappy Embellished Suede Resort 2014 Sandals, $1,995 at Saks Fifth Avenue
Credit: Julissa Bermudez's Instagram