Kim Kardashian, 41, recently broke the internet by making her Instagram photo debut with her new boyfriend, Pete Davidson.
In the viral post, there are two pictures of the happy couple, including one where Kim is sitting on the floor and Pete's head is in her lap.
View this post on Instagram
Kim had also posted the same picture to her 70 million Twitter followers, but some fans noticed a big difference between the two photos.
In the Twitter post, the carpet has a bold pattern to it. However, in her Instagram picture, the carpet is plain beige. Yes, the entire carpet has been changed! It seems there's nothing that can't be edited out of a picture nowadays.
In 2018, Kim explained she had hired someone to give her Instagram a beautiful and consistent aesthetic.
"My Instagram started to get really messy," said Kim, "I have the help of a friend of mine who helps me filter everything and pick the colors…it's a full-time job."
View this post on Instagram
Since hiring this professional, Kim has been praised for having a beautiful aesthetic to her feed. Each post is carefully planned and edited to compliment the entire page.
Looking at the two photos side by side, the beige color better suits her perfect feed and looks more sophisticated. For as long as we can remember, Kim K has always provided top-quality social media posts, so it makes sense that her pictures are altered occasionally.
Kim has not addressed the drama and has since removed the post from Twitter.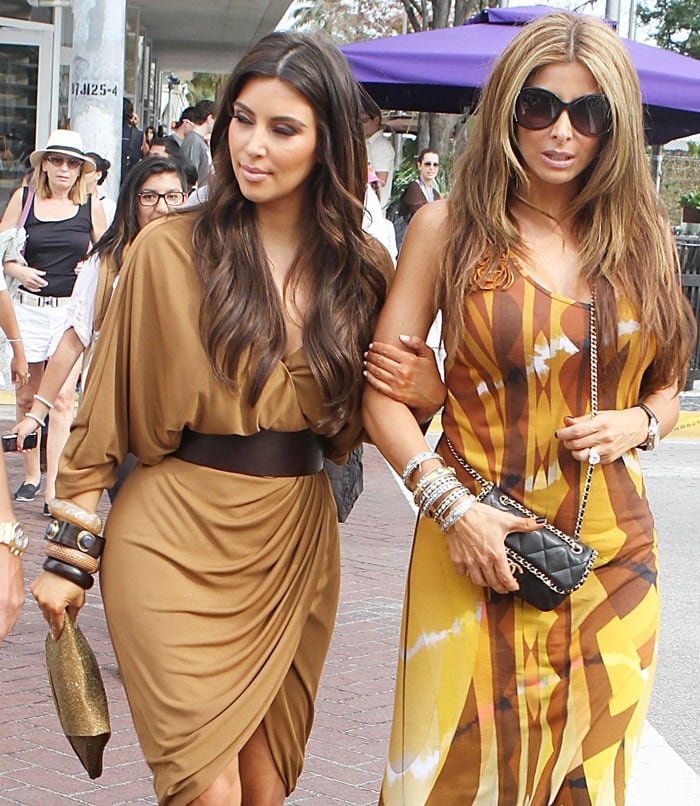 Joined by her then-BFF Larsa Pippen, Kim Kardashian sported a simple tan dress and toted a matching clutch (Credit: WENN)
In February 2012, Kim Kardashian was spotted in Miami while on the hunt for a new location for DASH.
The reality star sported a pair of dark brown Pierre Hardy wedge sandals with a belted tan dress, a tan clutch, and a cubist Isharya Labradorite Ebony bangle.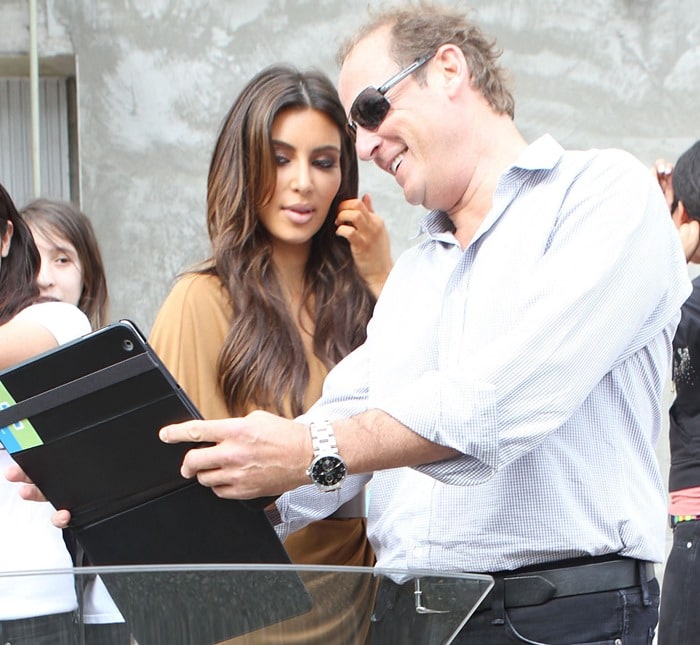 Kim Kardashian on the hunt for a new location for DASH (Credit: WENN)
What do you think of Kim's look? I like her Haute Hippie sleeveless wrap dress and shoes, but paired together they're a bit boring and bland.
Perhaps a pair of wedges in a different color would have worked better with the belted wrap dress?
The ShoeDazzle founder looks amazing in a bit of color. She should play up her attributes as opposed to draping them in bland gathered fabric.
Kim Kardashian, Larsa Pippen, and Kim's publicist Jonathan Cheban view locations on Lincoln Road, Miami Beach on February 2, 2012 (Credit: WENN)
Now, let's get to the most important part, the shoes. I really like the interesting Pierre Hardy heels that Kim chose. She is known for wearing some super luxurious yet wearable wedges, and this Pierre Hardy pair was no exception.
While I couldn't find them in the deep black/brown color, I did find them in grey and tan at Farfetch:
Pierre Hardy Suede Buckled Sandal Wedges in Grey, $630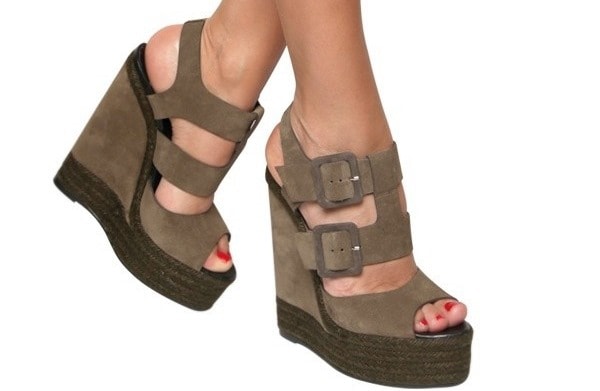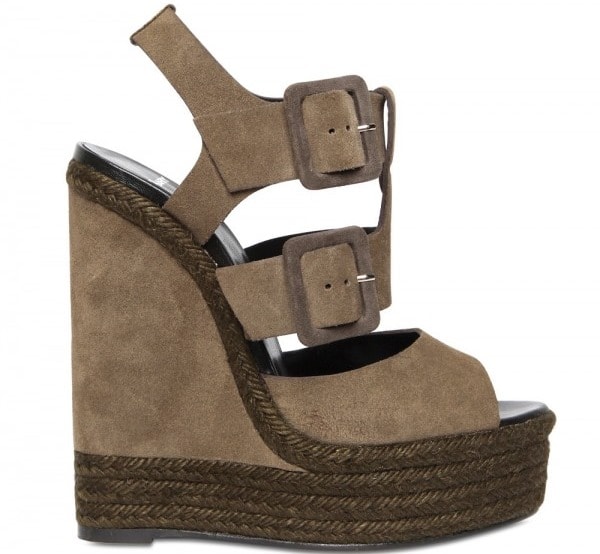 Pierre Hardy Leather Buckled Sandal Wedge, $630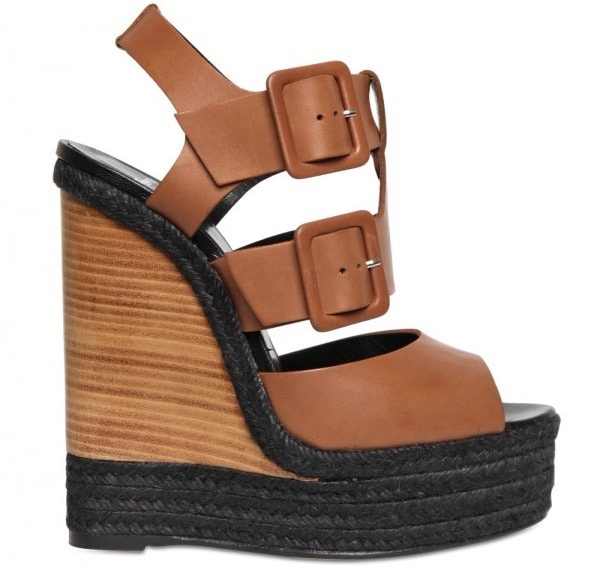 I think the tan and black mixed version would have been a bit more interesting with Kim's outfit. Do you agree?