It seems the Duchess of Cambridge is not immune to embarrassing moments. Last March, we found the royal in an awkward position as she tried her best to remove the heel of one of her shoes from a drain cover.
Last week, we caught the Princess experiencing a Marilyn Monroe moment of sorts. Perhaps it was a really windy day, because Ms. Middleton's skirt flew up behind her as she received a bouquet of flowers from a little girl who met her at a Place2Be charity event, where she was to attend a forum. Of course, ever the lady that Kate is, she remained composed and simply tried to keep her skirt down.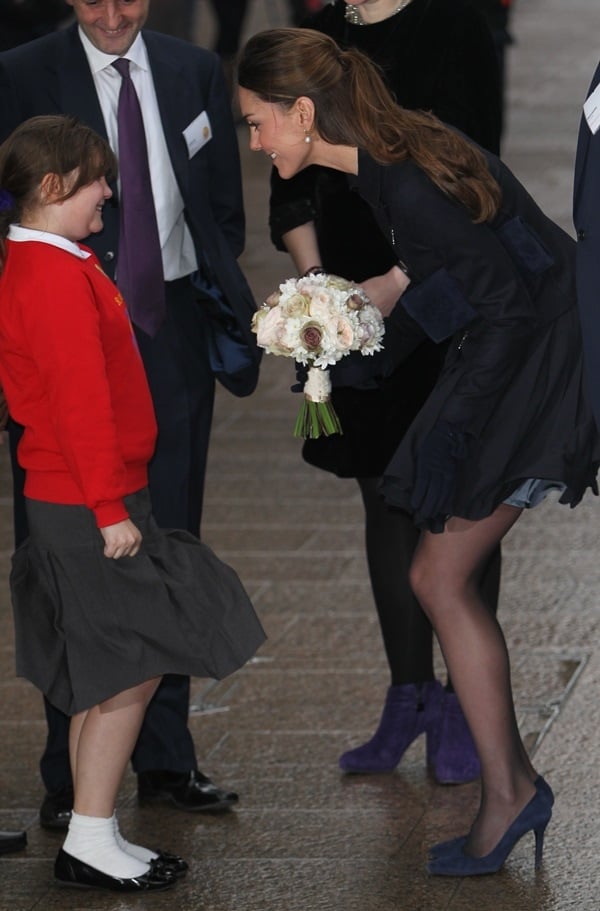 Kate Middleton trying to keep her skirt from getting blown by the wind as she receives a bouquet of flowers from a little girl at a Place2Be charity event in London on November 20, 2013
Kate Middleton in a blue Max Mara jacket, a blue Orla Kiely skirt, and blue suede pumps
But, really, the Duchess isn't featured here today because of her tiny fashion mishap. She's here because of those blue suede shoes. We initially thought they were from Jimmy Choo, but a quick search on the pair gave us two different names — Prada and Alexander McQueen. From which label do you think the pumps are from? Can you tell?
A closer look at Kate Middleton's blue suede pumps
We can't either. But we did find the following styles from Alexander McQueen and Prada over at Nordstrom. These are different from the ones on Kate, but if you're thinking of slipping into some suede shoes for the holiday season, these gorgeous beauties would be the perfect choice: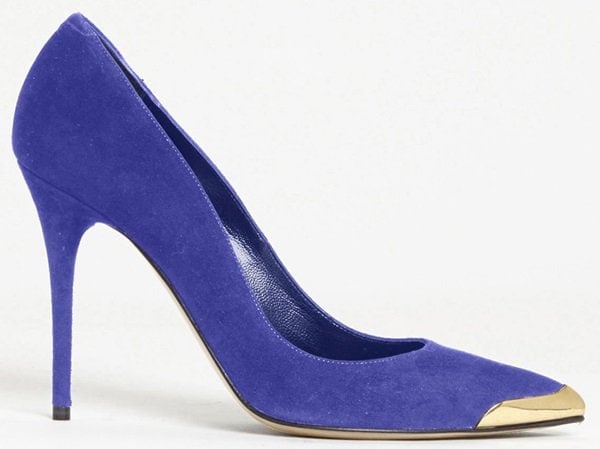 Alexander McQueen Metal-Toe Pumps, $820
Prada Pointy-Toe Pumps, $650
If the designer pumps above are too pricey for you to consider, another great option would be to grab the Stuart Weitzman "Power" pumps. Come to think of it, these actually look a lot like Kate's. And we all know she's a Stuart Weitzman fan:
Stuart Weitzman "Power" Pumps in Gray Suede, $220-$235
Credit: David Sims/WENN