The first time I saw Katie Lee, I was a little dazzled. It was in 2008, and she was Katie Lee Joel back then (she was married to Billy Joel). If I remember correctly, I saw a video of her on Oprah. And in that video she wore a pretty maxi dress paired with a cardi and some flat sandals. She exuded that boho-chic vibe, and I was just amazed at how pretty and effortless she looked.
Fast forward to 2013, it seems Katie Lee's love affair with sandals is still going strong. The food critic was spotted leaving her hotel yesterday while sporting a very familiar pair of Isabel Marant 'Caroll Elvis' cuff sandals. She wore them with printed pants and a white blazer. It probably wasn't the best combination, but the sandals were worth a second glance.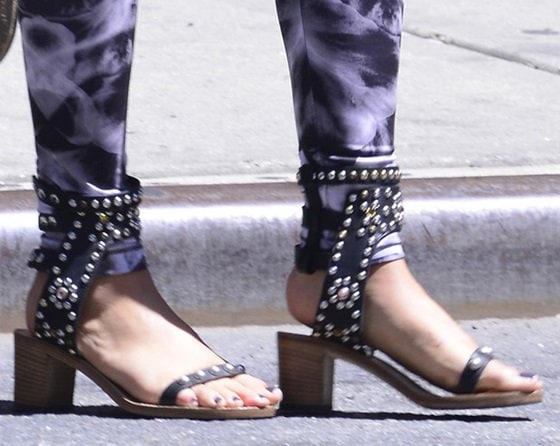 Food critic Katie Lee wearing Isabel Marant's 'Caroll Elvis' heeled cuff sandals while exiting her hotel in New York on June 19, 2013
Katie's heeled 'Caroll Elvis' sandals are quite stunning up close. Isabel Marant was able to strike the right balance with these shoes. They are modern yet rustic, boho yet edgy, and totally chic. Even more attractive is the idea that they are very comfortable to walk in.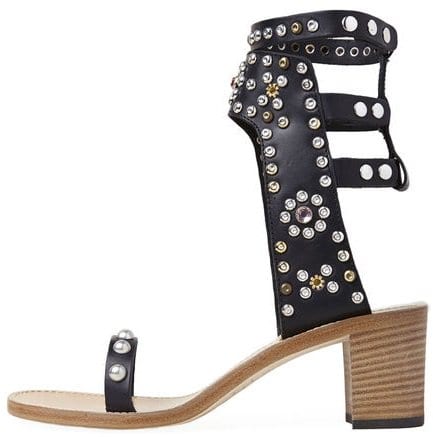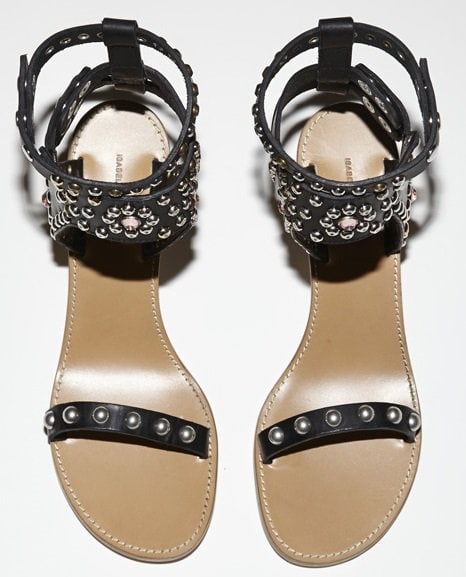 Isabel Marant Caroll Elvis Heeled Cuff Sandals, $1,035
While expensive, the price is actually not the issue here. What I'm interested to know is whether you think mixing the studded sandals with busy printed leggings was a good move on Katie's part. So, was it? And would you wear her outfit?
While you contemplate your answer, allow me to leave you with a couple of sandals that I think Katie should have worn with her outfit instead. These are cleaner and simpler, and both are on sale at Amazon.
Alexander Wang Johanna Ankle-Cuff Sandals, $346.50 (before: $495)
Vince Lara Banded Sandals, $262.50 (before: $375)
Credit: TNYF/WENN