The 20th season of American Idol is off to a great start as contestant Lady K had the judges in tears with her rendition of Katy Perry's Wide Awake.
It isn't unusual to shed a tear while watching the TV show, but a judge tearing up at a rendition of their own song is something to remember.
Kezia "Lady K" Istonia, a 25-year-old singer from Tuskegee, a city in Macon County, Alabama, enchanted the judges from the moment she stepped into her audition.
An Ambitious Song Choice
It's a daring move to perform a judge's own song for an audition, but the song was a special choice for Lady K.
She said, "It was the best song I could find to symbolize my journey and everything I've been through in my life."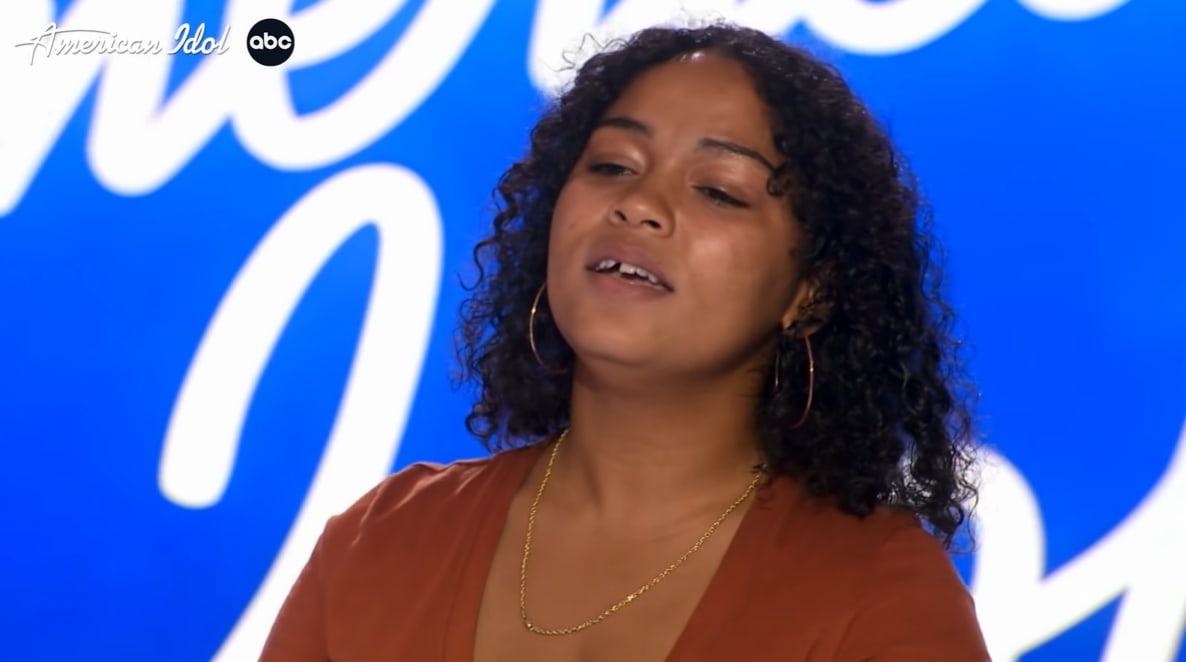 Idol contestant Lady K brought the judges to tears after reinventing Katy Perry's Wide Awake (Credit: ABC)
Wide Awake was a hit single Katy Perry released in 2012. While it was never officially stated that the song was in response to her divorce from British comedian Russell Brand, she did say that the song was about navigating the "good parts and bad parts" of an internal journey.
Overcoming Difficult Times
Surviving difficult times is something Lady K can identify with. She chose the song to perform for the judges because it best represented her personal story of resilience.
The young contestant hails from Tuskegee, Alabama, judge Lionel Richie's hometown. The eldest of her siblings, Kezia experienced a difficult upbringing with many hardships.
While her family struggled financially throughout her childhood, the biggest blow came when her younger brother, Papi, committed suicide.
"That was one of the hardest things my family ever had to go through," she said. "It was hard to decide if paying rent was going to come first because we need somewhere to live or paying for a funeral because we don't have our brother anymore."
Stating that "There were times that I didn't think that the rest of the family would pull through," Kezia entered the 20th season of the competition to give her family hope to hold onto after all their hardship.
"My mom, myself and my four brothers and sisters were bound to a dorm and we had to make that work," Lady K said.
"I'm the oldest so I instantly wanted to step up and help out. My brother Papi was a really tough, cool, laid-back type of person. I knew we all had it hard, but at some point, it was all too much for my brother."
An Emotional Performance
She chose Perry's Wide Awake to perform for the judges because it was the most powerful way to represent her journey and honor her brother.
Lady K said, "Papi's death started a fire in me. It gave me more purpose. I'm here to honor him and make my family proud."
Katy Perry, who was brought to tears by the rendition, said, "You sang with such elegance, beauty, grace and filigree. It's like you reinvented the song. It's like your heart is singing through your vocal cords."
Lady K impressed the judges with her impressive vocals and brought Katy Perry and Lionel Richie to tears (Credit: ABC)
"I'm so proud," said Richie. "Tuskegee will never be the same. I know you landed there for a purpose. You sang a Katy Perry song and turned it into you. Then you made Katy Perry cry."
Lady K made her mark on the judges, with judge Luke Bryan stating, "You're why we're here." Her emotional rendition won her a golden ticket straight to Hollywood.
Before making her way out of the audition room, Lady K handed each judge a personalized thank you note. Perry's card read, "The universe lined this moment up perfectly, thank you for reminding me I'm a firework."
Katy Perry wears one of the cutest airport outfits of all time (Credit: Kento Nara / Future Image / WENN)
As if Katy Perry didn't command enough attention already, In March 2013 she went ahead and wore arguably the cutest airport outfit we have ever seen. Ever!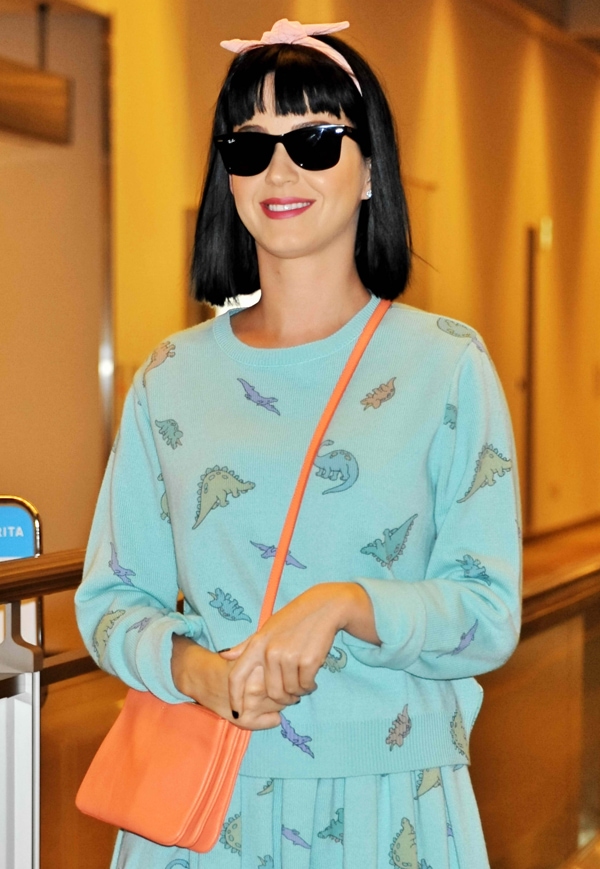 Singer Katy Perry carries a coral Celine Trio bag and rocks Ray-Ban Original Wayfarer 2140 sunglasses (Credit: Kento Nara / Future Image / WENN)
The then 29-year old pop singer wore a matching Land Before Time-inspired sweater and skater skirt for her trip to Japan.
The dinosaur print appealed to our child-like aesthetic and made us want to re-watch the famous 80s cartoon show.
Singer Katy Perry wears a dinosaur-print outfit upon arrival at Narita International Airport on March 1, 2014, in Chiba, Japan (Credit: Kento Nara / Future Image / WENN)
Katy stretched the cutesy boundaries further by accessorizing with a pink headband, a pair of blush-toned Mary Jane platforms, and an orange crossbody bag.
Her outfit oozes spring vibes, don't you agree? We have found some more dinosaur-themed sweaters that we hope you'll like:
1. Au Jour Le Jour Dino Sweatshirt, $225.00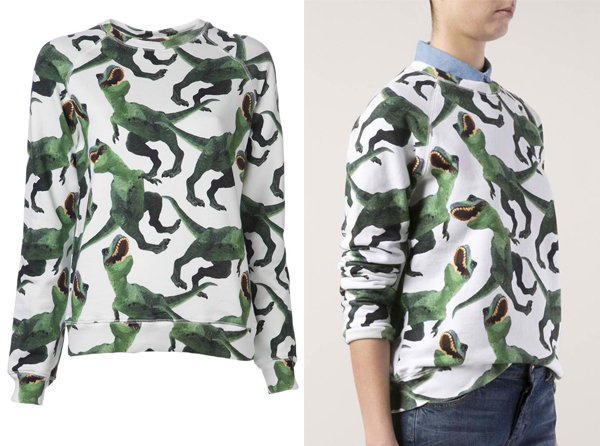 2. Forever 21 Quirky Dinosaur Sweatshirt, $19.80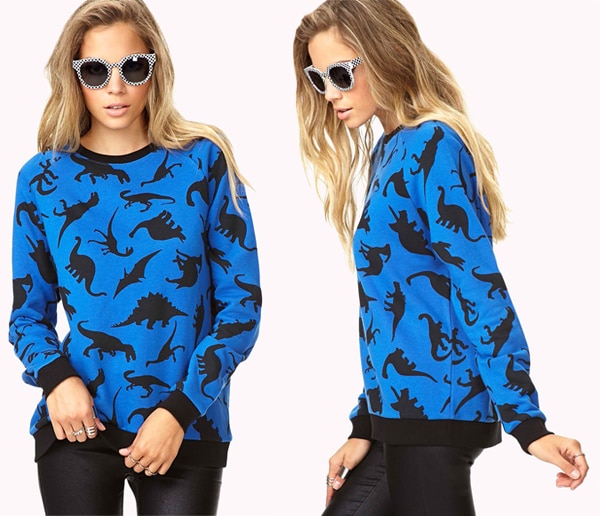 3. Forever 21 Dino Parade Sweatshirt, $22.80
You ladies can also try the "Roar" singer's matching top and skirt look. The monochrome look, albeit in an interesting silhouette or print, makes for a great spring starter outfit. Here are some outfits to check out:
1. MSGM Floral Outfit
MSGM Floral Top, $320.00 / MSGM Flared Skirt, $510.00
2. Christopher Kane Skirt and Sweatshirt
Christopher Kane Contrast Striped Sweatshirt, $404.00 / Christopher Kane Pleated Midi Skirt, $700.00
Cute coordinates! So follow Katy Perry's lead and choose matching tops and skirts for your next ensembles.