Fresh from her high-profile split with boyfriend Danny Cipriani, Kelly Brook was seen enjoying her single-lady status on a night out with her girlfriends yesterday evening.
Kelly Brook arriving home after partying at Mahiki nightclub in London, England, on August 10, 2013
As one of the most beautiful people in the world, Kelly was, as usual, radiant in the dot-mesh-paneled LBD that she wore to go clubbing. Pink-tone makeup and dangling diamond earrings peeking from her luscious brown locks completed her look.
Check her out in the following pics that show that even her feet are pretty — any man who can even think of cheating on this girl must be insane!
Kelly Brook showed off her pretty toes in jeweled Miu Miu shoes
Matching her sparkly diamonds, glittery silver clutch, and that newly-single glint in her eyes were these jeweled-heel black satin sandals that showed off her sexy toes.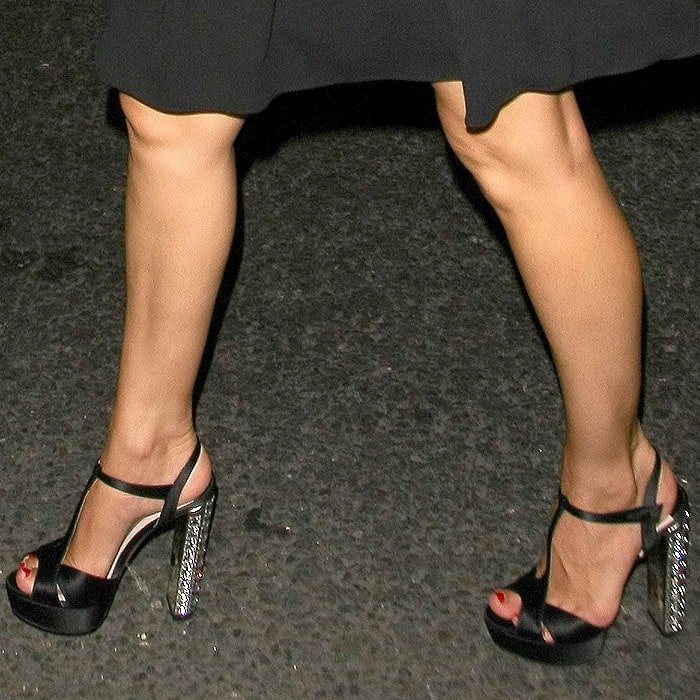 Kelly Brook's pretty feet in jeweled-heel black satin sandals
Those jeweled heels made it possible for us to instantly ID Kelly's shoes as these Miu Miu t-strap sandals:
Miu Miu T-Strap Jeweled-Heel Sandals, $1,390
The black satin version that Kelly Brook has is still at full price, but the pink leather — and, in our opinion, much cuter — version is slashed at a massive 59% discount at Barneys Warehouse.
Credit: WENN